By: Paul Reichert
July 18, 2020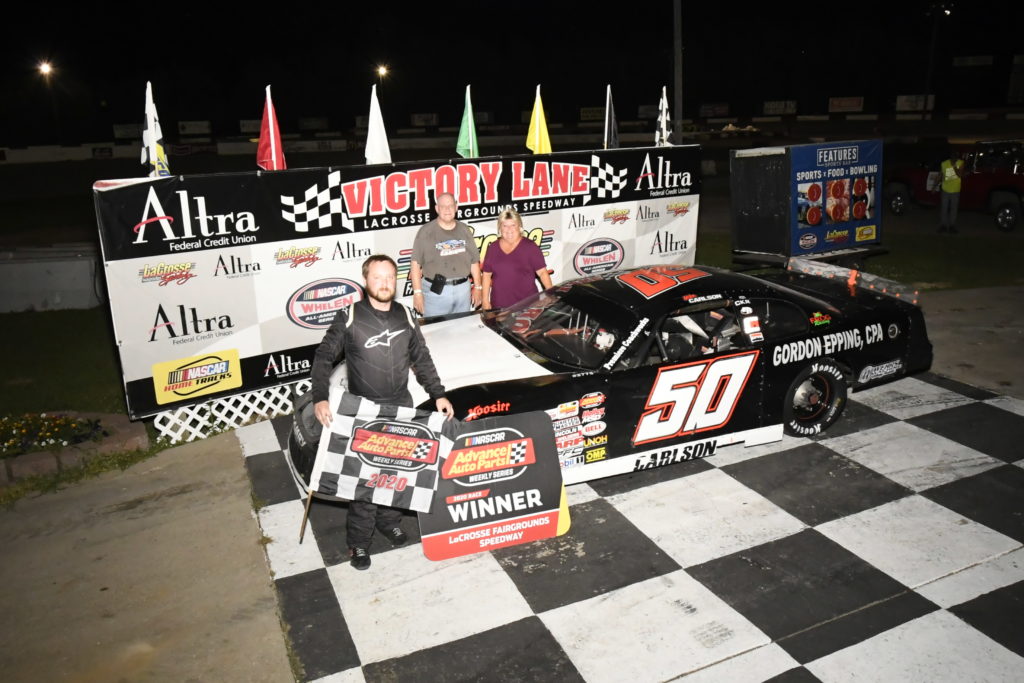 Another great crowd turned out at the La Crosse Speedway despite the steamy weather to witness more thrilling racing action. Two veteran NASCAR Late Model competitors each came away with long overdue feature wins. Matt Henderson made a late race pass to claim his first win since 2017 in the first feature, while Mike Carlson drove away from the field to take the second feature and his first win since 2018.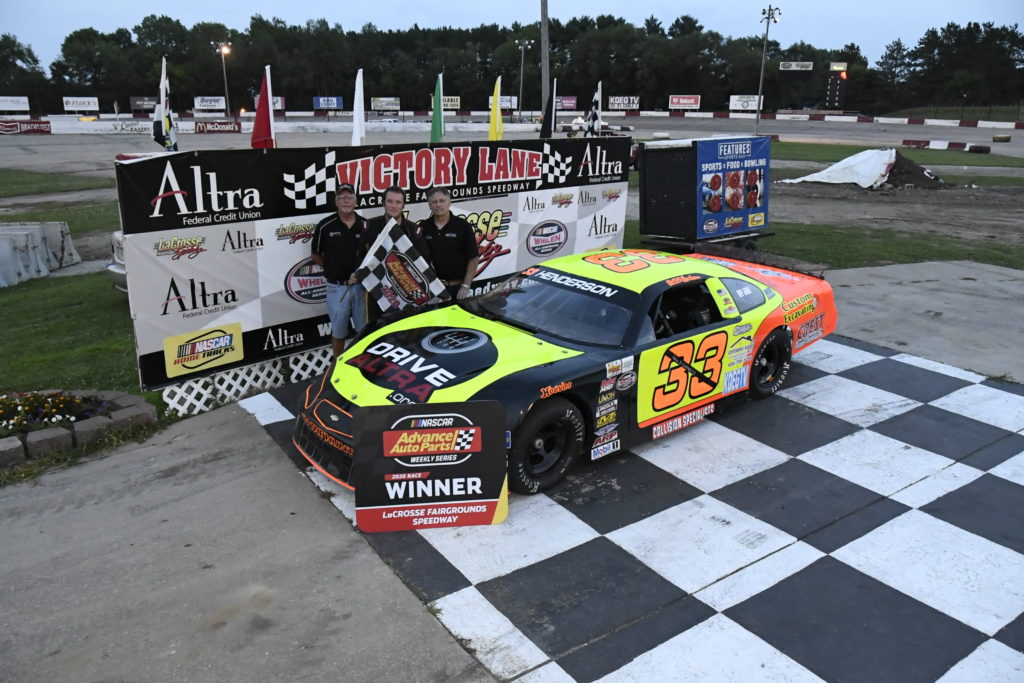 Michael Haggar (Hanover, MN) took the lead at the start of the first Altra Federal Credit Union 20 lap NASCAR Late Model feature. Justin Mullikin (Holmen, WI) was running second, but he had his hands full holding off the rest of the field. Matt Henderson (La Crosse, WI) ran the outside lane to power by Mullikin for second on lap eight. Nick Clements (Onalaska, WI) shot past Mullikin into third a lap later. Henderson led a train of four cars as they slowly began to eat away at Haggar's lead. Henderson found an opening on the inside to dive under Haggar and take the lead with three laps to go. Clements quickly took second from Haggar, and started to chase after Henderson. Clements tried to make a last chance dive to the inside coming out of turn four, but Henderson held on by half a car length to score his first feature win in three years. After the race, Henderson said "Our season got off to a rocky start, but this win gives up hope we can turn things around the rest of the way."
In the second drivealtra.org 20 lap NASCAR Late Model feature, a little contact created a lot of checking up that allowed Mike Carlson (West Salem, WI) to zoom into the top spot. Jerimy Wagner (Onalaska, WI) needed another lap to take over second from Jeff Partington (Farmington, MN). While the rest of the field was trying to sort itself out, Carlson and Wagner started to pull away from the pack. Just before halfway, Brent Kirchner (La Crosse, WI) took third away from Partington. Kirchner, along with Billy Mohn and Jacob Goede, worked together to close down on the lead duo. Unfortunately, that rally would not materialize. Down the stretch, Wagner lost a little ground as Carlson scored a long overdue victory. After the race, Carlson said "We have been searching all year for the right setup. Whatever my crew did to my car between features brought it to life."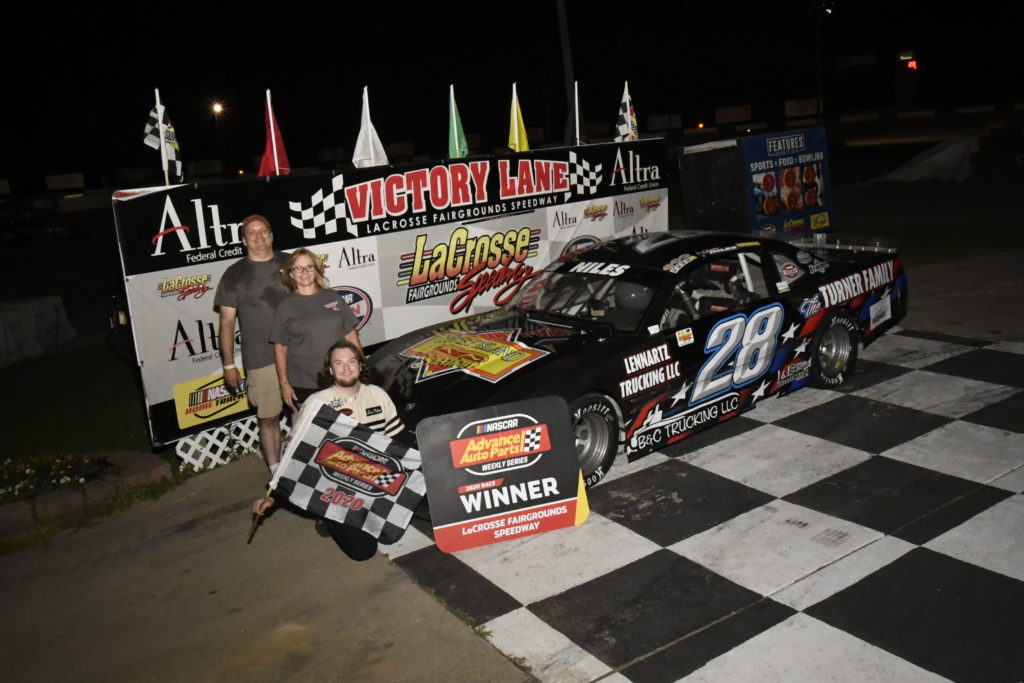 Sam Niles (Holmen, WI) lead for much of the Sportsmen until he got passed by Denny Schott (Mauston, WI) on lap ten. Unfortunately, Schott ran faster than the breakout time and was disqualified from the race. NIles got the lead back and drove away from Dave Edwards (Salem, WI) to take his first year of the season.
In the Hobby Stock feature, Joe Prusak got around Austin Schott for the lead just past halfway and powered his way to his first ever feature win at La Crosse.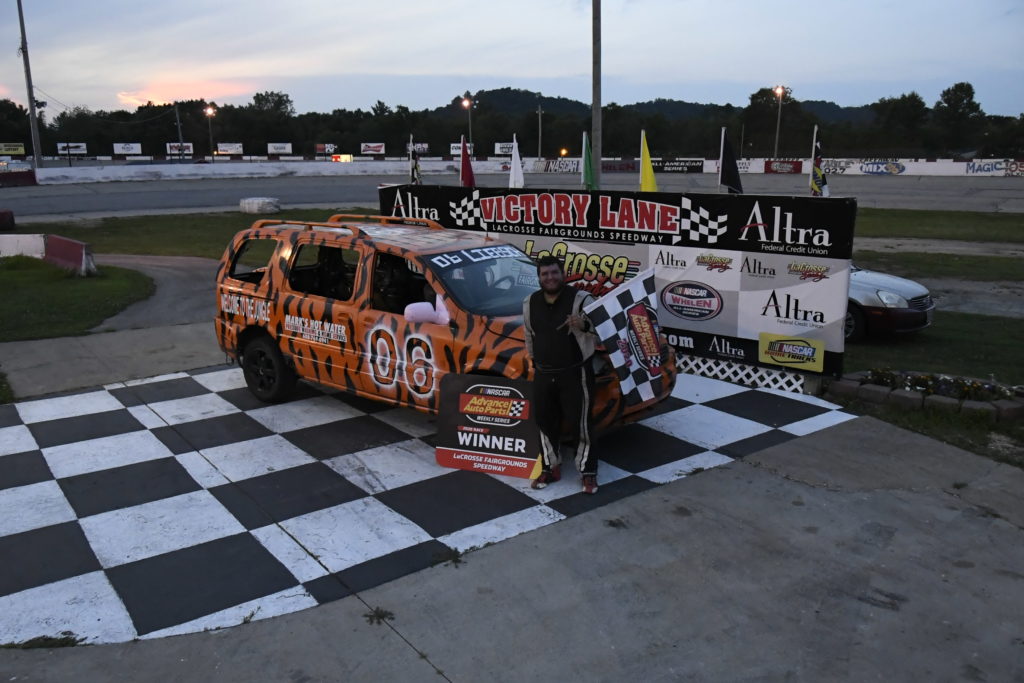 In the Mini-Van feature, Zach Liebsch held onto the top spot for much of the race. David Treu, Jr. put all the pressure he could to claim yet another victory, but Liebsch withstood the challenges from Treu, Jr.'s taxicab to see the checkered flag first.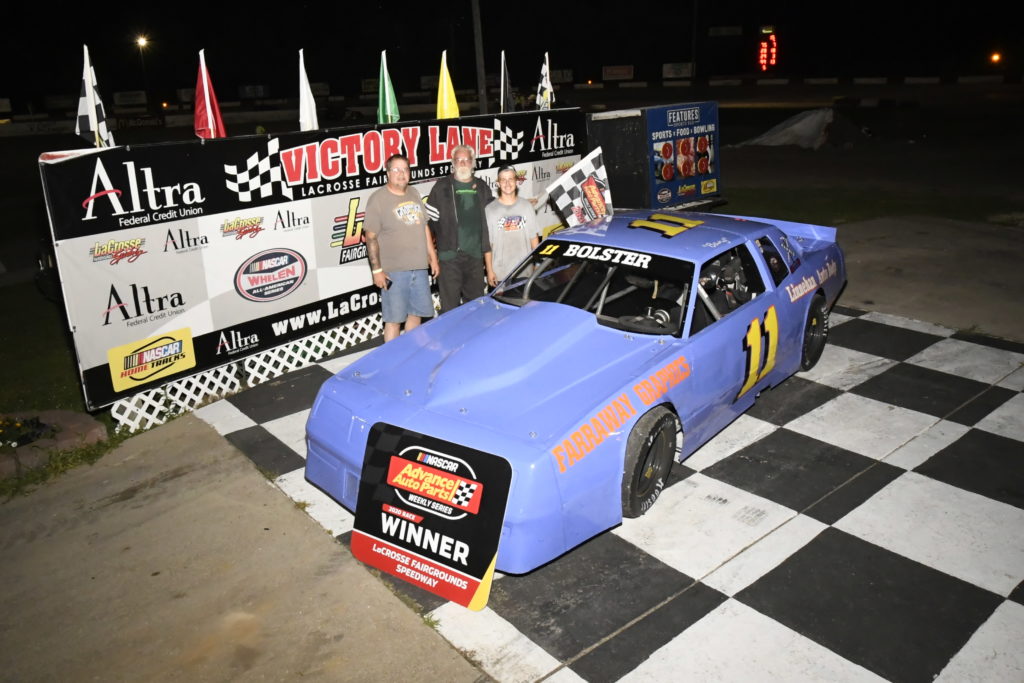 In the Upper Midwest Vintage Racing Series feature, Larry Bolster surged by Bob Lee for the lead on lap three. Bolster battled with the fast red Mustang of Jim Kulseth in the closing laps, but held on to capture the victory.
Action continues next Saturday, July 25 with the Late Models, Sportsmen and Hobby Stocks in action. Joining them will be the Hornets and the High School Racing Association. Gates open at 6:00, qualifying begins at 6:15 and racing action fires up at 7:30.
For more information about the La Crosse Speedway or the 2020 schedule of events, please call the office at 608-786-1525 or visit our web site at lacrossespeedway.com. La Crosse Speedway is proud to be a NASCAR Hometrack, part of the NASCAR Advance Auto Parts Weekly Series.

RESULTS
Kwik Trip NASCAR Late Models
Feature #1: 1. Matt Henderson, 2. Nick Clements, 3. Steve Bachman, 4. Michael Hagger, 5. Nick Murgic, 6. Billy Mohn, 7. Steve Carlson, 8. Jacob Goede, 9. Jerimy Wagner, 10. Brent Kirchner, 11. Mike Carlson, 12. Grant Brown, 13. Jeff Partington, 14. Carter Christenson, 15. Don Turner, 16. Bryan Wrolstad, 17. Justin Mullikin, 18. Mandi Eckelberg, 19. Greg Borchardt, 20. Kyle Hansen, 21. Jimmy Summerfield, 22. Pete Carlson, 23. Ken Donais
Feature #2: 1. M. Carlson, 2. Wagner, 3. Kirchner, 4. Murgic, 5. Mohn, 6. Goede, 7. S. Carlson, 8. Clements, 9. Bachman, 10. Brown, 11. Haggar, 12. Henderson, 13. Turner, 14. Partington, 15. Christenson, 16. Wrolstad, 17. M. Eckelberg, 18. Summerfield, 19. Mullikin, 20. P. Carlson
6-for-6 Dash: 1. Goede, 2. Bachman, 3. Clements, 4. Kirchner, 5. Murgic, 6. Wagner
Heat #1: 1. M. Carlson, 2. Partington, 3. Henderson, 4. S. Carlson, 5. Mohn, 6.Mullikin, 7. Haggar, 8. Brown
Heat #2: 1. Turner, 2. Christenson, 3. Wrolstad, 4. P. Carlson, 5. Borchardt, 6. M. Eckelberg, 7. Hansen, 8. Donais, 9. Summerfield
Qualifying: 1. Kirchner 19.776, 2. Murgic 19.884, 3. Goede 19.924, 4. Wagner 19.981, 5. Clements 20.025, 6. Bachman, 7. Henderson, 8. S. Carlson, 9. Mohn, 10. Mullikin, 11. Haggar, 12. M. Carlson, 13. Partington, 14. Brown, 15. Christenson, 16. Wrolstad, 17. Turner, 18. P. Carlson, 19. Borchardt, 20. M. Eckelberg, 21. Donais, 22. Summerfield

Lawnkeepers Sportsmen
Feature:  1. Sam Niles; 2. Jack Litsheim; 3. Mark Challet; 4.Jesse Green; 5. Justin Berg; 6. Edwin Ross; 7. Rick Coppernoll; 8. Dave Edwards; 9. Denny Schott
Heat #1: 1. Edwards, 2. Litshiem, 3. D. Schott, 4. Niles, 5. Challet, 6. Berg, 7. Green, 8. Coppernoll, 9. Ross
Qualifying: 1. D. Schott 21.763, 2. Coppernoll 21.838, 3. Litshiem 21.912, 4. Challet 22.125, 5. Edwards 22.183, 6. Niles, 7. Berg, 8. Green, 9. Ross

Auto Value Hobby Stocks
Feature: 1. Joe Prusak, 2. Austin Schott, 3. Mark Challet, 4. Jason Bolster, 5. Tyler Stuber, 6. Brandon Gallagher, 7. Kaleb Hardy (DQ), 8. Alex Rud (DQ)
Heat #1: 1. Bolster, 2. Hardy, 3. A. Schott, 4. Gallagher, 5. Prusak, 6. Rud, 7. Challet, 8. Stuber
Qualifying: 1, Prusak 16.184, 2. Hardt 16.406, 3. Gallagher 16.475, 4. Bolster 16.517, 5. Challet 16.718, 6. Rud, 7. Stuber, 8. A. Schott

Mountain Dew Mini-Vans
Feature: 1. Zach Liebsch, 2. David Treu, Jr. 3. John Huebner, 4. Al Bartels, 5. Bernie Lucey, 6. Jonathan Burbach, 7. O'maryo Norordin
Heat #1: 1. Treu, Jr., 2. Huebner, 3. Bartels, 4. Burbach, 5. Z. Liebsch, 6. Lucey, 7. Norordin
Qualifying: 1. Huebner 17.644, 2. Treu, Jr. 18.023, 3. Bartels 18.478, 4. Z. Liebsch 18.748, 5. Burbach 18.479, 6. Lucey 19.706

Upper Midwest Vintage Racing Series
Feature: 1. Larry Bolster, 2. Jim Kulseth, 3. Bob Lee, 4. Kenny Baum, 5. Bob Fitzpatrick, 6. Dan Navrestad, 7. Justin Jesup, 8. Mick Breckenridge, 9. Cal Cottone, 10. Pat Heaney
Heat #1: 1. Cottone, 2. Fitzpatrick, 3. Lee, 4. Navrestad, 5. Breckenridge
Heat #2: 1. Heaney, 2. Bolster, 3. Baum, 4. Jesup, 5. Kulseth