By: Paul Reichert
May 21, 2022
Another action packed Saturday night of racing at the LaCrosse Speedway featured a long standing tradition with the first night of double features for the NASCAR Late Models this season.  The strategies for the race teams change with a pair of 20 lappers instead of a big 25 lap main event.  When to use the new tire the race teams get for this night and what adjustments need to be made in between features  For Jacob Goede he had a perfect race night as he secured the fast lap of the night and gave two solid performances to score both feature races.  It was the second straight year that Goede had swept a double feature night. 
Michael Haggar (Hanover, MN) got a run on lap two of the first Pepsi 20 lap NASCAR Late Model feature to power around Carter Christenson (West Salem, WI).  As Haggar built up a huge advantage on the field, Jacob Goede (Carver, MN) steadily worked his way through the field.  Goede was running third at the halfway mark before charging his way past Jackson Lewis (Elko New Market, MN) for second a lap later.  Goede methodically began to eat away at Haggar's advantage as the laps clicked away.  Goede found an opening underneath Haggar going into turn one on the final lap, but Haggar tried to make a killer crossover move when Goede ran wide.  Goede pulled away from Haggar down the back straight to score another big victory.  After the race, Goede said "I was not sure I could catch Haggar.  I just kept my foot glued to the pedal and we somehow pulled it off."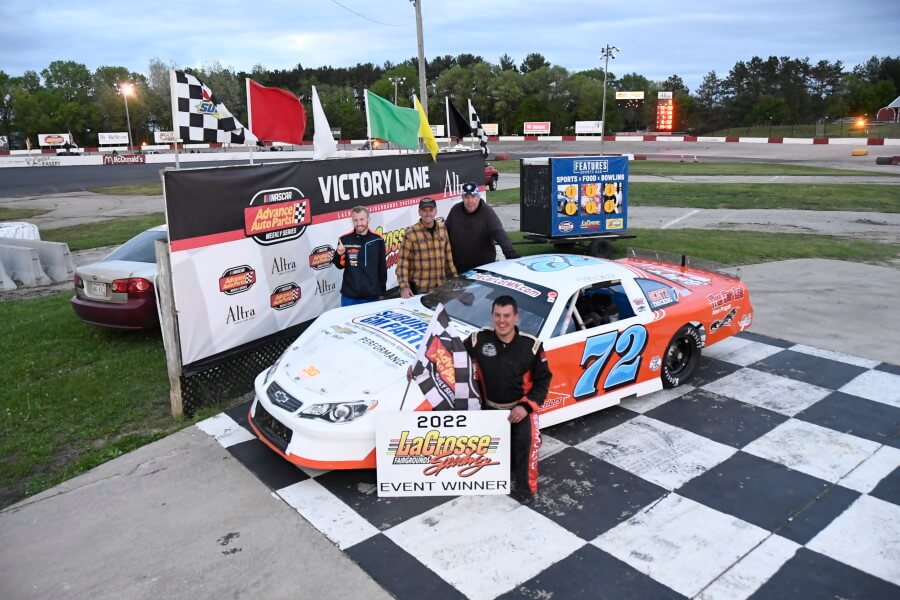 The second Pepsi 20 lap NASCAR Late Model feature had a rocky start with Carter Christenson slamming the back straight wall hard.  Steve and Mike Carlson (West Salem, WI) along with Steve Backman (Bangor, WI) and Jackson Lewis also got collected in this chaotic moment.  Jerimy Wagner (Onalaska, WI) shot to the lead on the second attempt to start the race.  Brent Kirchner (La Crosse, WI) and Jacob Goede both began to make quick work of the field and by lap five caught up to Wagner.  Kirchner and Goede both powered their way under Wagner to move into the first and second spots.  Goede wasted little time driving around Kirchner for the lead on lap six.  With five laps remaining Kenneth Donais (Sparta, WI) had flames shoot out of his exhaust and began to get squirrely right in front of the leaders.  Donais gathered control of his car and no late yellow came out.  Goede punched the accelerator and drove away with his second feature win of the night.  After the race, Goede said "We were very lucky to avoid that calamity on the back straight.  After all that mayhem we drove a great race to end another amazing night at LaCrosse."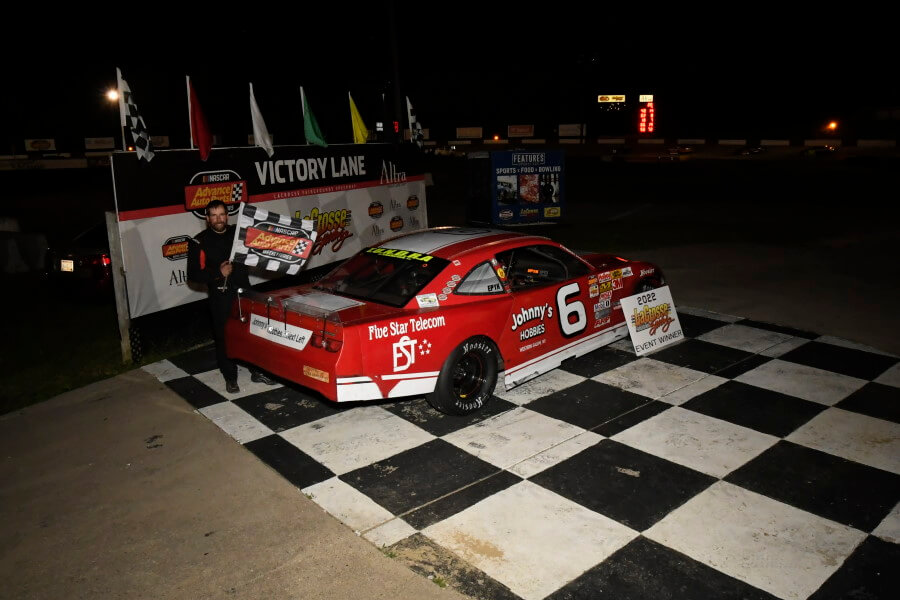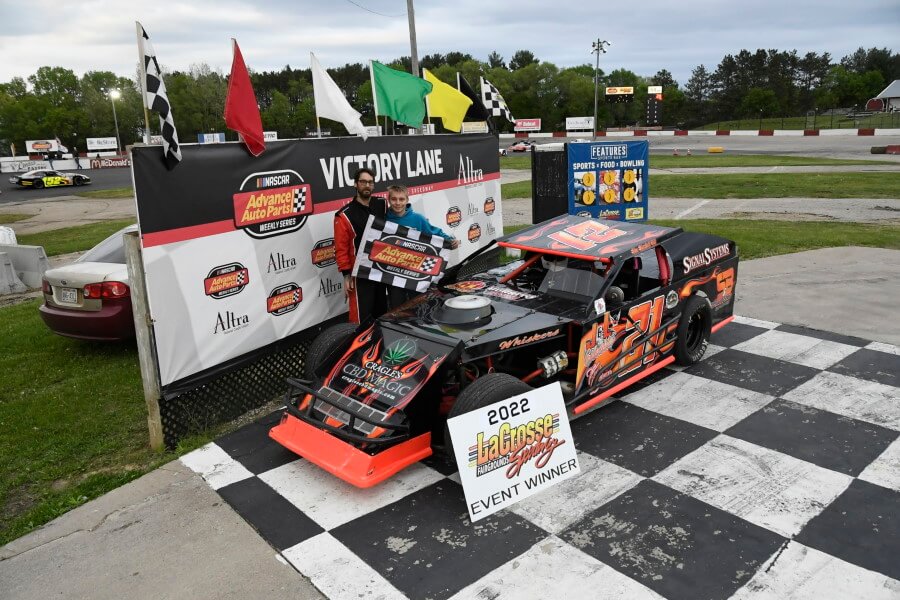 After John Grosskopf (LaCrosse, WI) and Randy Humfeld (Chaseburg, WI) tangled over the top spot five laps into the first 15 lap Sportsmen feature, Bill Schott (LaCrosse, WI) assumed command of the race.  Schott did everything in his power to hold off last week's winner Bob Fort (Fountain City, WI) to capture his first checkered flag of the season.
Randy Humfeld made quick work of the traffic in front of him to take command of the second 15 lap Sportsmen feature.  Humfeld would have a hungry hoard of challengers in the final six laps to deal with, including defending track champion Sam Niles (Holmen, WI).  Humfeld opened up a small gap over the final two laps to capture his first checkered flag at LaCrosse since 2017.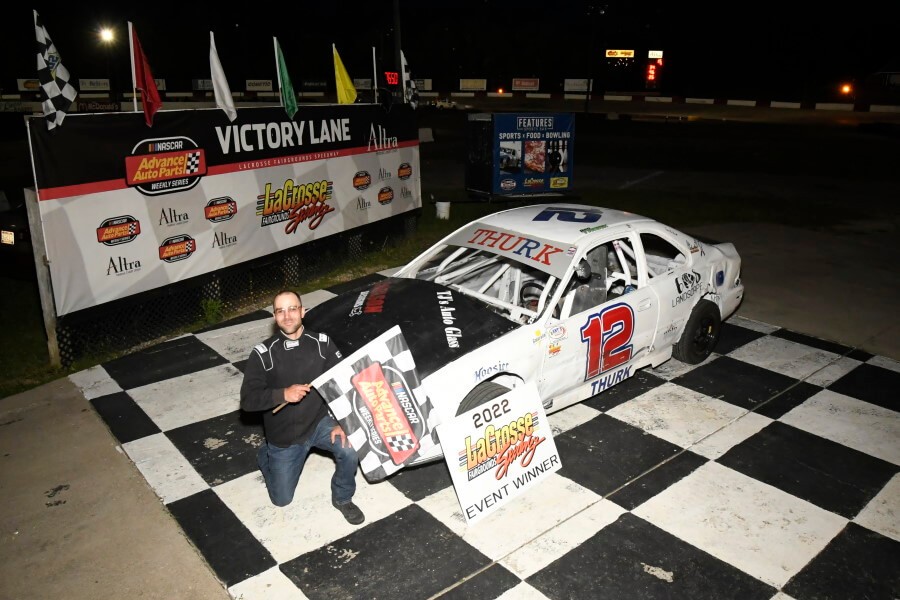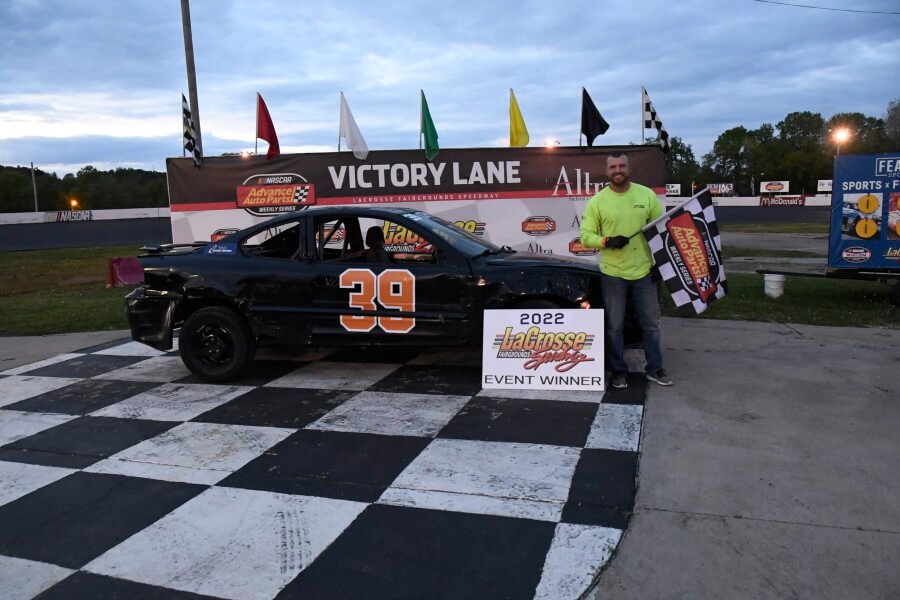 Ben Thurk had to hold off several challenges by Rob Schleifer in a four lap shootout to cross the finish line first in the Hornet feature.
John Huebner had to contend with many challenges coming from newcomer Ken Hart in the Mini-Van feature.  Huebner kept enough of a lead over Hart to give the multi-time division champion a clean sweep that included a New Track Record for the division.
Adam Kerley was fighting off a huge pack of cars in the Six Shooter feature but slipped up in turn four coming to two laps remaining.  Matthew Cleveland took advantage of the slip-up by Kerley to pull away and score his first feature win at LaCrosse.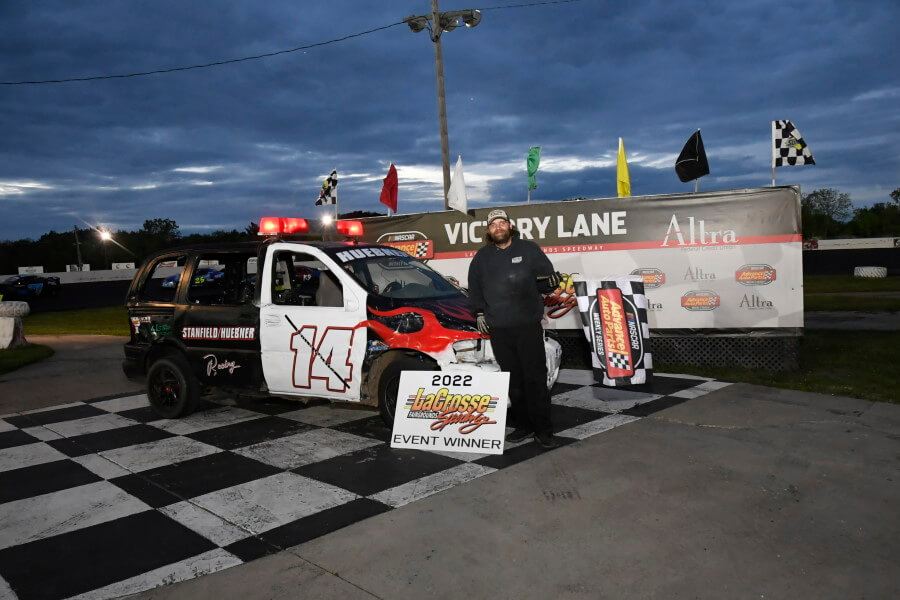 You never know what will happen when the 2nd Over the Line Wins Novelty event takes place.  Thomas Farra would be the first to flinch allowing the returning Dakota Miller to become the big winner and take his first checkered flag in quite a while. 
Action continues next Saturday, May 28 with the Late Models, Sportsmen, Hornets, Hobby Stocks and Street Stocks.  Be sure to fill up your pockets with lots of quarters and dollar bills for the first Buck Night of the Season.  All concession items are just $1 and all beer is only $3. Gates open at 5:30, qualifying fires up at 5:45 and the close quarters racing begins at 7.
For more information about LaCrosse Speedway or the 2022 schedule of events, please call the track office at 608-786-1525 or visit our web site at 
lacrossespeedway.com
.  LaCrosse Speedway is proud to be a NASCAR Hometrack, part of the NASCAR Advance Auto Parts Weekly Series.
RESULTS
Kwik Trip NASCAR Late Models
Feature #1 (20 laps):  1. Jacob Goede, 2. Michael Haggar, 3. Jackson Lewis, 4. Brent Kirchner, 5. Steve Bachman, 6. Mike Carlson, 7. Steve Carlson, 8. Jerimy Wagner, 9. Carter Christenson, 10. Michael Beamish, 11. Adam Bendzick, 12. Chad Walen, 13. Dustin Mann, 14. Tony Bagstad, 15. Kyle Hansen, 16. Tom Luethe, 17. Joseph Scholze, 18. Adam Degenhardt, 19. Kenneth Donais, 20. Jeff Partington, 21. Tom Carlson, 22. Nick Clements, 23. Jimmy Summerfield, 24. Adam Oxborough, 25. Don Turner
Feature #2 (20 laps):  1. Jacob Goede, 2. Brent Kirchner, 3. Adam Bendzick, 4. Jerimy Wagner, 5. Michael Haggar, 6. Tony Bagstad, 7. Jackson Lewis, 8. Dustin Mann, 9. Chad Walen, 10. Mike Carlson, 11. NIck Clements, 12. Michael Beamish, 13. Tom Carlson, 14. Kenneth Donais, 15. Joseph Scholze, 16. Don Turner, 17. Jimmy Summerfield, 18. Kyle Hansen, 19. Tom Luethe, 20. Adam Oxborough, 21. Jeff Partington, 22. Carter Christenson, 23. Steve Carlson, 24. Steve Bachman
Qualifying:  1. Jacob Goede, 2. Mike Carlson, 3. Adam Bendzick, 4. Adam Degenhardt, 5. Adam Oxborough, 6. Steve Carlson, 7. Steve Bachman, 8. Michael Beamish, 9. Jackson Lewis, 10. Brent Kirchner, 11. Carter Christenson, 12. Michael Haggar, 13. Tony Bagstad, 14. Nick Clements, 15. Jerimy Wagner, 16. Chad Walen, 17. Dustin Mann, 18. Jeff Partington, 19. Tom Luethe, 20. Don Turner, 21. Tom Carlson, 22. Joseph Scholze, 23. Kyle Hansen, 24. Kenneth Donais, 25. Jimmy Summerfield
LawnKeepers Sportsmen
Feature #1 (15 laps):  1. Bill Schott, 2. Justin Berg, 3. Bob Fort, 4. Jesse Green, 5. Sam Niles, 6. Randy Humfeld, 7. Ed Ross, 8. Dave Swanson, 9. Scott Mahlum, 10. Andy Barney, 11. Travis Gordon, 12. Dan Osthoff, 13. John Grosskopf
Feature #2 (15 laps):  1. Randy Humfeld, 2. Bob Fort, 3. Sam Niles, 4. 
Qualifying:  1. Randy Humfeld, 2. Sam Niles, 3. Justin Berg, 4. Bill Schott, 5. Dave Swanson, 6. Bob Fort, 7. Ed Ross, 8. Jesse Green, 9. Andy Barney, 10. Scott Mahlum, 11. Travis Gordon, 12. John Grosskopf, 13. Dan Osthoff
ANT's Complete Pest Control Hornets
Feature (15 laps):  1. Ben Thurk, 2. Lester Stanfield, 3. Rob Schleifer, 4. Joey Johnson III, 5. Michael Wachs, Jr., 6. Kristopher Berg, 7. Brian Adams, 8. Rob Stanfield, 9. John Clauson, 10. Carter Horstman, 11. Nick Hadler, 12. Kyle Cottone, 13. Jayden Schock, 14. Keanna Barney, 15. Chris Christen, 16. Shawn Breese, 17. Justin Iverson, 18. Brandon Olson, 19. Jacob Iverson, 20. Jeffrey Von Ruden, 21. Abigail Knaack, 22. Christopher Lofquist
Heat #1 (8 laps):  1. Rob Schleifer, 2. Joey Johnson III, 3. Lester Stanfield, 4. Kristopher Berg, 5. Ben Thurk, 6. Brandon Olson
Heat #2 (8 laps):  1. Michael Wachs, Jr., 2. Brian Adams, 3. Jayden Schock, 4. Jacob Iverson, 5. Kyle Cottone, 6. Nick Hadler, 7. Shawn Breese, 8. Carter Horstman, 9. Jeffrey Von Ruden
Heat #3 (8 laps):  1. Keanna Barney, 2. John Clauson, 3. Justin Iverson, 4. Abigail Knaack, 5. Damian Swanson, 6. Christopher Lofquist, 7. Rob Stanfield, 8. Chris Christen
Qualifying:  1. Joey Johnson III, 2. Brandon Olson, 3. Lester Stanfield, 4. Kristopher Berg, 5. Ben Thurk, 6. Rob Schleifer, 7. Jeffrey Von Ruden, 8. Kyle Cottone, 9. Carter Horstman, 10. Shawn Breese, 11. Nick Hadler, 12. Jacob Iverson, 13. Brian Adams, 14. Jayden Schock, 15. Chris Christen, 16. Abigail Knaack, 17. John Clauson, 18. Christopher Lofquist, 19. Justin Iverson, 20. Keanna Barney, 21. Damian Swanson, 22. Rob Stanfield
Mountain Dew Mini-Vans
Feature (15 laps):  1.  John Huebner, 2. Hen Hart, 3. Kreig Miller, 4. Daniel Noth
Heat #1 (8 laps):  1. John Huebner, 2. Ken Hart, 3. Daniel Noth, 4. Kreig Miller
Qualifying:  1. John Huebner 16.847 (New Track Record), 2. Kreig Miller, 3. Ken Hart, 4. Daniel Noth
Coulee Tire Six Shooters
Feature (15 laps):  1. Matthew Cleveland, 2. Adam Kerley, 3. Charles Vian, Jr., 4. Al Bartels, 5. Dan Osthoff, 6. Jake Schomers, 7. Dakota Miller, 8. Alex Liebsch, 9. Cody Bell, 10. Thomas Farra, 11. Jazmyn Wilson, 12. Matthew Miller, 13. Ryan Stanfield
Heat #1 (8 laps):  1. Dan Osthoff, 2. Adam Kerley, 3. Ryan Stanfield, 4. Thomas Farra, 5. Cody Bell, 6. Jazmyn WIlson, 7. Matthew Miller, 8. Katie Wolfe
Heat #2 (8 laps):  1. Al Bartels, 2. Matthew Cleveland, 3. Dakota Miller, 4. Jake Schomers, 5. Alex Liebsch, 6. Charles Vian, Jr.
Qualifying:  1. Dakota Miller 16.322 (New Track Record), 2. Matthew Cleveland, 3. Charles Vian, Jr., 4. Jake Schomers, 5. Alex Liebsch, 6. Al Bartels, 7. Dan Osthoff, 8. Ryan Stanfield, 9. Thomas Farra, 10. Adam Kerley, 11. Jazmyn Wilson, 12. Matthew Miller, 13. Katie Wolfe
Novelty
2nd Over the Line Wins Race:  1. Dakota Miller, 2. Thomas Farra, 3. Charles Vian, Jr., 4. Cody Bell, 5. Alex Liebsch, 6. Jake Schomers, 7. Al Bartels, 8. John Huebner, 9. Matthew Cleveland, 10. Rob Stanfield