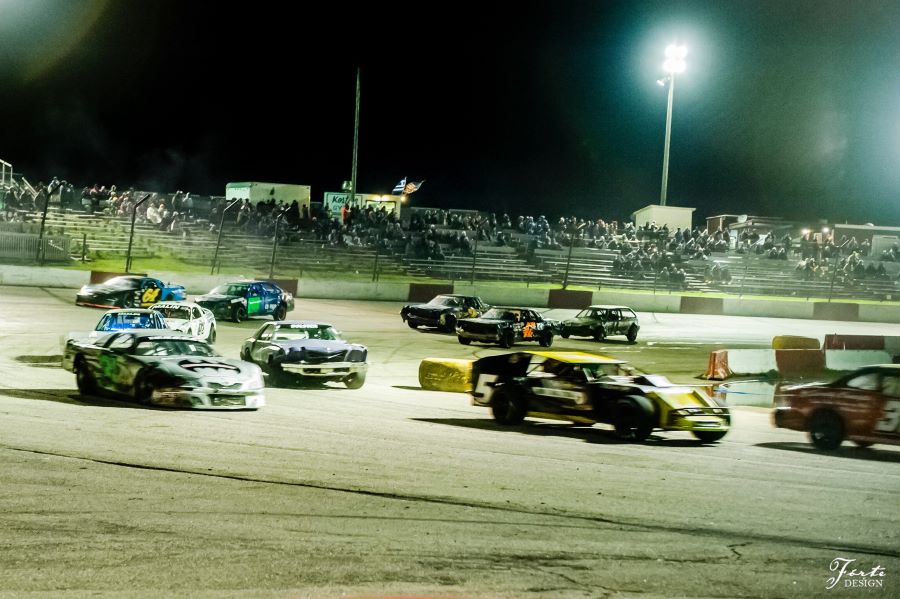 West Salem, WI- One of the most unique racing events of Oktoberfest Race Weekend if not all of short track auto racing takes place during Thursday night of the annual event held the fifth weekend after Labor Day at LaCrosse Fairgrounds Speedway.  While the majority of the seventeen racing divisions battle on the large 5/8 of a mile paved fairgounds oval, the Double-O utilizes both the large track and the quarter mile oval.  Two tracks, one race.
What quickly became an Oktoberfest tradition, race vehicles of all kinds switch tracks on alternating laps, making an exciting transition at the start finish line.  The driver that completes six laps per track first is the winner of the event which begins from a staggered by division standing start and has no yellow flags.  
"John McKarns (past Oktoberfest Promoter) wanted a novelty type event at Oktoberfest and came up with the idea of running both tracks." Recalls Oktoberfest Race Director Jeff Garbers.  "I know that every division has won it over the years and we have only had to throw a red flag once."  With an average car count of 26 and record counts of 34 participants three times (1997, 2015, 2016), the Double-O remains a fan favorite.
The open competition event has a simple rule package, open to any race vehicle with a full four point roll cage that is in competition during the 53rd Oktoberfest Race Weekend.  A variety of machines including Sportsmen, Late Models, Trucks, Hobby Stocks, Hornets and Modified's fill the speedways each fall.  Joining the Double-O on Oktoberfest Opening Night, Thursday October 6 will be the NASCAR Late Models in double features, Super Late Model Futures, Super Late Model Knights, La Crosse Sportsmen, Hornets and Six Cylinder Street Stocks.
53rd Oktoberfest Fan Guide: https://oktoberfestraceweekend.com/wp-content/uploads/2022/08/2022-fan-guide.pdf
53rd Oktoberfest Competitor Guide: https://oktoberfestraceweekend.com/wp-content/uploads/2022/10/2022-OKTOBERFEST-COMPETITOR-GUIDE-BOOK-10022022B.pdf
Oktoberfest Race Weekend is a tradition in the Midwest for 53 years! Four Days of Stock Car Racing, Legendary After Race Parties, Special Challenge Races, Super Late Models, The FAMOUS Camper Village, and over 700 laps of feature racing action! Make you plans now to attend!
For more information, please visit oktoberfestraceweekend.com.