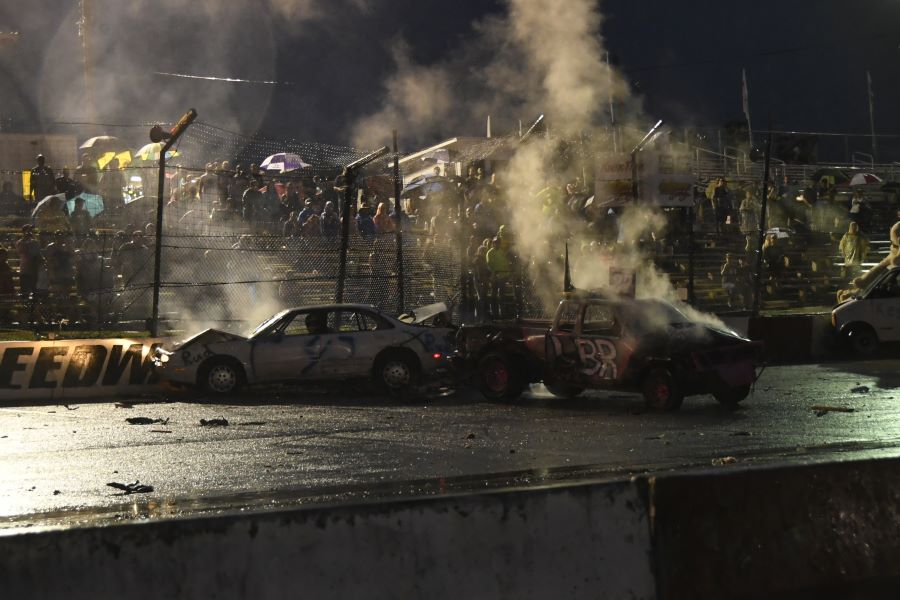 By: Paul Reichert
August 6, 2022
Rain is always the greatest nemesis of the race track promoter as well as the race fans.  The promoter is always hard at work trying to get the complete program in the books while the race fans in attendance hope the rain holds off long enough so they can witness some exciting racing action.  That was the case Saturday night at the LaCrosse Speedway.  A hard hit by Michael Haggar on lap six of the NASCAR Late Model feature led officials to postpone the conclusion of the feature to next week thanks to the rain.  The rain did not stop the drivers in the Trailer Race of Destruction from making impactful showings in the event, which was won by Alex Liebsch.
The Auto Value 25 lap feature for the NASCAR Late Models saw Joseph Scholze (Holmen, WI) surge past Kenneth Donais (Sparta, WI) for the lead at the start of the main event.  Both Scholze and Donais were running their career best races in the early going, but Donais would soon be challenged by one of the front runners.  Jerimy Wagner (Onalaska, WI) was applying all the pressure he could on Donais in a tough fight over the runner-up spot.  On lap six Michael Haggar (Hanover, MN) got loose coming off of turn four and bounced hard off the front straight wall damaging both the front and rear of his race car.  A brief fire in the engine was quickly extinguished as safety personnel got Haggar out of his race car without a scratch.  Unfortunately that is when the rain finally pelted the race track.  Officials conferred and made the call to finish this week's feature at the start of next week's program in advance of the next round of twin 20 lappers.
As the rain began to let up, officials decided to let the drivers compete in the Trailer Race of Destruction on the wet 'action track' quarter mile.  Despite a slick and wet newly paved track, the usual destruction of motor homes, campers and other interesting trailers thrilled and excited the race fans.  Action got a bit congested in turn four, but some drivers were able to maneuver their way around it while those caught in it were able to free themselves from the tie-up.  After all the smashing and crashing was completed, it was up to the race fans to decide which driver made the hardest impacts on the track.  Alex Liebsch got the loudest crowd approval to add a Trailer Race win to his Shipwreck Boat Race win from Smash-O-Rama earlier this season.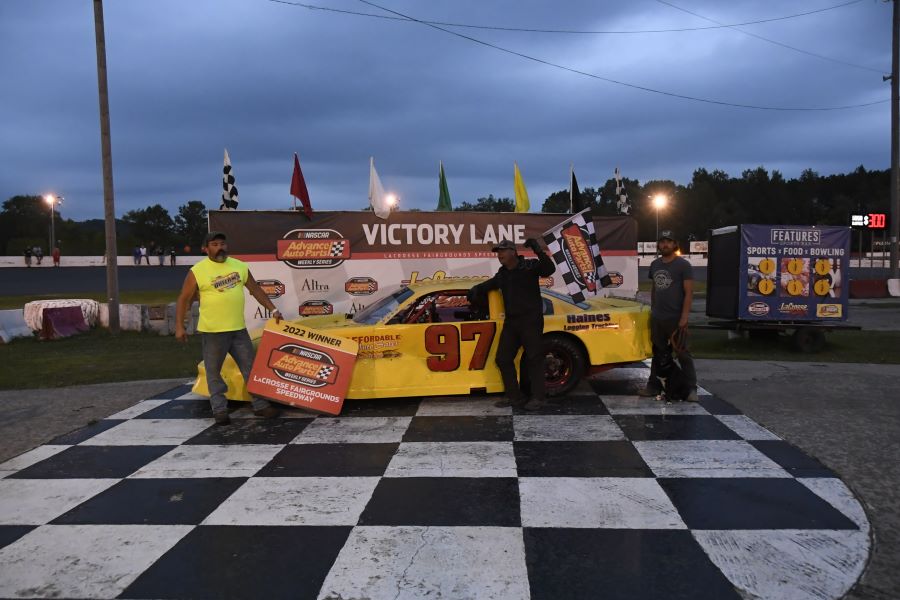 Bob Fort (Fountain City, WI) took the lead four laps into the Sportsmen feature.  Sam Niles (Holmen, WI) was looking for the lead just before the halfway before Fort got loose coming out of turn four as the two made contact.  That allowed Randy Humfeld (Chaseburg, WI) to move into second and challenge Fort for the top spot.  Over the final three laps of the season Fort's mirrors were full of both Niles and Humfeld, but Fort was able to hold back their advances to claim his fifth win of the season.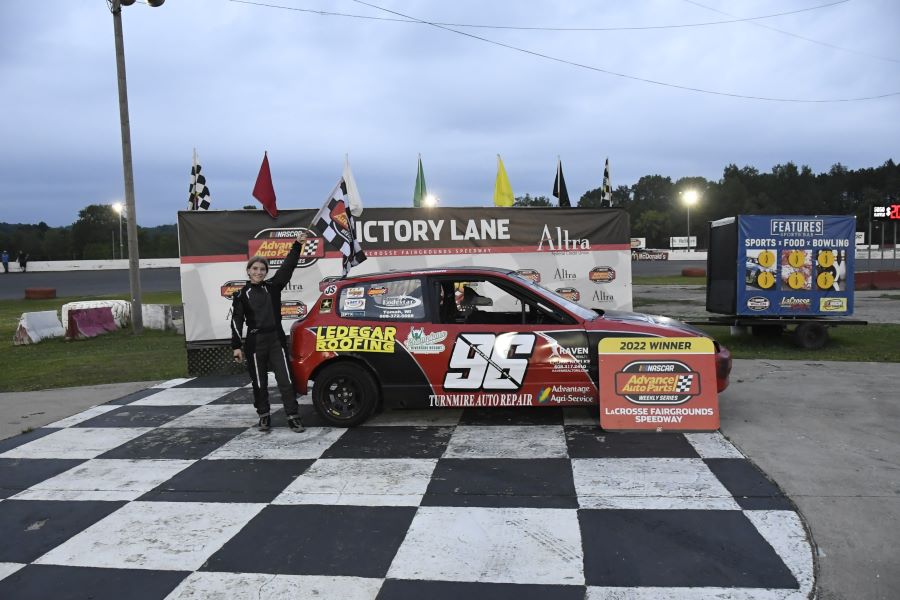 In the Hornet feature, Keanna Barney started on the pole and powered her way around Dan Osthoff to take control of the race.  She would have to deal with Rob Stanfield in the final few laps but remained in charge of the field to score her second career Hornet feature win.
Chris Larson started shotgun on the field for the Street Stock feature just like a couple of weeks ago.  He powered his way under Alex Liebsch with four laps to go and pulled away from the field to capture his second straight feature win.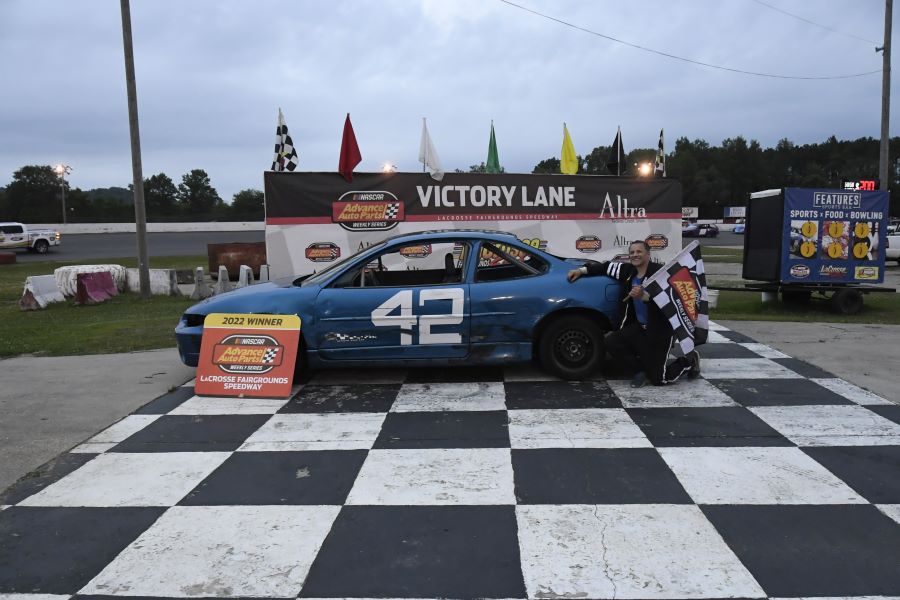 Action continues next Saturday, August 13 with the final weekly program of the 2022 season.  The Late Models will now have a very busy night with around 60 laps of racing taking place over the course of three features.  The Sportsmen will have another opportunity to run their own pair of 15 lap features.  The Hornets, Six Shooters and the High School Racing Association will also be in action that night.  Be sure to stock up on your quarters and dollar bills for the second Buck Night of the season.  All concession items are just a buck and beers are only $3.  Gates open at 5:30, qualifying begins at 5:45 and racing starts at 7.
For more information about LaCrosse Speedway or the 2022 schedule of events, please call the track office at 608-786-1525 or visit our web site at 
lacrossespeedway.com
.  LaCrosse Speedway is proud to be a NASCAR Hometrack, part of the NASCAR Advance Auto Parts Weekly Series.
RESULTS
Kwik Trip NASCAR Late Models
Feature (Running order after six laps):  1. Joseph Scholze, 2. Kenneth Donais, 3. Jerimy Wagner, 4. Peter Carlson, 5. Nick Clements, 6. Brent Kirchner, 7. Steve Bachman, 8. Steve Carlson, 9. Mike Carlson, 10. Adam Degenhardt, 11. Don Turner, 12. Tom Luethe, 13. Michael Haggar, 14. Cole Howland, 15. Jimmy Summerfield
6-for-6 Dash (6 laps):  1. Mike Carlson, 2. Michael Haggar, 3. Brent Kirchner, 4. Steve Bachman, 5. Adam Degenhardt, 6. Nick Clements
Heat #1 (8 laps):  1. Don Turner, 2. Steve Carlson, 3. Kenneth Donais, 4. Jerimy Wagner, 5. Tom Luethe, 6. Cole Howland, 7. Peter Carlson, 8. Joseph Scholze, 9. Jimmy Summerfield
Qualifying:  1. Nick Clements, 2. Brent Kirchner, 3. Adam Degenhardt, 4. Steve Bachman, 5. Mike Carlson, 6. Michael Haggar, 7. Cole Howland, 8. Steve Carlson, 9. Jerimy Wagner, 10. Don Turner, 11. Peter Carlson, 12. Joseph Scholze, 13. Kenneth Donais, 14. Jimmy Summerfield, 15. Tom Luethe (NO TIME)
LawnKeepers Sportsmen
Feature (15 laps):  1. Bob Fort, 2. Sam Niles, 3. Randy Humfeld, 4. Andy Barney, 5. Bill Schott, 6. Justin Berg, 7. Ken Christenson, 8. Dexter Malin, 9. Scott Mahlum
Dash (8 laps):  1. Sam Niles, 2. Justin Berg, 3. Ken Christenson, 4. Randy Humfeld, 5. Bob Fort 
Heat #1 (8 laps):  1. Bill Schott, 2. Andy Barney, 3. Dexter Malin, 4. Scott Mahlum
Qualifying:  1. Randy Humfeld, 2. Justin Berg, 3. Bob Fort, 4. Sam Niles, 5. Ken Christenson, 6. Andy Barney, 7. Dexter Malin, 8. Scott Mahlum, 9. Bill Schott
ANT's Complete Pest Control Hornets
Feature (15 laps):  1. Keanna Barney, 2. Rob Stanfield, 3. Joey Johnson III, 4. Kyle Cottone, 5. Kristopher Berg, 6. Jaydin Schock, 7. Nick Hadler, 8. Shawn Breese, 9. Kendon Thurk, 10. John Clauson, 11. Chistopher Lofquist, 12. Ben Thurk, 13. Chris Christen, 14. Dan Osthoff, 15. Alex Liebsch, 16. Lester Stanfield, 18. 
Dash (6 laps):  1. Kristopher Berg, 2. Carter Horstman, 3. Joey Johnson III, 4. Lester Stanfield, 5. Ben Thurk, 6. Zach Oliver
Heat #1 (8 laps):  1. Keanna Barney, 2. Jaydin Schock, 3. Rob Stanfield, 4. Kendon Thurk, 5. Nick Hadler, 6. Shawn Breese, 7. Christopher Lofquist, 8. John Clauson, 9. Alex Liebsch, 10. Kyle Cottone, 11. Dan Osthoff  
Qualifying:  1. Ben Thurk, 2. Lester Stanfield, 3. Joey Johnson III, 4. Carter Horstman, 5. Zach Oliver, 6. Kristopher Berg, 7. Jaydin Schock, 8. Shawn Breese, 9. Rob Stanfield, 10. Nick Hadler, 11. Kendon Thurk, 12. Christopher Lofquist, 13. Kyle Cottone, 14. Keanna Barney, 15. Alex Liebsch, 16. Dan Osthoff, 17. John Clauson
Auto Value Street Stocks
Feature (15 laps):  1. Chris Larson, 2. Alex Liebsch, 3. Keith Larson, 4. Ryan Stanfield, 5. Landon Lockington, 6. Al Bartels, 7. Matthew Bornheimer, 8. John Huebner, 9. Steven Brasda, 10. Kreg Miller, 11. Adam Kerley
Heat #1 (8 laps):  1. Ryan Stanfield, 2. Landon Lockington, 3. Matthew Bornheimer, 4. Adam Kerley, 5. Kreg Miller 
Heat #2 (8 laps):  1. Alex Liebsch, 2. John Huebner, 3. Keith Larson, 4. Chris Larson,n 5. Steven Brasda, 6. Al Bartels
Qualifying:  1. Chris Larson, 2. Keith Larson, 3. Steven Brasda, 4. John Huebner, 5. Al Bartels, 6. Alex Liebsch, 7. Matthew Bornheimer, 8. Ryan Stanfield, 9. Kreg Miller, 10. Adam Kerley, 11. Landon Lockington 
Novelty
Trailer Race of Destruction (Fan Vote):  1. Alex Liebsch, 2. Jason Pyka, 3. Alex Rud