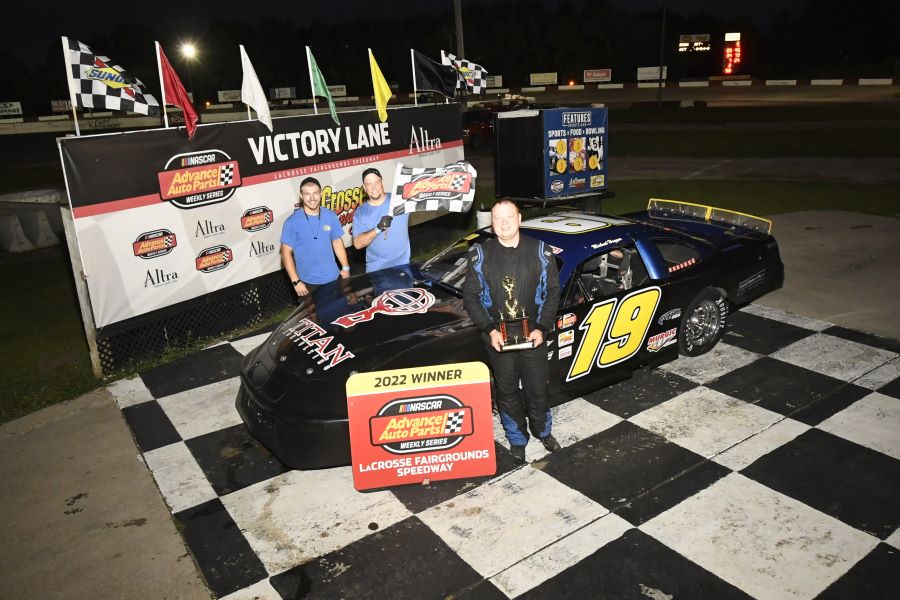 By: Paul Reichert
August 13, 2022
When you go shopping or go out to eat there are specials out there when if you buy one product you get a second identical one for free.  We always have a deal at the 50/50 booth here at the LaCrosse Speedway of buying 6 tickets for $5.  Tonight there were two big specials that gave the race fans a huge win-win at the races.  Fans got to eat for not a lot of money during the second Buck Night of the year.  The fans also got to see three NASCAR Late Models for the price of two as we had to finish the feature from last week that got interrupted by a wreck and rain.  Brent Kirchner got to the front quickly and pulled away to a huge feature win in last week's race.  Michael Haggar got out to a big lead and withstood a late challenge to claim the first scheduled feature, while Mike Carlson had his best race of the season and drove off with the nightcap to score his second win of 2022. 
In the conclusion of the Auto Value 25 NASCAR Late Model feature from last week, Jerimy Wagner (Onalaska, WI) wasted little time to shoot by Joseph Scholze (Holmen, WI) on the outside for the lead on the restart.  Brent Kirchner (LaCrosse, WI) followed right behind Wagner and charged past him down the back straight to move into the top spot.  Steve Bachman (Bangor, WI) moved into second on lap nine and slowly began to whittle away at Kirchner's advantage.  With seven laps to go Bachman was all over Kirchner looking for the lead, while Mike Carlson (West Salem, WI) and Adam Degenhardt (Coon Valley, WI) caught them both to make the fight for the win a bit more interesting.  Kirchner fought back that huge hoard of contenders to claim his first feature win of the year.  After the race Kirchner said "We really needed to get a feature win especially with us in the thick of the championship race." 
Michael Haggar (Hanover, MN) was shot out of a cannon to take the lead at the start of the first NASCAR Late Model Budweiser 20 lap feature.  Haggar's car was running on rails as he pulled out to a sizable lead.  Michael Beamish (Eagan, MN) did everything in his power to close the distance on Haggar.  Just after the halfway mark Adam Degnhardt was on the move as he powered his way underneath Beamish to move into the runner-up spot.  Over the final eight laps the deficit was shrinking slowly between Haggar and Degenhardt.  Haggar held a three car length advantage over Degenhardt to claim his second win this season.  After the race Haggar said "We spend a lot of man hours to put this car back together and get it race ready.  It was well worth the effort in the race."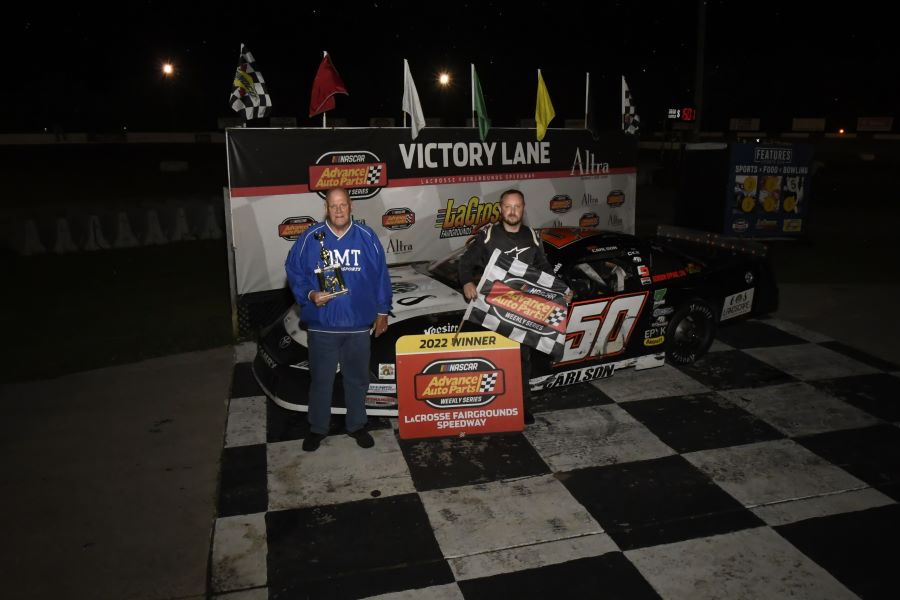 In the Budweiser 20 lap NASCAR Late Model feature number two, Justin Mullikin (Holmen, WI) powered by Steve Carlson (West Salem, WI) to assume command of the race.  Steve would remain within a couple car lengths of Mullikin, but soon they would have to contend with Mike Carlson.  Mike was hooked up on the outside groove as he shot past Steve for second on lap eight, then zoomed by Mullikin to move to the front of the line as the field received the crossed flags.  As MIke began to open up his lead on the field, Steve was able to find a way around Mullikin on the outside to settle into second with seven laps to go.  After winning on opening day in his dad Steve's car, Mike Carlson claimed his second victory of the year as he led a family one-two finish.  After the race Mike said "We worked a lot on the car this week and you saw the results of our time and effort on the track tonight." 
Jamie Dummer (Tomah, WI) got out to a huge lead at the start of the first 15 lap Sportsmen feature.  The front runners were walking a thin line not to break out while trying to catch up to Dummer.  Dummer was unstoppable as the #racinforjason24 team notched their first ever feature victory.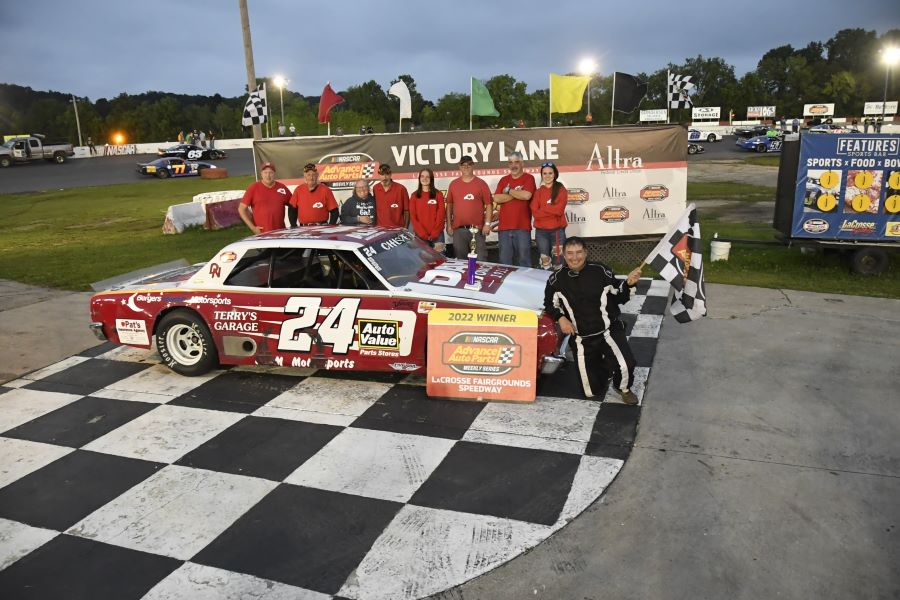 Travis Gordon (Mindoro, WI) saw his engine expire with two laps remaining in 15 lap Sportsmen feature number two, which made the finish on the track a little more interesting.  Randy Humfeld (Chaseburg, WI) pulled away from Jamie Dummer on the restart to survive an attrition-filled race and notch his third checkered flag of the season.  
The last lap of the Hornet feature was the most thrilling finish of the season by far.  A slip in turns one and two by Mark Bornitz allowed Joey Johnson III to dive low and power his way into the lead, which resulted in his first trip to Altra Federal Credit Union Victory Lane.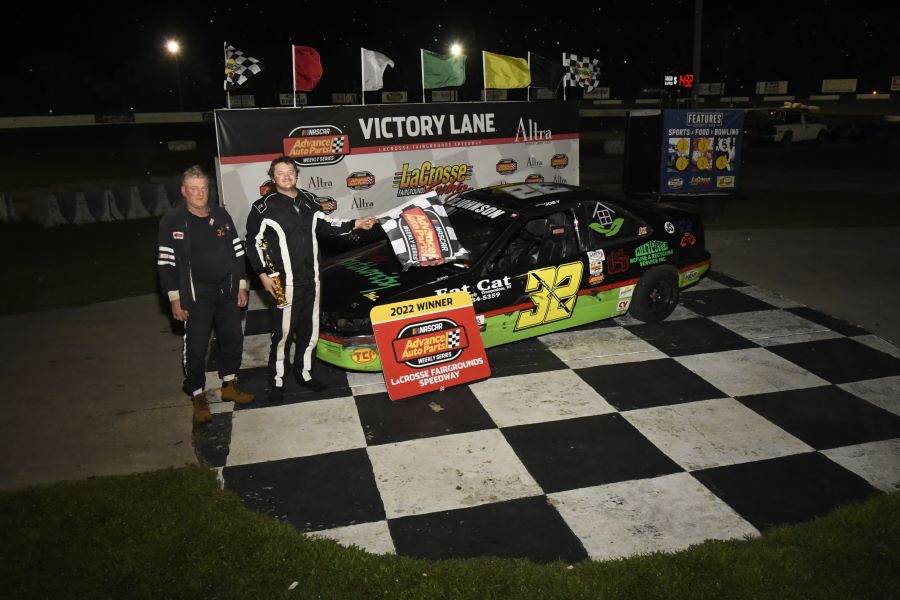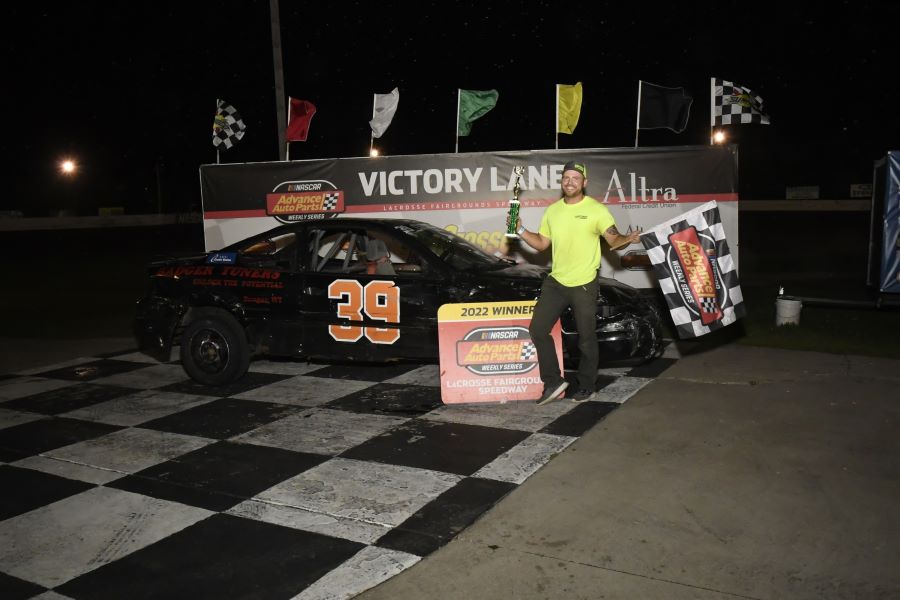 In the Six Shooter feature Matthew Cleveland powered by Alex Liebsch on the outside to take command of the race on lap seven.  Cleveland was able to keep Jake Schomers in his rear view mirrors over the final four laps to hit the finish line first.
Lap traffic made things interesting late in the High School Racing Association feature.  Mitchell Berg used the lapped cars to dive low and wrestle the lead away from Ashton Kinsey with four laps remaining to notch his first feature win this year.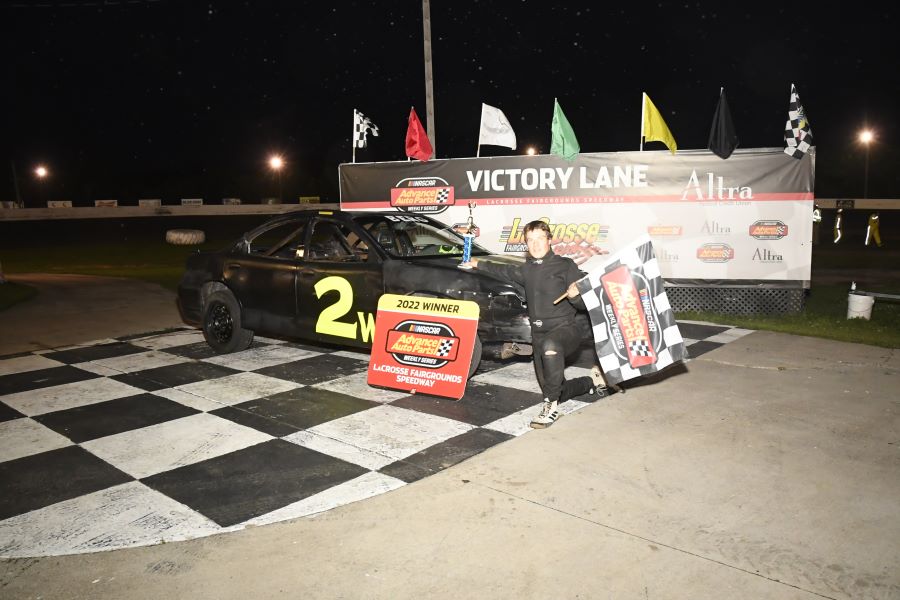 The 3rd Over the Line Wins race featured a little more strategy and patience for the Six Shooters as this week's Novelty event.  John Huebner let others flinch as he just nosed ahead of Alex Liebsch to claim the win and lock up the 2022 season championship. 
The racing action will take a two week summer break and resume on Saturday, September 3 with the annual Big Cheese 200.  This is a 200 lap enduro race that features both 4-cylinder and 6-cylinder race cars competing at the same time.  The Mini-Vans will race one final time and crown their season champion, while the High School Racing Association will run their State Championship race.  Gates open at 5:30, qualifying fires up at 6 and racing action begins at 7.
For more information about LaCrosse Speedway or the 2022 schedule of events, please call the track office at 608-786-1525 or visit our web site at 
lacrossespeedway.com
.  LaCrosse Speedway is proud to be a NASCAR Hometrack, part of the NASCAR Advance Auto Parts Weekly Series.
RESULTS
Kwik Trip NASCAR Late Models
Auto Value 25 Feature (Conclusion of August 6 feature):  1. Brent Kirchner, 2. Steve Bachman, 3. Mike Carlson, 4. Adam Degenhardt, 5. Nick Clements, 6. Steve Carlson, 7. MIchael Haggar, 8. Jerimy Wagner, 9. Don Turner, 10. Tom Luethe, 11. Joseph Scholze, 12. Peter Carlson, 13. Kenneth Donais, 14. Jimmy Summerfield
Feature #1 (20 laps):  1. Michael Haggar, 2. Adam Degenhardt, 3. Michael Beamish, 4. Nick Clements, 5. Mike Carlson, 6. Steve Bachman, 7. Jerimy Wagner, 8. Devin Schmidt, 9. Bretn Kirchner, 10. Steve Carlson, 11. Justin Mullikin, 12. Tom Luethe, 13. Don Turner, 14. Peter Carlson, 15. Kenneth Donais, 16. Joseph Scholze, 17. Jonathan Eckelberg, 18. Gib Scharpf, 19. Tony Bagstad, 20. Jimmy Summerfield
Feature #2 (20 laps):  1. Mike Carlson, 2. Steve Carlson, 3. Justin Mullikin, 4. Jerimy Wagner, 5. Devin Schmidt, 6. Adam Degenhardt, 7. Steve Bachman, 8. Nick Clements, 9. Michael Beamish, 10. Michael Haggar, 11. Brent Kirchner, 12. Tony Bagstad, 13. Don Turner, 14. Tom Luethe, 15. Peter Carlson, 16. Kenneth Donais, 17. Jonathan Eckelberg, 18. Joseph Scholze, 19. Jimmy Summerfield, 20. Gib Scharpf
Qualifying:  1. Mike Carlson, 2. Brent Kirchner, 3. Adam Degenhardt, 4. Tony Bagstad, 5. Jerimy Wagner, 6. Nick Clements, 7. Steve Bachman, 8. Michael Beamish, 9. Tom Luethe, 10. Michael Haggar, 11. Devin Schmidt, 12 Justin Mullikin, 13. Steve Carlson, 14. Gib Scharpf, 15. Don Turner, 16. Joseph Scholze, 17. Peter Carlson, 18. Kenneth Donais, 19. Jonathan Eckelberg, 20. John Christenson, 21. Jimmy Summerfield
LawnKeepers Sportsmen
Feature #1 (15 laps):  1. Jamie Dummer, 2. Bob Fort, 3. Tony Leis, 4. Andy Barney, 5. Bill Schott, 6. Sam Niles, 7. Randy Humfeld, 8. Justin Berg, 9. Dave Swanson, 10. Jesse Green, 11. Dexter Malin, 12. Travis Gordon, 13. Scott Mahlum, 14. Tyler Stuber
Feature #2 (15 laps):  1. Randy Humfeld, 2. Jamie Dummer, 3. Andy Barney, 4. Jesse Green, 5. Justin Berg, 6. Scott Mahlum, 7. Tyler Stuber, 8. Dexter Malin, 9. Bill Schott, 10. Bob Fort, 11. Travis Gordon, 12. Sam Niles, 13. Dave Swanson, 14. Tony Leis,  
Qualifying:  1. Travis Gordon, 2. Randy Humfeld, 3. Andy Barney, 4. Sam Niles, 5. Dave Swanson, 6. Tony Leis, 7. Jamie Dummer, 8. Justin Berg, 9. Bob Fort, 10. Jesse Green, 11. Dexter Malin, 12. Bill Schott, 13. Scott Mahlum, 14. Tyler Stuber
ANT's Complete Pest Control Hornets
Feature (15 laps):  1. Joey Johnson III, 2. Lester Stanfield, 3. Mark Bornitz, 4. Kristopher Berg, 5. Zach Oliver, 6. Rob Stanfield, 7. Nick Hadler, 8. Keanna Barney, 9. Jaydin Schock, 10. John Clauson, 11. Christopher Lofquist, 12. Dan Secor, 13. Kyle Cottone, 14. Carter Horstman, 15. Abigail Knaack, 16. Shawn Breese, 17. Joey Johnson, Sr.
Dash (6 laps):  1. Lester Stanfield, 2. Kristopher Berg, 3. Joey Johnson III, 4. Keanna Barney, 5. Jaydin Schock, 6. Carter Horstman
Heat #1 (8 laps):  1. Nick Hadler, 2. Mark Bornitz, 3. Zach Oliver, 4. Christopher Lofquist, 5. Shawn Breese, 6. Dan Secor
Heat #2 (8 laps):  1. John Clauson, 2. Kyle Cottone, 3. Joey Johnson, Sr., 4. Rob Stanfield, 5. Abigail Knaack, 6. Doyle Cavender III
Qualifying:  1. Lester Stanfield, 2. Carter Horstman, 3. Joey Johnson III, 4. Kristopher Berg, 5. Jaydin Schock, 6. Keanna Barney, 7. Nick Hadler, 8. Mark Bornitz, 9. Christopher Lofquist, 10. Shawn Breese, 11. Dan Secor, 12. Kyle Cottone, 13. Joey Johnson, Sr., 14. Doyle Cavender III, 15. Rob Stanfield, 16. Abigail Knaack, 17. John Clauson, 18. Zach Oliver (NO TIME)
Coulee Tire Six Shooters
Feature (15 laps):  1. Matthew Cleveland, 2. Jake Schomers, 3. Adam Kerley, 4. Alex Liebsch, 5. Ryan Stanfield, 6. Al Bartels, 7. Tory Lockington, 8. John Huebner, 9. Marshall Rinartz, 10. Clayton Haessig, 11. Thomas Dieringer, 12. Matthew Miller
Heat #1 (8 laps):  1. Jake Schomers, 2. Al Bartels, 3. Matthew Cleveland, 4. Clayton Haessig, 5. Matthew Miller, 6. John Huebner, 7. Marshall Rinartz
Heat #2 (8 laps):  1.  Alex Liebsch, 2. Ryan Stanfield, 3. Adam Kerley, 4. Tory Lockington, 5. Thomas Dieringer
Qualifying:  1. Matthew Cleveland, 2. Jake Schomers, 3. John Huebner, 4. Al Bartels, 5. Matthew Miller, 6. Marshall Rinartz, 7. Clayton Haessig, 8. Adam Kerley, 9. John Clauson, 10. Ryan Stanfield, 11. Tory Lockington, 12. Alex Liebsch, 13. Thomas Dieringer 
High School Racing Association
Feature (15 laps):  1. Mitchell Berg, 2. Ashton Kinsey, 3. Devin Lee, 4. Charlie Thompson, 5. Kennedy Krueger, 6. Landin Frye, 7. Anne Green, 8. Hunter Sarver, 9. Ryatt Dobbratz, 10. Braydon Lockington
Heat #1 (8 laps):  1. Ryatt Dobbratz, 2. Braydon Lockington, 3. Ashton Kinsey, 4. Devin Lee, 5. Mitchell Berg, 6. Hunter Sarver, 7. Anne Green, 8. Landin Frye, 9. Charlie Thompson, 10. Kennedy Krueger
Qualifying:  1. Braydon Lockington, 2. Hunter Sarver, 3. Landin Frye, 4. Charlie Thompson, 5. Mitchell Berg, 6. Ashton Kinsey, 7. Devin Lee, 8. Kennedy Krueger, 9. Ryatt Dobbratz, 10. Anne Green (NO TIME)
Novelty
3rd Over the Line Wins Race:  1. John Huebner, 2. Alex Liebsch, 3. Adam Kerley, 4. Ryan Stanfield, 5. Jake Schomers, 6. Al Bartels, 7. Matthew Miller, 8. Rob Stanfield, 9. Matthew Cleveland