By:  Paul Reichert
June 12, 2021
The 'June swoon' of early summer hot and humid weather did not stop another fantastic crowd from witnessing another night of exciting competition at the LaCrosse Speedway.  The race fans were treated to another new face in victory lane in the Late Model feature, although it would be a usual visitor to victory lane.  Steve Carlson made a rare start on the pole as he led all 25 laps to score his first victory of 2021 and continue the Late Models' impressive feature streak.  That streak has now gone to six feature races and six different faces in victory lane.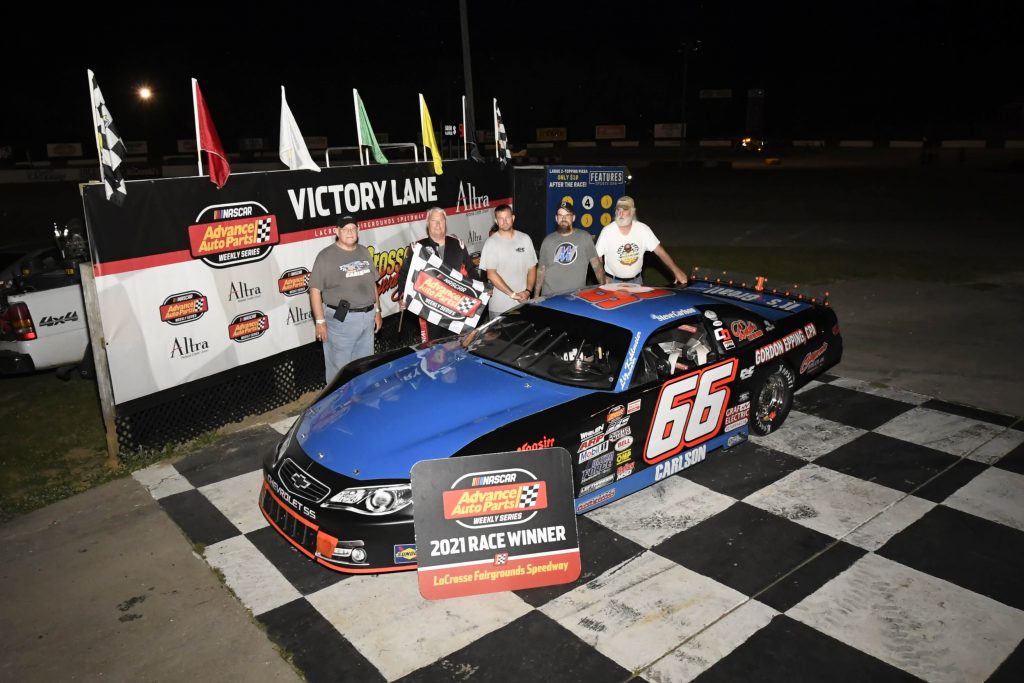 Steve Carlson (West Salem, WI) started on the pole of the Pischke Motors 25 lap NASCAR Late Model feature as he made quick work of Michael Haggar (Hanover, MN).  On lap two things got very interesting as a three-way fight over second began to develop between Haggar, Billy Mohn (Elko, MN) and Adam Degenhardt (Coon Valley, WI).  Haggar surged ahead into second in turn three, but entering turn one both Mohn and Degenhardt caught back up to Haggar.  After doing this for a few laps Haggar got a huge run out of turn two to assume the runner-up spot.  While all that was going on Carlson was opening up his advantage on the field.  Haggar was doing his darndest to try to whittle away at Carlson's lead in his best feature showing at LaCrosse.  Mohn and Degenhardt battled hard over the third position and would soon be joined by recent feature winner Steve Bachman (Bangor, WI).  Mohn would get the better of Degenhardt and move into third with eight laps to go.  Back up front Haggar was still giving it his all to reel in Carlson.  Carlson was no match for this up-and-coming racer as he notched his first checkered flag of the year.  After the race Carlson was "We came out here and ran some extra practice laps this morning.  Those laps really brought out the best in our car and we felt very confident about today."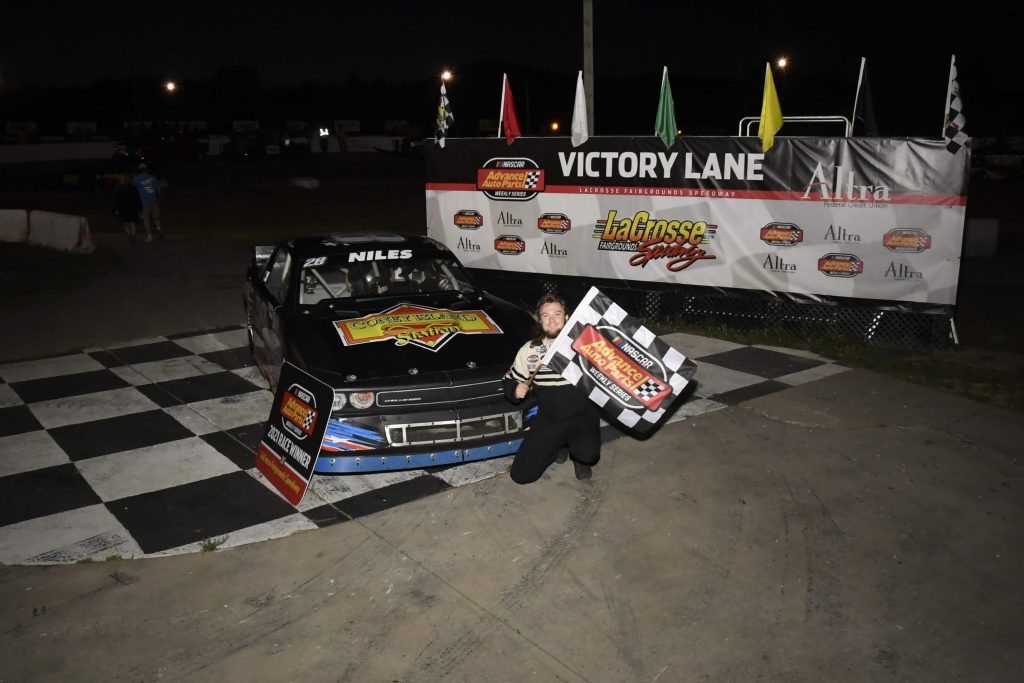 Sam Niles (Holmen, WI) took the lead three laps into the Sportsmen feature. Once again Niles would be challenged for the top spot by the modified of Bill Schott (LaCrosse, WI).  With six laps to go Niles began to slowly pull away and drove off with an unheard of fourth straight feature win.
It was a very intense side-by-side battle in the Hobby Stock feature between Adam Moore and Thomas Farra.  Farra tried to go to the low line with five laps to go, but the move would backfire as Moore drove off with the victory.
Andy Barney took the lead halfway through the Hornet feature but his mirror would be full of the red machine of Rob Schliefer over the final four laps.  Barney kept Schliefer behind him as he scored his first feature win in several years.
Yellow flew with two laps to go in the Street Stock feature as a few racers played a little rough entering turn one.  Veteran quarter-mile racer Al Bartels quickly charged past Zach Liebsch on the restart to score the victory and add another win to his 35 year racing resume.
Action continues next Saturday, June 19 with the most fan friendly event of the season, Fan Photo and Autograph Night.  Drivers will be signing their hero cards for the fans, plus they will be handing out free stuff for the fans and even a few teams will be having drawings to giveaway stuff for the kids and the adults.  The Late Models will run another pair of 20 lap features and they will be joined by the Sportsmen, Hobby Stocks, 6 Shooters and Mini-Vans.  Gates open at 5:30, Fan Photo and Autograph Night starts at 5:45 and racing action fires up at 7.
For more information about the LaCrosse Speedway or the 2021 schedule of events, please call the track office at 608-786-1525 or visit us on the web at 
lacrossespeedway.com
.  LaCrosse Speedway is proud to be a NASCAR Hometrack, part of the NASCAR Advance Auto Parts Weekly Series.
RESULTS
Kwik Trip NASCAR Late Models
Feature (25 laps):  1. Steve Carlson, 2. Michael Haggar, 3. Billy Mohn, 4. Adam Degenhardt, 5. Steve Bachman, 6. Jacob Goede, 7. Nick Murgic, 8. Matthew Henderson, 9. Brent Kirchner, 10. Jerimy Wagner, 11. Mike Carlson, 12. Nick Clements, 13. Adam Oxborough, 14. Carter Christenson, 15. Don Turner, 16. MIke Gillard, 17. Cole Howland, 18. Justin Mullikin, 19. Joseph Scholze, 20. Kenneth Donais, 21. Mandi McKinney, 22. Tony Leis, 23. Jimmy Summerfield, 24. Michael Ostdiek, 25. Andrew Buhrow, 26. Darren Wolke
6-for-6 Dash (6 laps):  1. Jerimy Wagner, 2. Nick Murgic, 3. Nick Clements, 4. Jacob Goede, 5. Tony Leis, 6. Steve Bachman
Heat #1 (8 laps):  1. Matthew Henderson, 2. Steve Carlson, 3. Michael Ostdiek, 4. Adam Oxborough, 5. Mike Carlson, 6. Adam Degenhardt, 7. Billy Mohn, 8. Brent Kirchner, 9. Cole Howland, 10. Michael Haggar, 11. Jeff Partington
Heat #2 (8 laps):  1. Justin Mullikin, 2. Don Turner, 3. Carter Christenson, 4. Kenneth Donais, 5. Joseph Scholze, 6. Mike Gillard, 7. Mandi McKinney, 8. Andrew Burhow, 9. Jimmy Summerfield, 10. Darren Wolke
Qualifying:  1. Nick Murgic, 2. Nick Clements, 3. Steve Bachman, 4. Jacob Goede, 5. Tony Leis, 6. Jerimy Wagner, 7. Brent Kirchner, 8. Adam Degenhardt, 9. Billy Mohn, 10. Michael Haggar, 11. Mike Carlson, 12. Steve Carlson, 13. Adam Oxborough, 14. Cole Howland, 15. Matthew Henderson, 16. Jeff Partington, 17. Michael Ostdiek, 18. Carter Christenson, 19. Justin Mullikin, 20. Joseph Scholze, 21. Don Turner, 22. Kenneth Donais, 23. Mike Gillard, 24. Darren Wolke, 25. Mandi McKinney, 26. Jimmy Summerfield, 27. Andrew Buhrow
LawnKeepers Sportsmen
Feature (15 laps):  1. Sam Niles, 2. Bill Schott, 3. Randy Humfeld, 4. Justin Berg, 5. Ed Ross, 6. Dave Swanson, 7. Travis Gordon, 8. Dexter Malin, 9. Jamie Dummer, 10. Denny Schott
Dash (6 laps):  1. Jamie Dummer, 2. Bill Schott, 3. Sam Niles, 4. Travis Gordon, 5. Dexter Malin
Heat #1 (8 laps):  1. Denny Schott, 2. Justin Berg, 3. Ed Ross, 4. Dave Swanson, 5. Randy Humfeld
Qualifying:  1. Bill Schott, 2. Sam Niles, 3. Travis Gordon, 4. Dexter Malin, 5. Jamie Dummer, 6. Justin Berg, 7. Ed Ross, 8. Dave Swanson, 9. Randy Humfeld, 10. Denny Schott
Auto Value Hobby Stocks
Feature (15 laps):  1. Adam Moore, 2. Thomas Farra, 3. Jason Bolster, 4. John Clauson
Dash (8 laps):  1. Adam Moore, 2. Thomas Farra, 3. Jason Bolster, 4. John Clauson
Qualifying:  1. Thomas Farra, 2. Adam Moore, 3. Jason Bolster, 4. John Clauson
ANT's Complete Pest Control Hornets
Feature (15 laps):  1. Andy Barney, 2. Rob Schliefer, 3. Shawn McCarthy, 4. Kristopher Berg, 5. Jake Schomers, 6. Marc Luethe, 7. Ben Thurk, 8. Tyler Stuber, 9. Cheyanne Stanfield, 10. Justin Iverson, 11. Matthew Miller, 12. Rob Stanfield, 13. Brandon McCarthy, 14. Bernie Lucey, 15. Jacob Iverson, 16. Karl Schroeder, 17. Michael Wachs Jr., 18. Abigail Knaack, 19. Travis Atkinson, 20. Keanna Barney
Heat #1 (8 laps):  1. Andy Barney, 2. Jake Schomers, 3. Michael Wachs Jr., 4. Cheyanne Stanfield, 5. Rob Schliefer, 6. Ben Thurk
Heat #2 (8 laps);  1. Keanna Barney, 2. Kristopher Berg, 3. Marc Luethe, 4. Shawn McCarthy, 5. Tyler Stuber, 6. Justin Iverson, 7. Karl Schroeder
Heat #3 (8 laps):  1. Matthew Miller, 2. Jacob Iverson, 3. Kyle Cottone, 4. Abigail Knaack, 5. Travis Atkinson, 6. Brandon McCarthy, 7. Rob Stanfield
Qualifying:  1. Joey Johnson III, 2. Cheyanne Stanfield, 3. Michael Wachs Jr., 4. Andy Barney, 5. Rob Schliefer, 6. Ben Thurk, 7. Jake Schomers, 8. Kristopher Berg, 9. Marc Luethe, 10. Shawn McCarthy, 11. Tyler Stuber, 12. Justin Iverson, 13. Keanna Barney, 14. Rob Stanfield, 15. Brandon McCarthy, 16. Kyle Cottone, 17. Matthew Miller, 18. Jacob Iverson, 19. Abigail Knaack, 20. Travis Atkinson, 21. Karl Schroeder (NO TIME)
Auto Value Street Stocks
Feature (15 laps):  1. Al Bartels, 2. Chris Larson, 3. Zach Liebsch, 4. Adam Kerley, 5. Tristan Drazkowski, 6. Lester Stanfield, 7. Peter Thompson, 8. Brian Larson, 9. John Huebner, 10. Bernie Lucey, 11. Steven Brasda, 12. Rob Stanfield, 13. Keith Larson, 14. Alex Liebsch, 15. Clayton Haessig, 16. Aaron Grattan
Heat #1 (8 laps):  1. Rob Stanfield, 2. Lester Stanfield, 3. Al Bartels, 4. Adam Kerley, 5. Bernie Lucey, 6. Clayton Haessig, 7. Zach Liebsch, 8. Brian Larson 
Heat #2 (8 laps):  1. Peter Thompson, 2. Alex Liebsch, 3. Keith Larson, 4. Chris Larson, 5. John Huebner, 6. Steven Brasda, 7. Aaron Grattan, 8. Tristan Drazkowski
Qualifying:  1. Chris Larson, 2. John Huebner, 3. Tristan Drazkowski, 4. Keith Larson, 5. Alex Liebsch, 6. Steven Brasda, 7. Peter Thompson, 8. Al Bartels, 9. Lester Stanfield, 10. Adam Kerley, 11. Brian Larson, 12. Clayton Haessig, 13. Zach Liebsch, 14. Rob Stanfield, 15. Bernie Lucey, 16. Aaron Grattan (NO TIME)