By: Paul Reichert
July 11, 2020
The action track quarter mile at the La Crosse Speedway always provides race fans with close quarters racing and a lot of beating and banging action. Tonight the quarter mile took center stage for the annual Quarter Mile Mania event. The quarter-mile divisions featured some exciting racing action, and the night ended with a hard hitting Demolition Derby.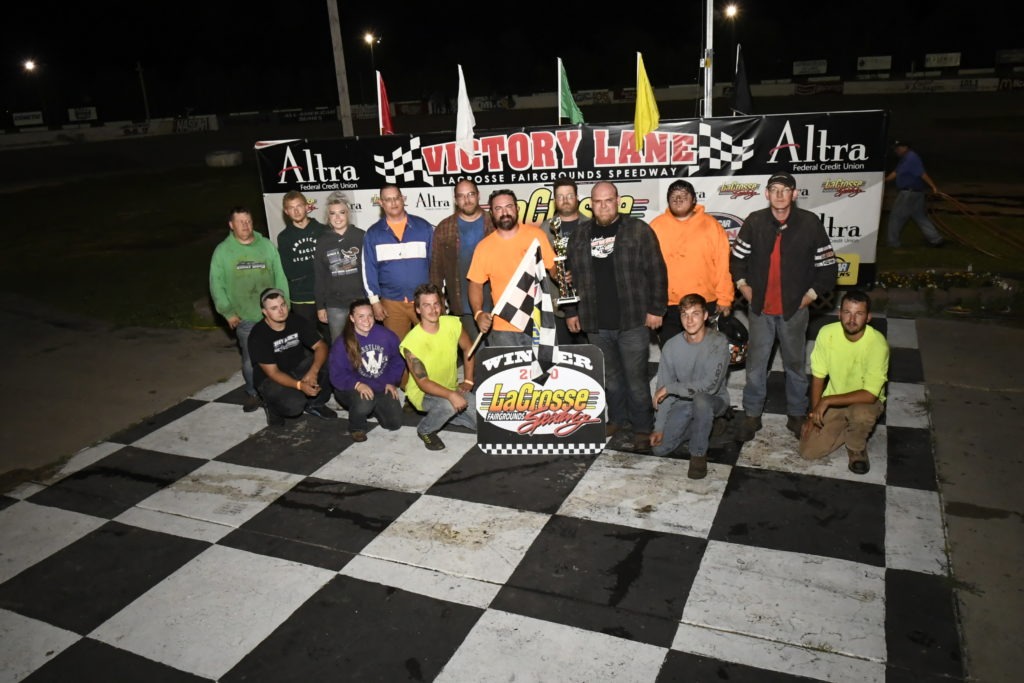 25 cars started the Demolition Derby and right from the start there was a lot of hard hitting action among the competitors. A lot of hard smashes and crashes eventually whittled the field down to two teammates. Kenan Ward and Dakota Gollnick had to go to a fan vote to decide who performed the better job of crashing into their competitors. Ward won the fan vote to capture the Demolition Derby.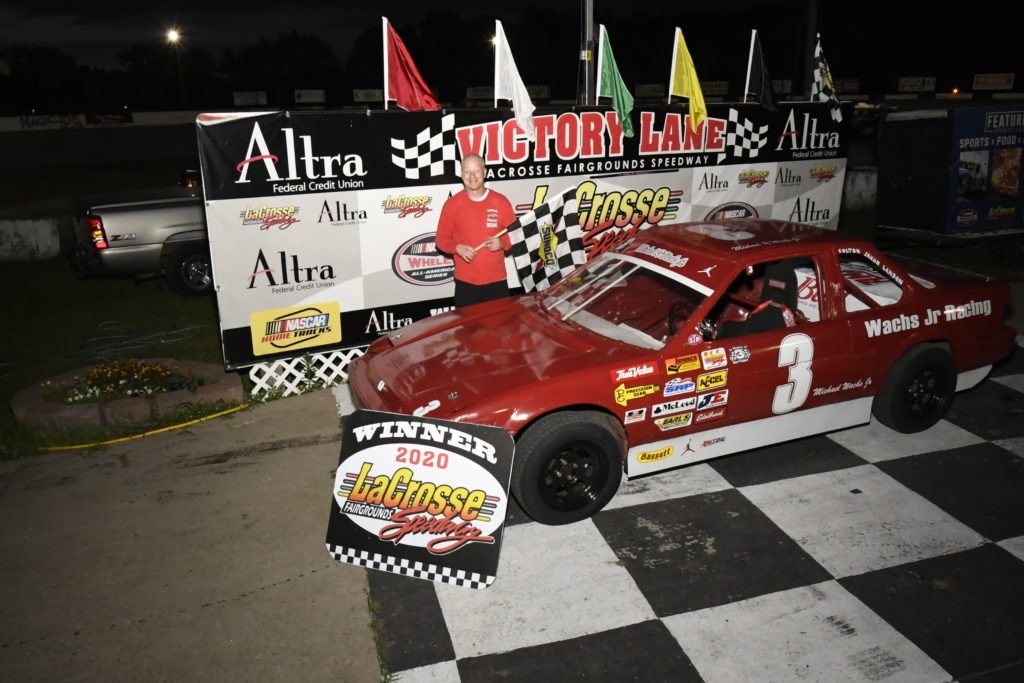 Michael Wachs, Jr. shot past Jacob Iverson for the lead on the second lap of the Hornet feature. Cheyanne Stanfield tried her best to catch the leader in the closing laps, but Wachs, Jr. used lap traffic to keep her in the rear view to score the victory.
After making his way through the field in the Street Stock feature, Rob Stanfield used lap traffic to power his way past Dustin McCracken with four laps to go to cross the finish line first.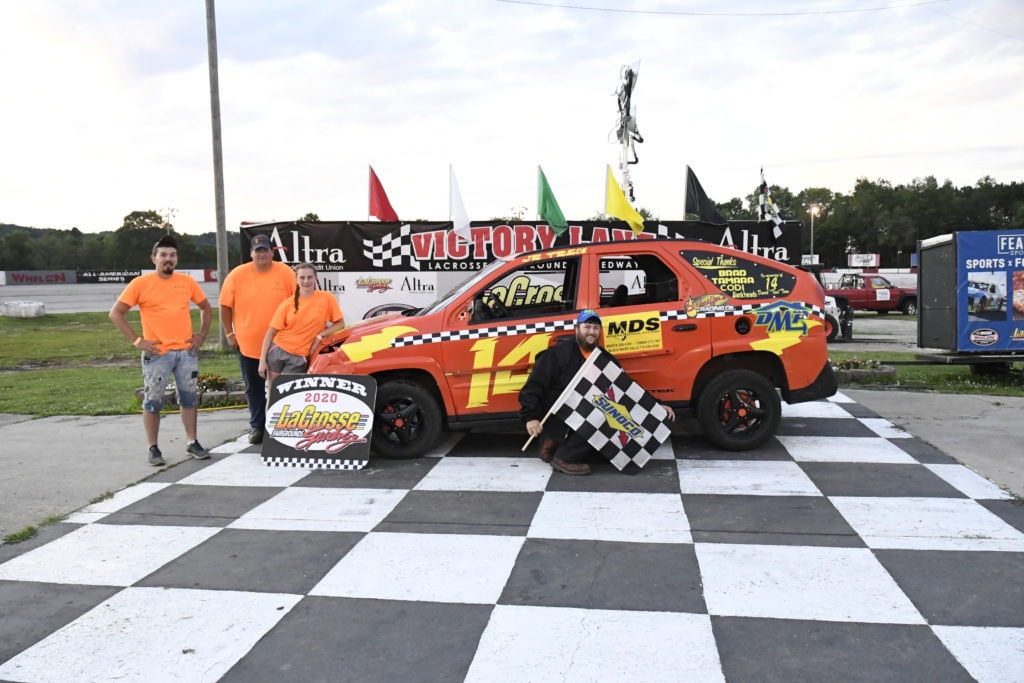 John Huebner thought he was going to claim the win in the Mini-Van, but his front bumper started to cause issues for him. David Treu, Jr. took advantage to shoot past Huebner with two laps to go to claim his second straight feature win.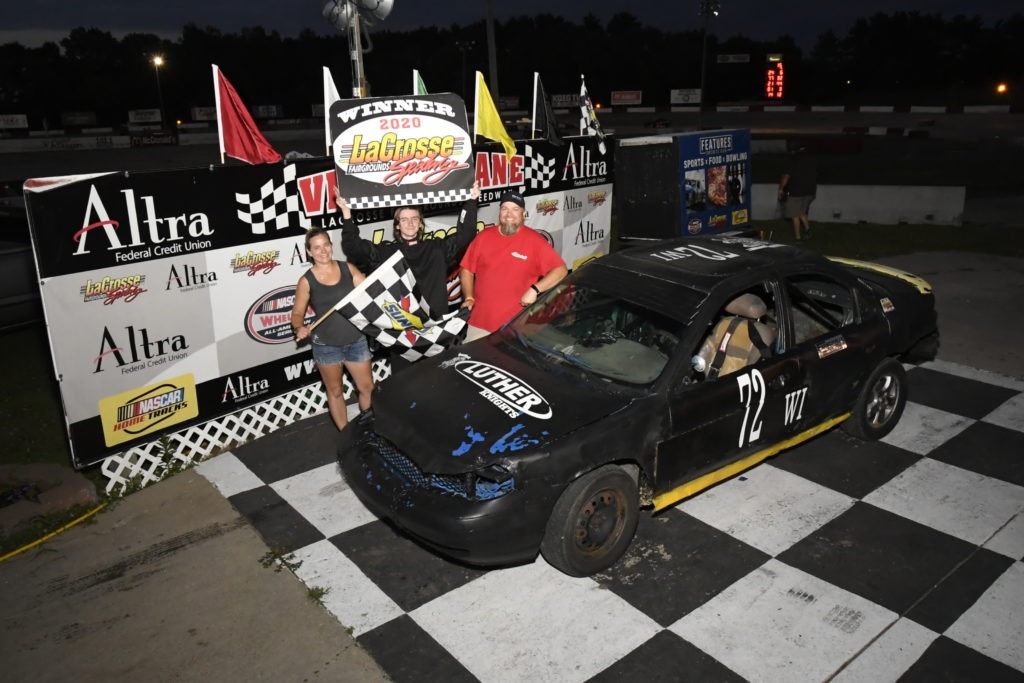 After the lead in the High School Racing Association feature went back and forth early on, Ashton Kinsey took command on lap three and never looked back to capture his second feature win in a row.
The Double Spin to Win novelty event for the Street Stocks was entertaining once again. Adam Kerley and Rob Stanfield both tangled while spinning and hit the front straight. Dan Frye avoided that incident and was able to hold off Keith Larson to score the win.
The Contact Drags are not your typical drag races. Here the competitors have to bump and bang into each other as they make their way down the front stretch. Jonathan Burbach survived some hard contact from Rob Stanfield to take the win in the final.
Action continues on Wednesday, July 15 with the Central Wisconsin Racing Association Late Models returning for the first time to LaCrosse in some 25 years. Twin 30 lap features will highlight the Tribute to Larry Wehrs, plus the Hornets and Street Stocks will also be competing.
Gates open at 6:00, qualifying starts at 6:15 and racing action kicks into gear at 7:30.
For more information about LaCrosse Speedway or the 2020 schedule of events, please call the office at 608-786-1525 or visit our web site at lacrossespeedway.com. LaCrosse Speedway is proud to be a NASCAR Hometrack, part of the NASCAR Advance Auto Parts Weekly Series.

RESULTS
Demolition Derby: 1. Kenan Ward, 2. Dakota Gollnick, 3. Dakota Miller, 4. Mike Grotz, 5. Austin Blank

ANT's Complete Pest Control Hornets
Feature: 1. Michael Wachs, Jr., 2. Cheyanne Stanfield, 3. Shawn McCarthy, 4. Mike Carlson, 5. Nick Murgic
Heat #1: 1. C. Stanfield, 2. Michael Wachs, Jr., 3. Jimmy Bjorkman
Heat #2:  1. Dexter Malin, 2. McCarthy, 3. Joey Johnson, Jr.
Heat #3:  1. Jacob Iverson, 2. Marc Luethe, 3. Rob Stanfield
Qualifying: 1. C. Stanfield, 2. Carlson, 3. Schock

Auto Value Street Stocks
Feature: 1. Rob Stanfield, 2. Dustin McCracken, 3. Keith Larson, 4. Dan Frye, 5. Matt Moore
Heat #1: 1. Moore, 2. McCracken, 3. Chris Larson
Heat #2:  1. Frye, 2. Al Bartels, 3. Adam Kerley
Heat #3:  1. Zach Liebsch, 2. Alex Liebsch, 3. Spencer Nevinger
Qualifying: 1. C. Larson, 2. R. Stanfield, 3. M. Moore

Mountain Dew Mini-Vans
Feature: 1. David Treu, Jr., 2. John Huebner, 3. Al Bartels, 4. Zack Liebsch, 5. Chris Larson
Heat #1: 1. Jonathan Burbach, 2. C. Larson, 3. Treu, Jr.
Qualifying: 1. John Huebner, 2. C. Larson, 3. Treu, Jr.

High School Racing Association
Feature: 1. Ashton Kinsey, 2. Dawsynn Richmond, 3. Joey Miller, 4. Braydon Lockington, 5. Mitchell Berg
Heat #1: 1. Berg, 2. Miller, 3. Richmond
Qualifying: 1. Lockington, 2. Richmond, 3. Miller

Double Spin to Win Novelty Event: 1. Dan Frye, 2. Ketih Larson, 3. Zach Liebsch
Contact Drags: 1. Jonathan Burbach, 2. Rob Stanfield