By: Paul Reichert
June 6, 2020
Race fans were treated to another competitive night of racing at the La Crosse Speedway. Steve Carlson made a crafty move in traffic halfway through the feature event to score his second straight win.
Chris Marek took the lead early on in the Budweiser 25 feature event for the NASCAR Late Models. While the front four ran nose to tail, Steve Carlson (West Salem, WI) was making his way through traffic coming from mid-pack. On lap eight, Carlson made a crafty move by diving under Chad Walen for third with Nick Murgic on his tail. Just past halfway, Carlson went to the outside to take over second from Steve Bachman (Bangor, WI). Carlson quickly caught and passed Marek to settle into the lead on lap 14. As Carlson slowly pulled away from the field, Murgic and Jacob Goede gave it their all to run down the leader in the final laps. Carlson maintained his lead to take a second straight trip to victory lane. After the race, Carlson said "I have to thank my crew for making those adjustments to battle a slick track tonight."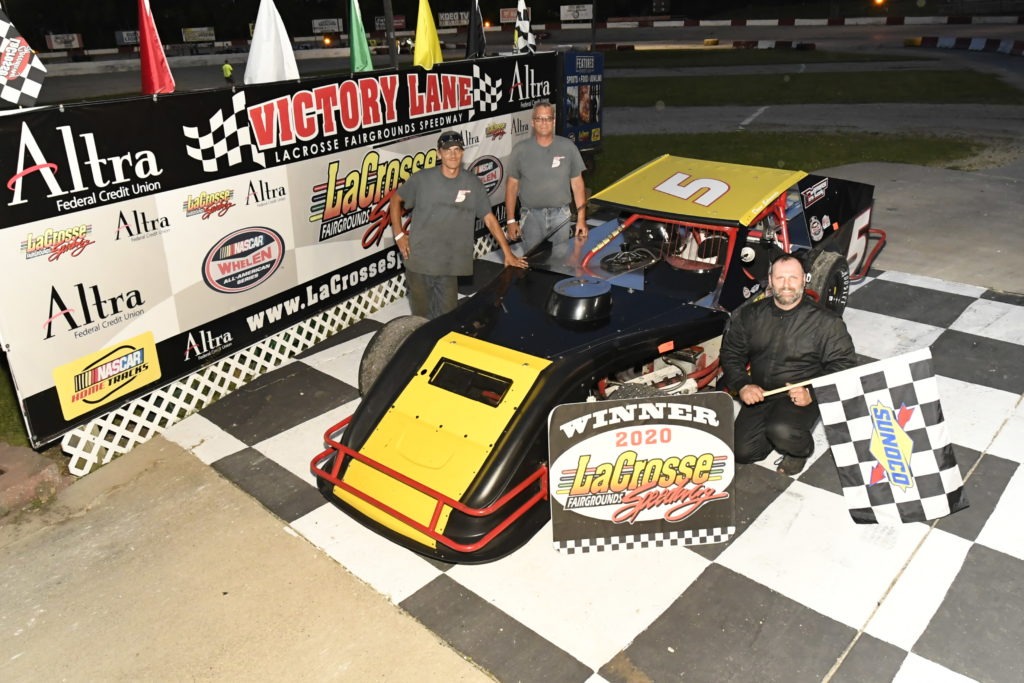 Last week's Sportsmen feature saw an exciting finish between Dave Edwards (Salem, WI) and Jack Litsheim (LaCrosse, WI). They battled for the win in another exciting finish, but this time they battled hard and clean for the win. Edwards nosed out Litshiem for the victory by half a car length.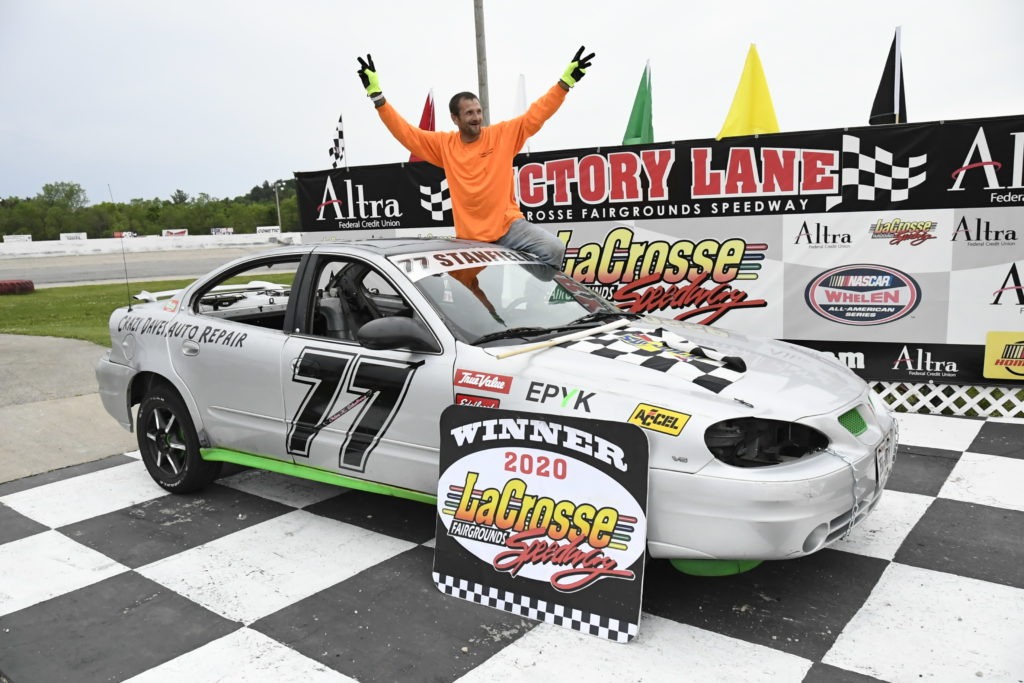 Kaleb Hardy was challenged for much of the Hobby Stock feature by Brandon Gallagher and Jason Bolster. Hardy won the race with both drivers still in hot pursuit of him. Rob Stanfield came from deep in the field to take the lead nine laps into the Street Stock feature to capture the checkered flag first. This week's Novelty event was the Air Ball competition, where the drivers kicked a ball to see who could make it go the farthest. The fans voted on who did the best job, and Jonathan Burbach got a huge cheer from fans as the best Air Ball kicker.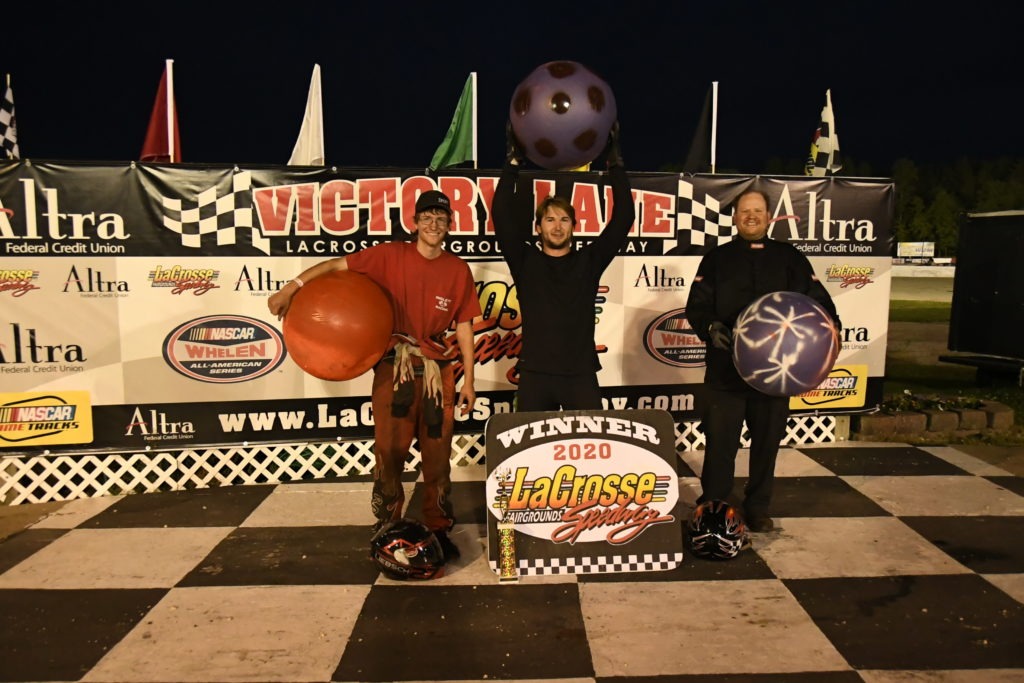 Action continues next Saturday, June 12 with the Late Models, Sportsmen, Hobby Stocks and Hornets. The much talked about High School Racing Association will run their inaugural race that night. Gates open at 6:00, qualifying starts at 6:15 and racing action kicks off at 7:30. For more information about LaCrosse Speedway or the 2020 schedule of events, please call the office at 608-786-1525 or visit our web site at lacrossespeedway.com. LaCrosse Speedway is proud to be a NASCAR Hometrack, part of the NASCAR Whelen All-American Series.
RESULTS
Tobacco Outlet Plus Grocery NASCAR Late Models
Feature: 1. Steve Carlson, 2. Nick Murgic, 3. Jacob Goede, 4. Brent Kirchner, 5. Steve Bachman
6-For-6: 1. Billy Mohn, 2. S. Carlson, 3. Kirchner
Heat 1: 1. Chris Marek, 2. Mike Carlson, 3. Chad Walen
Heat 2: 1. Michael Haggar, 2. Don Turner, 3. Murgic
Qualifying: 1. Goede, 2. Kirchner, 3. Mohn
Lawnkeepers Sportsmen
Feature: 1. Dave Edwards, 2. Jack Litshiem, 3. Sam Niles, 4. Mark Challet, 5. Jesse Green
Heat: 1. Dave Edwards, 2. Sam Niles, 3. Mark Challet
Qualifying: 1. Niles, 2. Edwards, 3. Challet
Auto Value Hobby Stocks
Feature: 1. Kaleb Hardy, 2. Brandon Gallagher, 3. Jason Bolster
Heat: 1. Bolster, 2. Hardy, 3. Gallagher
Qualifying: 1. Hardy, 2. Gallagher, 3. Bolster
Auto Value Street Stocks
Feature: 1. Rob Stanfield, 2. Dan Frye, 3. Matt Moore, 4. Keith Larson, 5. Spencer Nevinger
Heat 1: 1. M. Moore, 2. K. Larson, 3. Zach Liebsch
Heat 2: 1. R. Stanfield, 2. John Huebner, 3. Alex Liebsch
Heat 3: 1. Frye, 2. Al Bartels, 3. Steven Brasda
Qualifying: 1. Brasda, 2. M. Moore, 3. R. Stanfield
Novelty
Air Ball: 1. Jonathan Burbach, 2. Alex Liebsch, 3. Adam Kerley