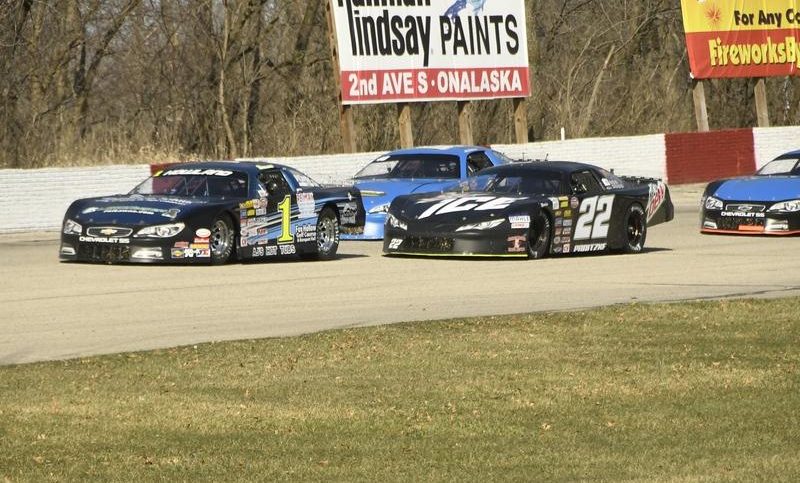 May 23, 2018 – (West Salem, WI) – Buck night! All concession items just $1 buck! Ice cold beer is $2 for this annual money saving- belly filling -having fun event. There will be five divisions on hand as well…the Tobacco Outlet plus Grocery Late Models, Dean's Satellite Sportsmen, Auto Value Thunderstox, A.N.T.S complete pest control Hornets, and the big buzz….the ladies only can drive in this..Queen Bees.
Racing action begins to heat up.
The Tobacco Outlet Plus Grocery Late Models are coming off of a double feature last weekend and the teams are still having trouble adjusting to the new season with plenty of tangles during both features. Race fans will have the opportunity to see what teams have done to the car this week, and if those changes will put their favorite driver in a position win the Pepsi 25 lap main event. The Dean's Satellite & Security Sportsmen and the Auto Value Parts Stores Thunderstox have also had their share of on track excitement. This Saturday appears that this Saturday will be no different- hard charging racing. The A.N.T.S complete Pest Control Hornets will be on hand as well…they have had a few weeks off and should be anxious to get back racing. Plus…the "ladies only" race…the Queen Bees…will be on hand for a "make you smile" event.
This Saturday is Buck Night….all concession items just $1. Come hungry and thirsty as ice cold be is only $2.
Pit Gate Opens at 3:30, Practice Laps at 4:45, Grandstand Gate opens at 6:00 and Qualifying starts at 6:15. Racing starts at 7:30 p.m.
General Admission is $12.50, Students age 12-17 are $6.50, Kids age 6-11 are $3.50 and children ages 5 & under are FREE.
PARKING IS FREE!
LaCrosse Speedway is located at N4985 County Road M, West Salem, Wisconsin. For more information about the 2018 Schedule of Events, please call the office at 608-786-1525 or visit LaCrosseSpeedway.com.
LaCrosse Speedway is a proud NASCAR Hometrack.