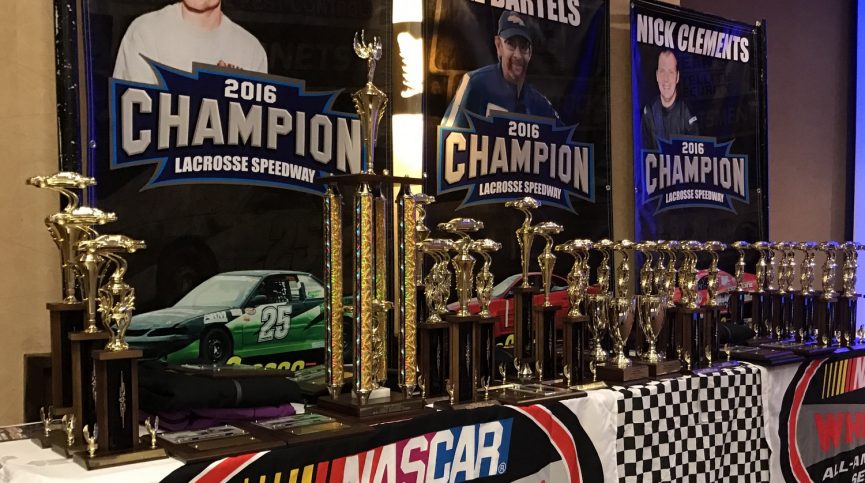 November 1, 2017
(West Salem, WI) – Officials of LaCrosse Fairgrounds Speedway today have announced the date and location of the 2017 Champions' Banquet.
This year's Champions' Banquet will be held on Friday night, January 19th, 2018. The event, awarding the competitors and divisional champions of the 2017 season, will take place in Onalaska at the Stoney Creek Inn's Northwoods Conference Center.
The doors will open at 6:00, with a social hour, presented by Bud Light. Dinner will take place at 7:00, and the awards presentation will immediately begin following dinner.
Highlights of the evening will be presentation of the 2017 NASCAR Whelen All-American Series Track Champions in Late Model, Sportsmen, Thunderstox and Outlawz, plus the Hornets, Street Stocks, Mini-Van champions, as well as the Budweiser Dash Champions, and a Novelty Champion.
Tickets will only be available in advance, space is limited to the first 250 guests, and the deadline to get tickets is January 9th. The ticket order form is available on the Speedway's website main page. (Direct Link: lacrossespeedway.com/site-assets/2017/11/2017-Banquet-Ticket-Order-Form.pdf).
For more information about the 2017 LaCrosse Speedway Champions' Banquet or the 2018 race season, please contact the speedway office at 608-786-1525, email lacrossespeedway@yahoo.com or visit the track website at www.lacrossespeedway.com.
LaCrosse Fairgrounds Speedway is a NASCAR Hometrack, and the NASCAR Whelen All-American Series.