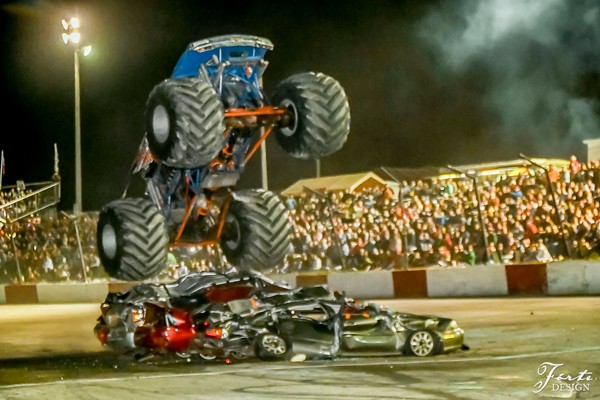 By: Aspen Andre
(West Salem, WI – September 9, 2017) A near sellout crowd at LaCrosse Speedway get a beautiful September night for Western Technical College Night of Destruction for all sorts of smashing and crashing.
The Ants Complete Pest Control Hornets put on a fantastic show tonight in their feature for the fans on destruction night. Regular Late Model driver, Mike Carlson hopped in his hornet tonight and survived four cautions that cut the field by more than half to take home the feature win. Jimmy Bjorkman of West Salem finished behind him in second and Kayla Vian from Sparta followed in third.
Rich Cummings and his super-charged, fuel injected, alcohol burning, hemi-engine super trike brought fans to their feet when he did wheelies down the entire front straight away. Cummings was a part of Paul McCartney's Super Bowl halftime performance and has performed coast-to-coast in Hawaii's Aloha Stadium and for our friend to the north in Canada.
Indiana's Ryan Rice and Rockford, IL's Jim Burns came out in the Incinerator and Mechanical Mischief respectively and wowed the crowd with their 10,000-pound trucks on the front stretch. Rice who started his monster truck career at LaCrosse 10 years ago, had the crowd in his hands until his front axle broke. Ryan Rice then came out and had all eyes on his monster truck, which pounded cars continuously.
Seventy-nine year old, Doug Rose of Florida celebrated the 50th anniversary of his Green Mamba Jet Car and in front of thousands, melted a mini-van down to its frame. He's been a LaCrosse favorite for years.
After a one year layoff, Ryan Suchanek of Edgerton, WI brought his world record setting motorcycle back to the LaCrosse Speedway and thrilled fans with his professional stunt bike antics. LaCrosse Speedway fans were created to quite a show by a man who hold 3 world records, all on ice.
Dave Mahurin wowed fans with his pickup truck, "The Reaper" in the Trailer Race of Destruction and won the fan boat over Bailey Brown in the 619 who got second. The "Mystery Machine" driven by Tyler Mickschl finished in third.
Not only did Davis Helgerson and Dexter Malin do a complete rollover on one of their turns of the Rollover Competition, they both did it twice! Davis Helgerson won the fan vote as he and Malin were tied with 10 points each. Taylor Dobbs and Al Leon both had 2 points.
The next event on the Speedway calendar is Thursday through Sunday October 4-8 for the 48th Annual Oktoberfest Race Weekend where there will be ARCA Midwest Tour, Big-8 Late Models, J&E Pistons Dick Trickle 99 & much more!
For more information please call the Speedway office at (608) 786-1525 or visit www.lacrossespeedway.com.
LaCrosse Fairgrounds Speedway is a proud NASCAR Hometrack, part of the NASCAR Whelen All-American Series – www.hometracks.nascar.com.