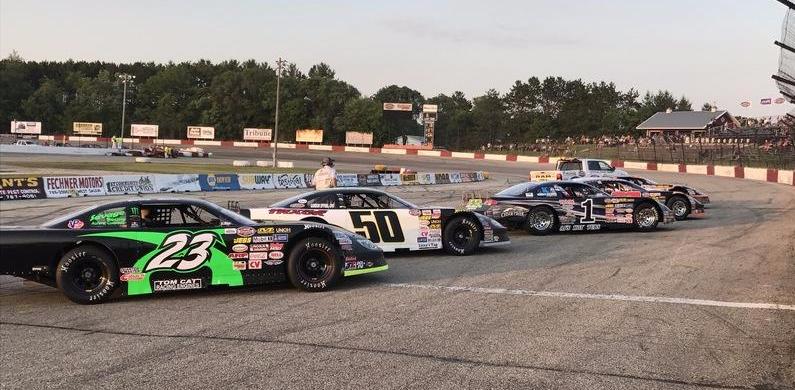 (West Salem, WI) – It's a full night of family fun, including all the thrills, spills, action and excitement of short track racing this Saturday night! Old Dutch Foods presents the NASCARWhelen All-American Series, featuring the Tobacco Outlet Plus Grocery NASCAR Late Models, Dean's Satellite Sportsmen, Auto Value Thunderstox and the Auto Value Street Stocks. The FIRST 500 fans in the gate receive a FREE snack from Old Dutch!
Joining the weekly warriors is the annual Thrivent Financial Faster Pastor Race! Watch area Church Pastors duke it out on the quarter mile action track.
Last week's racing was a thrill for the fans, as the action was plentiful in all divisions. Several spins and a few crashes interrupted green flag racing in both the Late Model and Sportsmen divisions, as well as the Queen Bees Race. Most memorable moment of the night probably was when the top Contenders in the Sportsmen division, Steve Bachman and Randy Humfeld, got together ever so slightly in turn two while battling for the lead. It was just enough to send them both into a spin. One of the fastest cars this year, Brad Warthan, was able to capitalize on the yellow flag and take the win after restarting the feature race. The racing has been great so far this year, and there's lots of storylines to follow this season – so don't miss a single lap of the fun!
Grandstands open at 6:00, Qualifying starts at 6:00, Thrivent Financial Lady Pastors Race at 7:00, and Racing begins at 7:30. General Admission is $12.50, Students age 12-17 are $6.50, Kids age 6-11 are $3 and children age 5 & under are FREE.
For more information please call the Speedway office at (608) 786-1525 or visit www.lacrossespeedway.com.