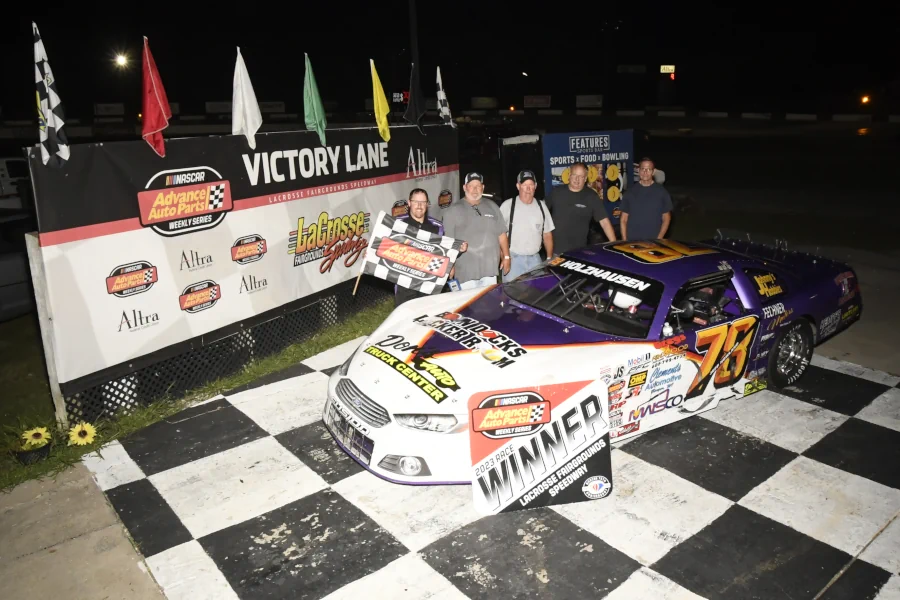 By: Paul Reichert
August 5, 2023
There have been many show stopping performances done on Broadway in New York for years that left the general public going OOH and AHH.  For nearly 70 years the LaCrosse Speedway has put tons of our own show stopping performances that have thrilled many crowds and left them going OOH and AHH.  The World Famous Trailer Race of Destruction, the highlight of our annual racing season, left the sold out crowd speechless and cheering for more metal mangling mayhem once again.  Before that crowd pleasing event happened, the NASCAR Late Models had a whale of a seven lap shootout to end their feature event. Sklyar Holzahusen made a power move under Brent Kirchner with four laps to go to strengthen his points lead with feature win number four on the year. 
Steve Carlson (West Salem, WI) powered by Michael Beamish (Eagan, MN) to lead the opening five circuits of the 25 lap Auto Value NASCAR Late Model feature.  Brent Kirchner (LaCrosse, WI) needed only three laps to settle into second place and set his sights on Carlson.  Kirchner dove to the inside of Carlson coming out of turn two on lap six to assert control of the feature. Skylar Holzhausen (Bangor, WI) bobbed and weaved his way through the field in his quest to capture another checkered flag in his triumphant return to the weekly LaCrosse wars.  By the time the crossed flags were displayed to the field, Holzhausen was up to third spot and quickly catching the front twosome.  With ten laps remaining Holzhausen overpowered Carlson to surge into second and began to track down Kirchner.  Yellow flew with eight laps to go for a spin by Jimmy Summerfield (Rockland, WI) in turn two gave Holzhausen his opportunity.  Kirchner outran Holzhausen on the restart, but yellow returned with six laps left for a spinning Ryan Brown (LaCrescent, MN) in turn four.  Holzhausen changed lanes down the back straight with four laps left, and a slip in turn four by Kirchner allowed Holzhausen to surge into the race lead.  Holzhausen was pulled away from the field over the final few laps to capture his third checkered flag victory of the season.  After the race Holzhausen said "My race car has sitll not had one thing changed on it this year.  Why mess with a good thing?"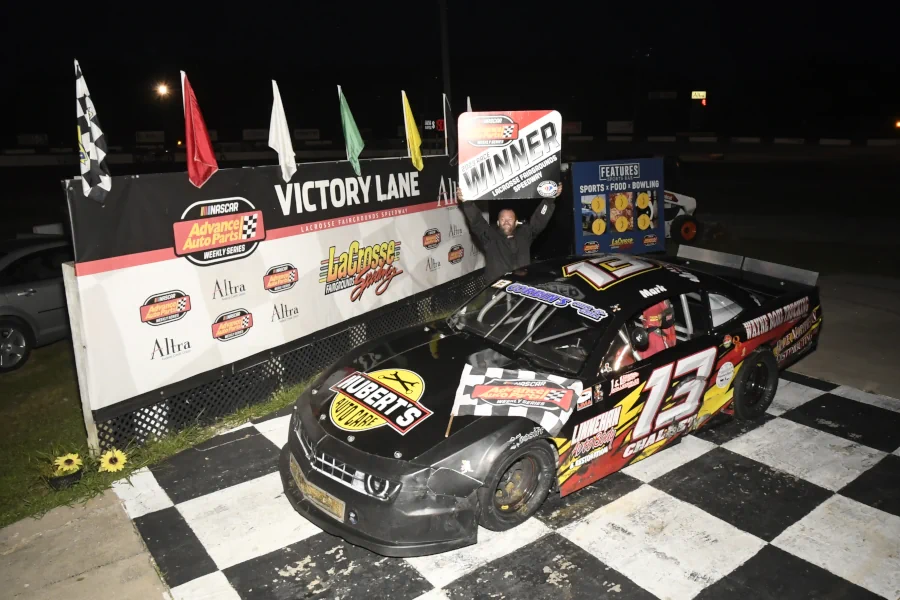 In the NASCAR Sportsmen feature Tina Lodermeier (Rosemount, MN) led the entire way before her mirrors filled up with the yellow machine of Bob Fort (Fountain City, WI).  Both drivers made contact with four laps to go and Lodermeier went into the spin cycle. Mark Challet (Sparta, WI) inherited the lead and pulled away from Justin Berg (Bangor, WI) to notch his first checkered flag victory in quite some time.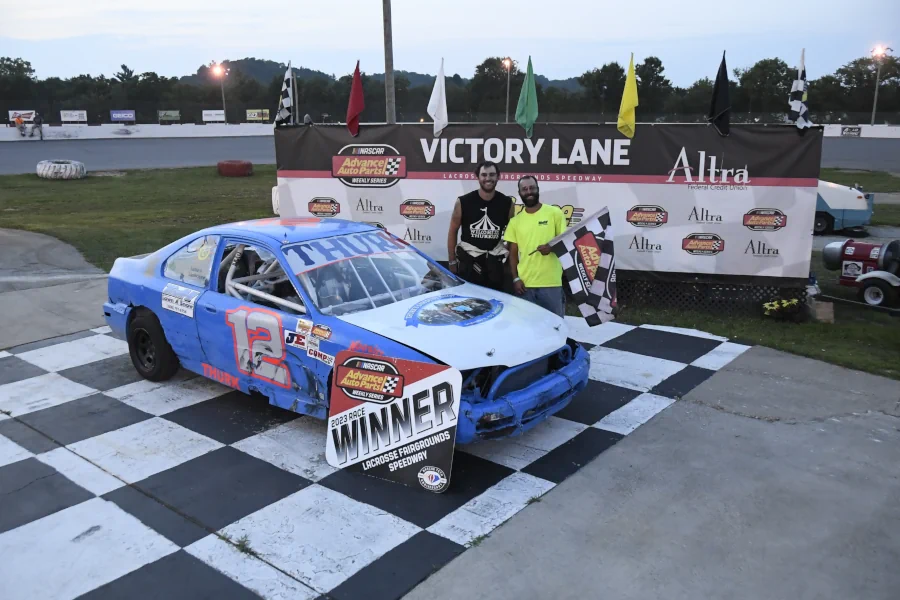 A late race restart with five laps left in the NASCAR Hornet feature allowed Thomas Farra to surge past Nick Hadler for the top spot.  Coming to the white flag point leader Ben Thurk drove around Farra in turns three and four to power his way to Altra Federal Credit Union Victory Lane with his second feature win in the last four weeks.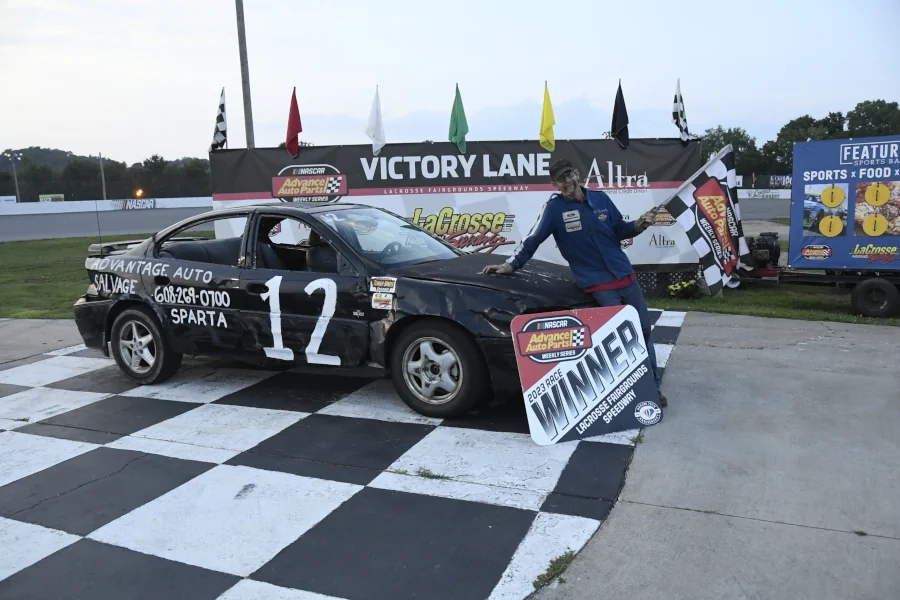 Al Bartels powered by Steve Brasda on lap four of the last Street Stock feature of 2023 and pulled away to claim another win to add to his 37 year quarter-mile racing career.  John Huebner came home in fourth, but Zach Liebsch was right behind Huebner in fifth to lock up the season points championship.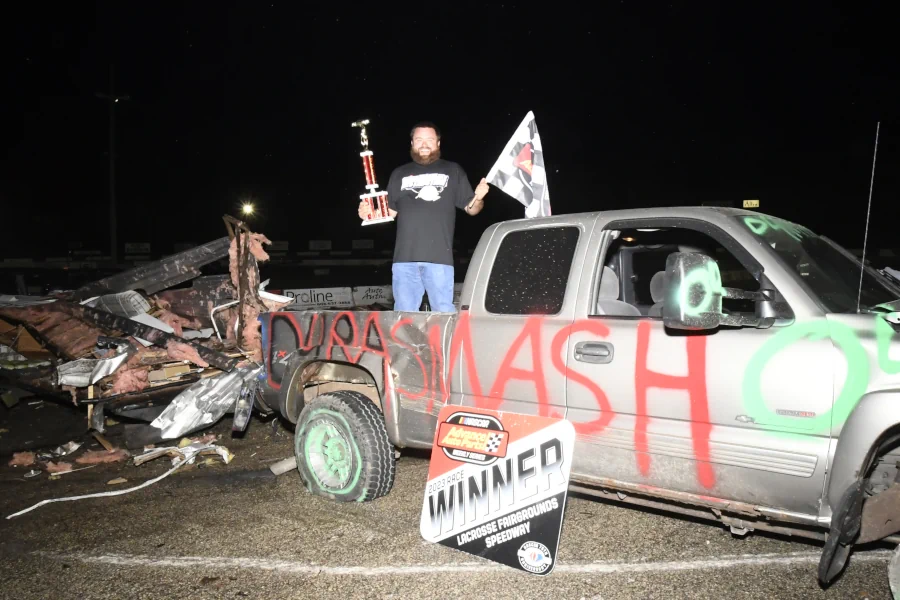 The grand finale of the evening was what the fans came to see.  The fans came to see the thrashing, crashing and trashing of boats and motorhomes during the World Famous Trailer Race of Destruction.  The fans had the ultimate say in the end as this year's final two included Linda Sampson.  While Sampson had a strong fan vote, she was outvoted by Tyler Mickschl as "Professor Mayhem" was crowned the King of Destruction.  
It is hard to believe but next Saturday, August 12 is the final weekly racing program before Oktoberfest.  Another round of twin features for the NASCAR Late Models will take place, plus the NASCAR Sportsmen and NASCAR Hornets run their next to last points races of the season before Oktoberfest.  The Hobby Stocks and the High School Racing Association will compete for a final time in 2023 as their season championships will be on the line.  After qualifying the kids will get one last chance to ride along with their favorite driver in the KQ98 Pre-Race Kids' Rides.  Gates open at 5:30, qualifying roars to life shortly after that and the wheel-to-wheel battles on the track begin at 7.
For more information about the LaCrosse Speedway or the 2023 schedule of events, call the track office at 608-786-1525 or visit our web site at 
lacrossespeedway.com
.  LaCrosse Speedway is proud to be a NASCAR Hometrack, part of the NASCAR Advance Auto Parts Weekly Series.
RESULTS
Kwik Trip NASCAR Late Models
Feature (25 laps): 1. Skylar Holzhausen, 2. Brent Kirchner, 3. Steve Carlson, 4. Mike Carlson, 5. Adam Bendzick, 6. Ty Fredrickson, 7. Michael Beamish, 8. Brad Powell, 9. Adam Degenhardt, 10. Jerimy Wagner, 11. Steve Bachman, 12. Nick Clements, 13. Tom Carlson, 14. Nicholas Beaver, 15. Tom Luethe, 16. Alex Braseth, 17. Ryan Brown, 18. Cam Dezelske, 19. Gib Scharpf, 20. Jimmy Summerfield, 21. Jeff Partington, 22. Tony Bagstad
6-for-6 Dash (6 laps): 1.Brent Kirchner, 2. Skylar Holzhausen, 3. Brad Powell, 4. Ty Fredrickson, 5. Adam Bendzick, 6. Steve Bachman
Heat #1 (8 laps): 1.Jerimy Wagner, 2. Steve Carlson, 3. Mike Carlson, 4. Nick Clements, 5. Adam Degenhardt, 6. Michael Beamish, 7. Tom Luethe, 8. Tony Bagstad
Heat #2 (8 laps): 1. Jeff Partington, 2. Ryan Brown, 3. Nicholas Beaver, 4. Tom Carlson, 5. Alex Braseth, 6. Gib Scharpf, 7. Cam Dezelske, 8. Jimmy Summerfield
Qualifying: 1. Skylar Holzhausen, 2. Brent Kirchner, 3. Ty Fredrickson, 4. Adam Bendzick, 5. Steve Bachman, 6. Brad Powell, 7. Tony Bagstad, 8. NIck Clements, 9. Michael Beamish, 10. Mike Carlson, 11. Steve Carlson, 12. Adam Degenhardt, 13. Jerimy Wagner, 14. Tom Luethe, 15. Gib Scharpf, 16. Tom Carlson, 17. Jeff Partington, 18. Nicholas Beaver, 19. Ryan Brown, 20. Alex Braseth, 21. Cam Dezelske, 22. Jimmy Summerfield
Line-X NASCAR Sportsmen
Feature (15 laps): 1. Mark Challet, 2. Justin Berg, 3. Andy Barney, 4. Bill Schott, 5. Tina Lodermeier, 6. Travis Gordon, 7. Bob Fort (DQ)
Heat #1 (8 laps): 1. Bob Fort, 2. Tina Lodermeier, 3. Bill Schott, 4. Andy Barney, 5. Travis Gordon, 6. Mark Challet, 7. Justin Berg
Qualifying: 1. Justin Berg, 2. Andy Barney, 3. Mark Challet, 4. Tina Lodermeier, 5. Bill Schott, 6. Bob Fort, 7. Travis Gordon
Skyline Fireworks NASCAR Hornets
Feature (15 laps): 1. Ben Thurk, 2. Thomas Farra, 3. Jacob Iverson, 4. Nick Hadler, 5. Brandon Olson, 6. Carter Horstman, 7. Jake Schomers, 8. Christpoher Lofquist, 9. Keanna Barney, 10. Abigail Knaack, 11. Alex Liebsch, 12. Mitchell Rinartz, 13. Shane Kohlmeier, 14. Nick Loesel, 15. Dakota Clauson, 16. Bentley Knaack, 17. Josh Schwartz, 18. Tristan Finnegan, 19. Marissa Stanley, 20. Jace Lafleur, 21. Kendon Thurk, 22. Joey Johnson III
6-for-6 Dash (6 laps): 1. Brandon Olson, 2. Nick Hadler, 3.Joey Johnson III, 4. Jacob Iverson, 5. Ben Thurk, 6. Thomas Farra
Heat #1 (8 laps): 1. Christopher Lofquist, 2. Jake Schomers, 3. Carter Horstman, 4. Josh Schwartz, 5. Jace Lafleur, 6. Mitchell Rinartz, 7. Abigail Knaack, 8. Kendon Thurk, 9. Shawn Breese
Heat #2 (8 laps): 1. Dakota Clauson, 2. Keanne Barney, 3. Tristan Finnegan, 4. Bentley Knaack, 5. Alex Liebsch, 6. Al Bartels, 7. Nick Loesel, 8. Marissa Stanley, 9. Shane Kohlmeier
Qualifying: 1. Ben Thurk, 2. Jacob Iverson, 3. Thomas Farra, 4. Joey Johnson III, 5. Brandon Olson, 6. NIck Hadler, 7. Carter Horstman, 8. Jake Schomers, 9. Kendon Thurk, 10. Abigail Knaack, 11. Jace Lafleur, 12. Chirstopher Lofquist, 13. Mitchell Rinartz, 14. Josh Schwartz, 15. Shane Kohlmeier, 16. Tristan Finnegan, 17. Bentley Knaack, 18. Alex Liebsch, 19. Nick Loesel, 20. Marissa Stanley, 21. Dakota Clauson, 22. Al Bartels
Auto Value Six Shooters
Feature (15 laps): 1. Al Bartels, 2. Steven Brasda, 3. Marshall Rinartz, 4. John Huebner, 5. Zach Liebsch, 6. Carlie Rinartz, 7. Kyle Cottone, 8. Kody Pronschinske, 9. A.J. Finnegan
Heat #1 (8 laps): 1. Steven Brasda, 2. Al Bartels, 3. Marhsall Rinartz, 4. Carlie Rinartz, 5. Zach Liebsch, 6. Kyle Cottone, 7. John Huebner, 8. A.J. Finnegan, 9. Kody Pronschinske
Qualifying: 1. Zach Liebsch, 2. John Huebner, 3. Marshall Rinartz, 4. Al Bartels, 5. Kyle Cottone, 6. Steven Brasda, 7. Carlie Rinartz, 8. Kody Pronschinske
Trailer Race of Destruction (Fan Vote): 1. Tyler Mickschl, 2. Linda Sampson, 3. John Clauson