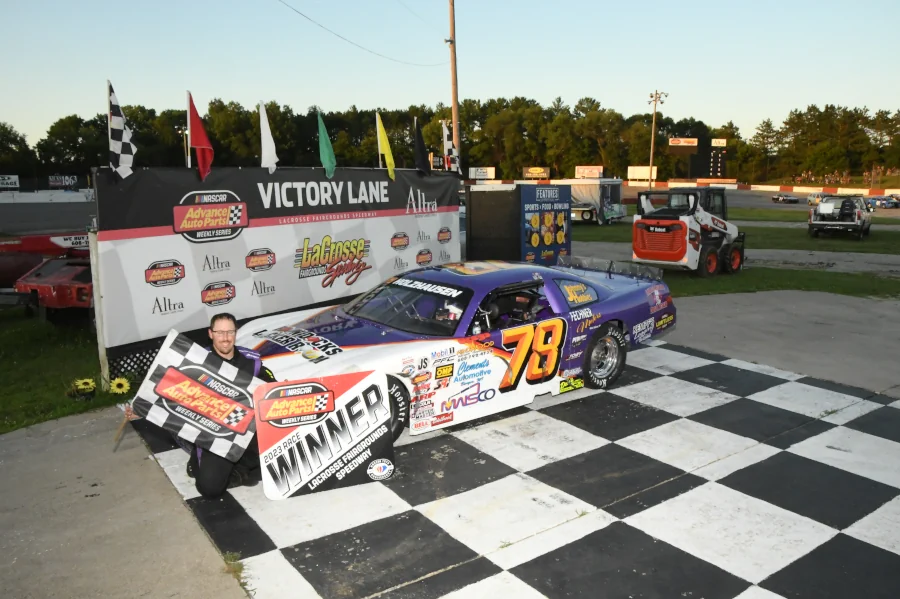 By: Paul Reichert
July 29, 2023
As we approach August and the dog days of summer, we are witnessing a lot of great racing action at the LaCrosse Speedway. We are watching several drivers becoming hot dogs on the race track. We saw a very entertaining new Novelty event in the Hot Dog Race, which we will tell you about later. The top drivers are rising to the top of the division as we close in on deciding championships at Oktoberfest. Tonight we ran twin 25 lap features for the Late Models with a little extra money in the purse, and the top dogs came to play. Skylar Holzhausen powered around race long leader Tony Bagstad to win the opening feature, while Nick Clements led from gate-to-wire to score a long overdue first feature win of the year.
In the first 25 lap Busch Light NASCAR Late Model feature, Tony Bagstad (Westby, WI) shot past Steve Carlson (West Salem, WI) on the outside to take charge of the race. Some of the usual front runners were struggling to make their way to the front, but that allowed Bagstad and Carlson to open up a sizable lead on the field. The super fast Skylar Holzhausen (Bangor, WI) came from his mid-pack position at the start and showed why he is the driver to beat in his return to weekly racing at LaCrosse. Picking his way through traffic Holzhausen settled into third place by the time the crossed flags were displayed. Back up front Carlson was slowly closing the gap on Bagstad, but a slip up with ten laps to go allowed Bagstad to pull away. The move also allowed Holzahusen to catch and eventually powered around Carlson with eight laps left. Holzhausen slowly reeled in Bagstad over the next several laps before using the outside groove to power by Bagstad to take command of the race with three laps to run. Holzhausen pulled away from Bagstad down the stretch to become the first three-time feature victor this year. After the race Holzhausen said "Thanks to my crew for giving me another great car tonight. I'm not sure if we will change anything on the car for the second feature."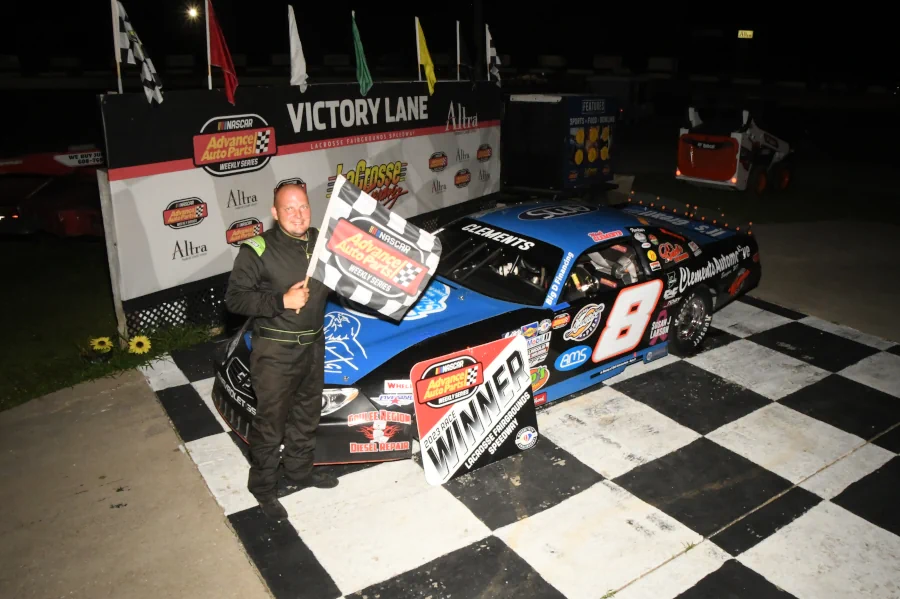 Nick Clements (West Salem, WI) powered by defending track champion Mike Carlson (West Salem, WI) to lead at the start of 25 lap Busch Light NASCAR Late Model feature #2. Ridge Oien (Bloomington, MN) spun in turn one on lap two and took a hard hit into the outside wall to bring out the yellow flag. Fortunately Oien was okay after his hard hit. Clements pulled away from Carlson on the restart and began to show the strength Clements has been looking for all year. Adam Degenhardt (Coon Valley, WI) powered around Carlson just before halfway of the race to settle into the number two position. Yellow returned with ten laps to go when Brent Kirchner (LaCrosse, WI) just lost it in turn two and spun into the infield. While Clements pulled away from the field on the restart, Carlson gained new life as he zoomed around Degenhardt to take back the runner-up spot with seven laps remaining. There would be no stopping Clements on this night as he was dominant from start to finish to score a long overdue feature win. After the race Clements said "We have been struggling all year to find the perfect setup for my race car. The changes we made for feature #2 just brought my car to life."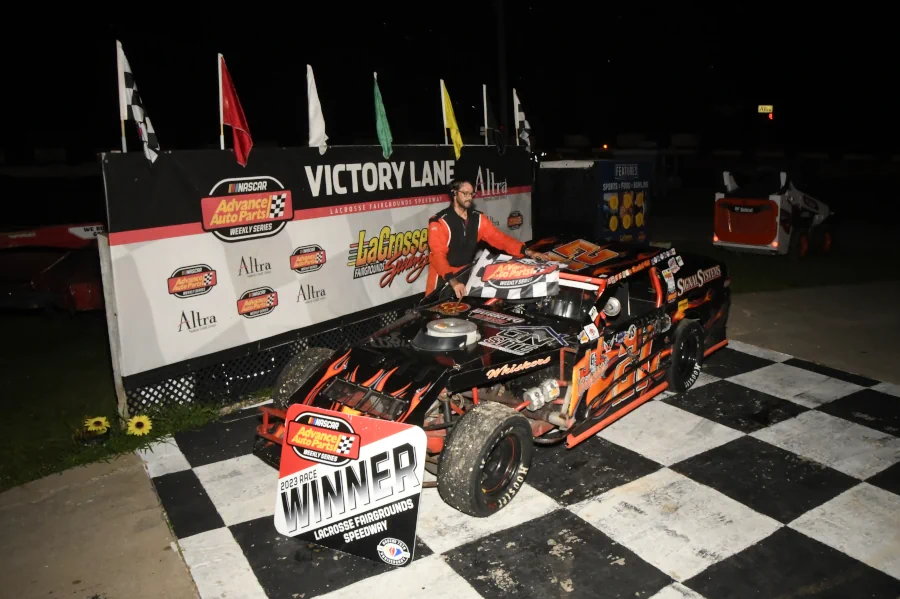 The opening two laps of the NASCAR Sportsmen feature saw Tina Lodermeier (Rosemount, MN) lead the way in her quest for a second straight victory.  Bill Schott (LaCrosse, WI) powered under Lodermeier on lap three and began to slowly pull away.  While the rest of the pack was fighting hard over second and third, Schott drove away with his second feature win this season.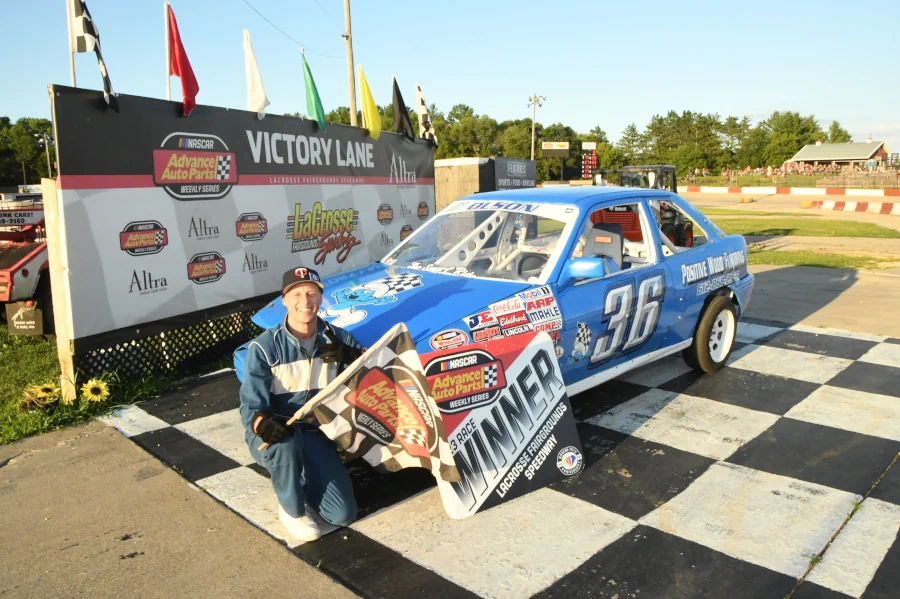 Joey Johnson dove to the inside of Brandon McCarthy to take charge of the NASCAR Hornet feature on lap five.  Brandon Olson is having a very positive year at LaCrosse as he made a simply positive move around Johnson with four laps to go in the main event and ran away with his second checkered flag of 2023.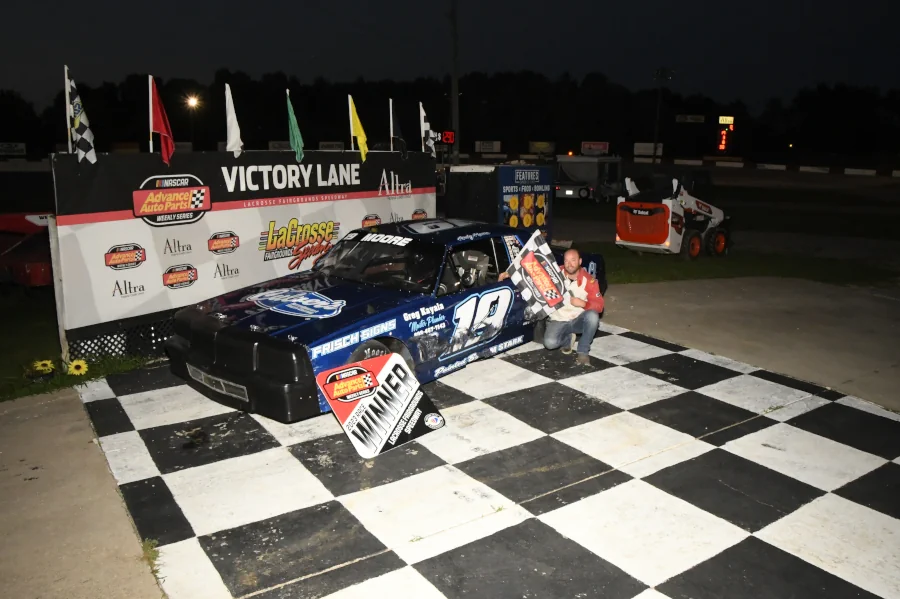 The Hobby Stock feature saw visiting racer Jimmie Jorgenson lead much of the race, even though he was having to fight off Adam Moore for the lead.  Moore dove low on Jorgenson in turns one and two with five laps remaining to drive away with his second victory of the year.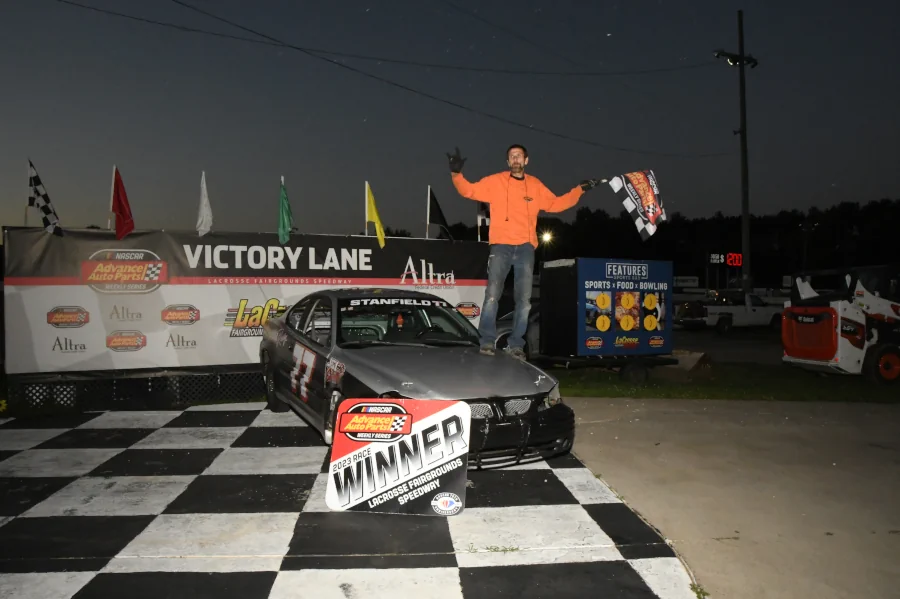 Matt Parent led the early going of the Six Shooter feature before Rob Stanfield shot past him on the outside on lap three to take over the lead.  Stanfield pulled away from the field and added another feature trophy to his ever expanding trophy case at home.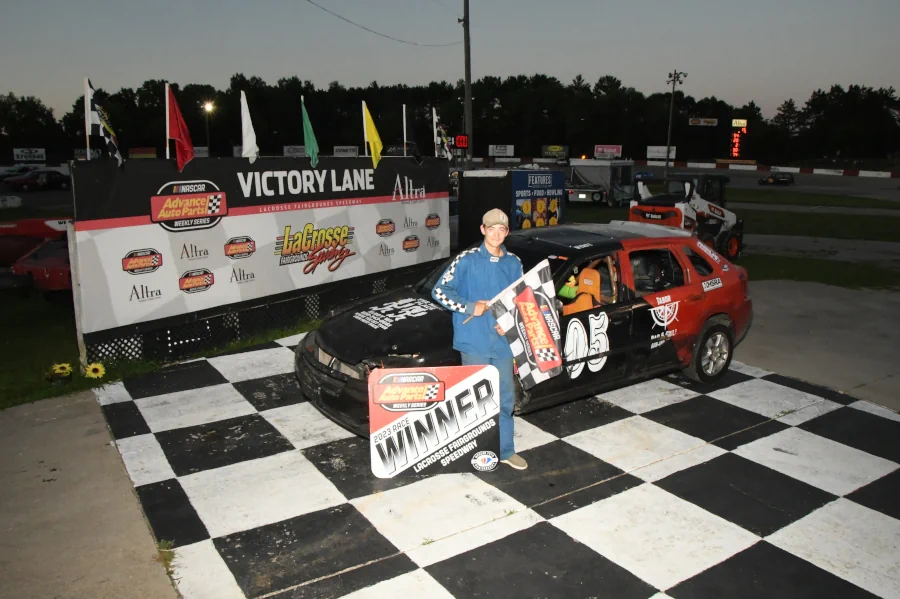 In the High School Racing Association feature, Kennedy Krueger powered around early race leader Chip Woodin to move into the top position on lap five.  Just when it looked like Kreguer would claim his second straight feature win, Ryatt Dobbratz charged around Krueger with three laps to go to capture his second ever HSRA victory.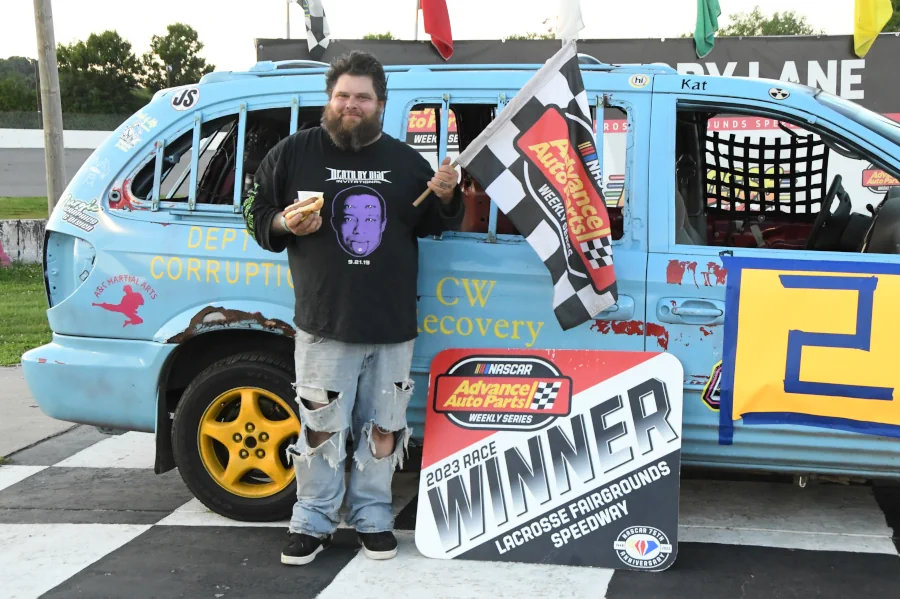 The Novelty event this week was a very unique competition.  The Hot Dog Race had the drivers stop at the refreshment stand to down a Hot Dog and enjoy an ice cold beverage before finishing their lap.  Matt Parent made quick work of his hot dog in about five seconds to complete his lap in 47.65 seconds and be crowned the "Hot Dog King" at LaCrosse.
RESULTS
Kwik Trip NASCAR Late Models
Feature #1 (25 laps): 1. Skylar Holzhausen, 2. Tony Bagstad, 3. Steve Carlson, 4. Brent Kirchner, 5. Adam Bendzick, 6. Jacob Goede, 7. Tom Carlson, 8. Steve Bachman, 9. Adam Degenhardt, 10. Jerimy Wagner, 11. Mike Carlson, 12. Nick Clements, 13. Michael Haggar, 14. Nicholas Beaver, 15. Gib Scharpf, 16. Ryan Brown, 17. Tom Luethe, 18. Don Turner, 19. Ridge Oien, 20. Chris Skrede
Feature #2 (25 laps): 1. Nick Clements, 2. Mike Carlson, 3. Adam Degenhardt, 4. Jacob Goede, 5. Steve Bachman, 6. Skylar Holzhausen 7. Jerimy Wagner, 8. Adam Bendzick, 9. Tony Bagstad, 10. Tom Carlson, 11. Michael Haggar, 12. Steve Carlson, 13. Gib Scharpf, 14. Tom Luethe, 15. Nicholas Beaver, 16. Brent Kirchner, 17. Ryan Brown, 18. Don Turner, 19. Chris Skrede, 20. Ridge Oien
Qualifying: 1. Skylar Holzhausen, 2. Jacob Goede, 3. Steve Bachman, 4. Adam Bendzick, 5. Nick Clements, 6. Mike Carlson, 7. Brent Kirchner, 8. Michael Haggar, 9. Jerimy Wagner, 10. Adam Degenhardt, 11. Tony Bagstad, 12. Steve Carlson, 13. Tom Carlson, 14. Gib Scharpf, 15. Nicholas Beaver, 16. Ridge Oien, 17. Tom Luethe, 18. Don Turner, 19. Chris Skrede, 20. Ryan Brown
Line-X NASCAR Sportsmen
Feature (15 laps): 1. Bill Schott, 2. Bob Fort, 3. Taylor Goldman, 4. Tina Lodermeier, 5. Justin Berg, 6. Andy Barney, 7. Travis Gordon, 8. Scott Mahlum
Heat #1 (8 laps): 1. Bob Fort, 2. Bill Schott, 3. Tina Lodermeier, 4. Justin Berg, 5. Taylor Goldman, 6. Andy Barney, 7. Travis Gordon, 8. Scott Mahlum
Qualifying: 1. Andy Barney, 2. Bill Schott, 3. Justin Berg, 4. Bob Fort, 5. Travis Gordon, 6. Taylor Goldman, 7. Tina Lodermeier, 8. Scott Mahlum, 9. Julie Jorgenson
Skyline Fireworks NASCAR Hornets
Feature (15 laps): 1. Brandon Olson, 2. Joey Johnson III, 3. Carter Horstman, 4. Ben Thurk, 5. Jacob Iverson, 6. Brandon McCarthy, 7. Nick Hadler, 8. Thomas Farra, 9. Christopher Lofquist, 10. Mitchell Rinartz, 11. Jace Lafleur, 12. Al Bartels, 13. Darren Pahl, 14. Alex Liebsch, 15. Abigail Knaack, 16. Nick Loesel, 17. Bentley Knaack, 18. Terry Lafleur, 19. Kendon Thurk, 20. Jake Schomers, 21. Charles Vian, Jr.
6-for-6 Dash (6 laps): 1. Jake Schomers, 2. Thomas Farra, 3. Ben Thurk, 4. Jacob Iverson, 5. Nick Hadler, 6. Carter Horstman
Heat #1 (8 laps): 1. Brandon Olson, 2. Joey Johnson III, 3. Jace Lafleur, 4. Abigail Knaack, 5. Chirstopher Lofquist, 6. Brandon McCarthy, 7. Darren Pahl
Heat #2 (8 laps): 1. Alex Liebsch, 2. Terry Lafleur, 3. Charles Vian, Jr., 4. Bentley Knaack, 5. Nick Loesel, 6. Kendon Thurk, 7. Al Bartels, 8. Mitchell Rinartz
Qualifying: 1. Carter Horstman, 2. Ben Thurk, 3. Jacob Iverson, 4. Nick Hadler, 5. Thomas Farra, 6. Jake Schomers, 7.
Auto Value Hobby Stocks
Feature (15 laps): 1. Adam Moore, 2. Jimmie Jorgenson, 3. Jason Bolster, 4. Landon Lockington
Heat #1 (8 laps): 1. Adam Moore, 2. Jimmie Jorgenson, 3. Jason Bolster, 4. Landon Lockington
Qualifying: 1. Jimmie Jorgenson, 2. Adam Moore, 3. Jason Bolster, 4. Landon Lockington, 5. Bryon Olson
Auto Value Six Shooters
Feature (15 laps): 1. Rob Stanfield, 2. Tory Lockington, 3. Matthew Miller, 4. Ashton Kinsey, 5. Marshall Rinartz, 6. Matt Parent, 7. Carlie Rinartz, 8. Kyle Cottone, 9. Clayton Haessig, 10. Landon Lockington, 11. Josh Heyer, 12. Kreg Miller
Heat #1 (8 laps): 1. Tory Lockington, 2. Landon Lockington, 3. Matt Parent, 4. Kyle Cottone, 5. Clayton Haessig, 6. Bryon Olson, 7. Josh Heyer
Heat #2 (8 laps): 1. Rob Stanfield, 2. Ashton Kinsey, 3. Matthew Miller, 4. Carlie Rinartz, 5. Kreg Miller, 6. Marshall Rinartz
Qualifying: 1. Rob Stanfield, 2. Matthew Miller, 3. Marshall Rinartz, 4. Kreg Miller, 5. Ashton Kinsey, 6. Carlie Rinartz, 7. Kyle Cottone, 8. Clayton Haessig, 9. Landon Lockington, 10. Tory Lockington, 11. Matt Parent, 12. Bryon Olson, 13. Josh Heyer
High School Racing Association
Feature (15 laps): 1. Ryatt Dobbratz. 2. Mitchell Berg, 3. Kennedy Krueger, 4. Caleb Arneson, 5. Trinity Aasen, 6. Paityn Barney, 7. Xavier Weeks, 8. Bella Bolduan, 9. Chip Woodin, 10. Braydon Lockington
Heat #1 (8 laps): 1. Mitchell Berg, 2. Ryatt Dobbratz, 3. Braydon Lockington, 4. Kennedy Krueger, 5. Caleb Arneson, 6. Trinity Aasen, 7. Chip Woodin, 8. Xavier Weeks, 9. Bella Bolduan, 10. Paityn Barney
Qualifying: 1. Mitchell Berg, 2. Braydon Lockington, 3. Ryatt Dobbratz, 4. Kennedy Krueger, 5. Caleb Arneson, 6. Trinity Aasen, 7. Bella Bolduan, 8. Xavier Weeks, 9. Chip Woodin, 10. Paityn Barney
Novelty
Hot Dog Race: 1. Matt Parent 47.65, 2. Matthew Miller 52.38, 3. Jacob Iverson 56.06, 4. Alex Liebsch 60.57, 5. Rob Stanfield 61.95, 6. Marshall Rinartz 66.52