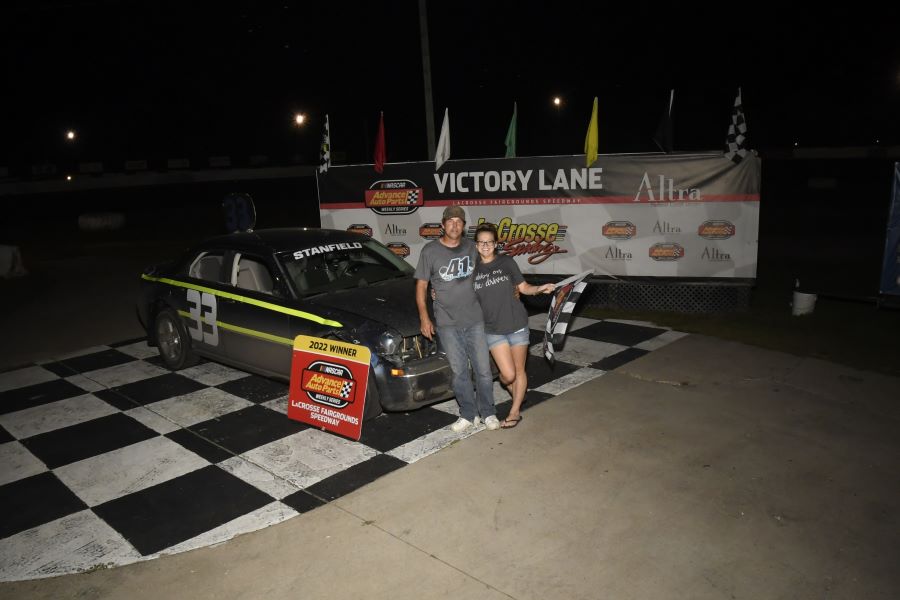 By: Paul Reichert
September 3, 2022
After another long season of racing at the LaCrosse Speedway, the big 5/8ths-mile track takes a long late summer vacation before the 53rd Annual Oktoberfest Race Weekend happens in a little over a month.  For the next few weeks the spotlight shines brightly on the 'action track' quarter mile.  This weekend's featured feven on the quarter mile was the annual Big Cheese 200 Enduro.  All sorts of four and six cylinder cars, mini-vans and pickup trucks raced hard for 200 laps to claim a big $1,000 payday.  In the end Lester Stanfield won a hard fought battle with Dakota Miller to capture a big checkered flag.
57 different four and six cylinder cars took the green flag on a fantastic 200 lap adventure in the Big Cheese 200 Enduro.  With that many cars racing on the 'action track' quarter mile there will be a lot of contact and interesting things occurring.  On lap eight the hood flew open on the mini-van of Brendan Loustuen.  Brenan Folsom took a hard hit into the turn four wall on lap 15, but he somehow was able to continue on his way.  Two cars ended up in the tires coming out of turn two on lap 45 but also were able to rejoin the action.  Isiah Reinhart tried to shortcut it through the turn three and four infield on lap 48 and took out a couple other drivers.  Early race leader Ridge Oien, piloting a former Kyle Stark four cylinder, suddenly pulled into the infield on lap 54.  A small fire was developing under Carson Bullerman that forced him to retire a lap later.  A lot of stuff was being dragged under Tyler Wilhelmson's car on lap 59 as he went to the pits to clear that up.  Wilhelmson's night was not over as he collided with Alex Liebsch coming out of the pits on lap 80.  A lap later Wilhelmson tangled with Cody Sprain in turn four and that left Reinhart with nowhere to go as he collided with Sprain.  Dakota Miller led the way as the field took their halfway break after 105 laps.
32 cars returned to action after the ten minute break to start the second half of the Big Cheese 200 Enduro.  Dakota Miller went right back to work as he darted through the traffic to open up his advantage on Lester Stanfield.  David Casper, the winner of last year's Big Cheese 200 Enduro, spun out in turn two on lap 112 while running fourth and lost a lap to Miller.  Ethan Kumpf squeezed Jason Witte into the turn two tires on lap 124 but Witte was able to free himself and continue to race.  Lester Stanfield used lap traffic to his advantage to catch Miller and pass him for the lead on lap 147, only to see Miller rally back to once again take command of the race with 50 laps remaining.  Greg Lofquist's right front wheel broke loose from his race car to force a brief red flag on lap 161.  Miller's comfortable lead was interrupted when he was spun out by another car with 27 laps to go and handed Stanfield the lead back.  Austin Dvorski got turned coming out of turn four on lap 179 and made contact with Drew Standish.  Luckily the contact was not hard enough to end their nights.  Miller was struggling to keep up with Stanfield as smoke started to come from his rear end with 18 laps left.  The smoke was getting progressively worse for Miller with less than ten laps to go as Stanfield put Miller a lap down and claimed a big $1,000 slice of cheddar.
Before the Big Cheese Enduro took place, we had a couple of beauty pageants to see who had the Ugliest and Prettiest cars in the field.  Isaac Brickman got the loudest boos from the crowd to receive the title of the Ugliest Big Cheese Enduro car.  Jeremiah Jacobson's patriotic Ford Escort won loud approval from the fans to be honored as the Prettiest car of the Big Cheese Enduro.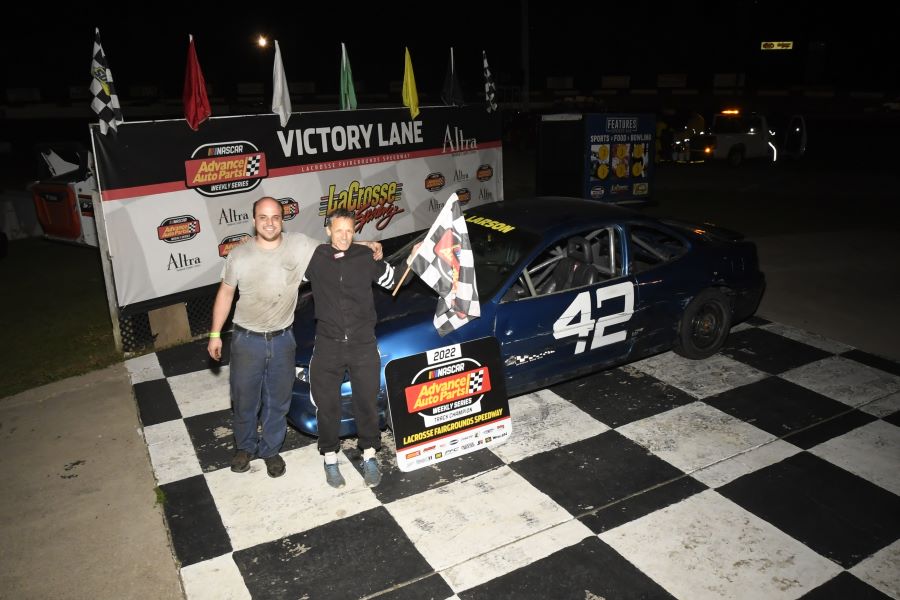 The Street Stocks closed out their season with their final feature race of the year.  Al Bartels used the outside lane to power around race long leader Zach Liebsch with three laps remaining to score the victory.  As for the family title fight, Keith Larson ran third but Chris Larson came home in fifth to lock up the championship.
Action continues next Saturday, September 10 with the 31st Annual Night of Destruction presented by Western Technical College.  This has always been a smashing success with monster trucks crushing cars, cars T-boning other cars, cars rolling over, cars creating impressive smoky burnouts. a jet car burning down a car and another edition of the Trailer Race of Destruction   In addition to all of that destruction, the Mini-Vans will run their final race of the year to determine a track champion and the High School Racing Association will run a special non-points race.  Gates open at 5:30, qualifying begins at 5:55 and the smashing good times start at 7.
For more information about LaCrosse Speedway or the 2022 schedule of events, please call the track office at 608-786-1525 or visit our web site at 
lacrossespeedway.com
.  LaCrosse Speedway is proud to be a NASCAR Hometrack, part of the NASCAR Advance Auto Parts Weekly Series.
RESULTS
Big Cheese 200 Enduro (200 laps):  1. Lester Stanfield, 2. Dakota Miller, 3. Luke Geisler, 4. Jason Witte, 5. Matt Kasper, 6. Dustin Klinski, 7. Matthew Miller, 8. Eric Rud, 9. Andrew Knudtson, 10. Alex Liebsch
Auto Value Street Stocks
Feature (15 laps):  1. Al Bartels, 2. Zach Liebsch, 3. Keith Larson, 4. Steven Brasda, 5. Chris Larson, 6. Alex Liebsch, 7. Ryan Stanfield, 8. Lester Stanfield, 9. Brian Larson, 10. Matthew Miller, 11. Kyle Cottone, 12. Matthew Bornheimer, 13. Robert Cobb, 14. Jake Schomers, 15. John Huebner, 16. Dave Clauson
Heat #1 (8 laps):  1. Zach Liebsch, 2. Al Bartels, 3. Ryan Stanfield, 4. Lester Stanfield, 5. Matthew Miller, 6. Kyle Cottone, 7. Robert Cobb, 8. Dave Clausen
Heat #2 (8 laps):  1. Chris Larson, 2. John Huebner, 3. Keith Larson, 4. Matthew Bornheimer, 5. Alex Liebsch, 6. Brian Larson, 7. Jake Schomers, 8. Steven Brasda
Qualifying:  1. Chris Larson 16.442, 2. Jake Schomer 16.781, 3. Keith Larson 16.846, 4. Matthew Bornheimer 17.084, 5. Alex Liebsch 17.167, 6. Steven Brasda 17.396, 7. Brian Larson 17.463, 8. John Huebner 17.681, 9. Ryan Stanfield 17.742, 10. Al Bartels 17.900, 11. Dave Clausen 18.519, 12. Lester Stanfield 18.571, 13. Robert Cobb 19.061, 14. Matthew Miller 19.127, 15. Kyle Cottone 19.138, 16. Zach Liebsch 20.170