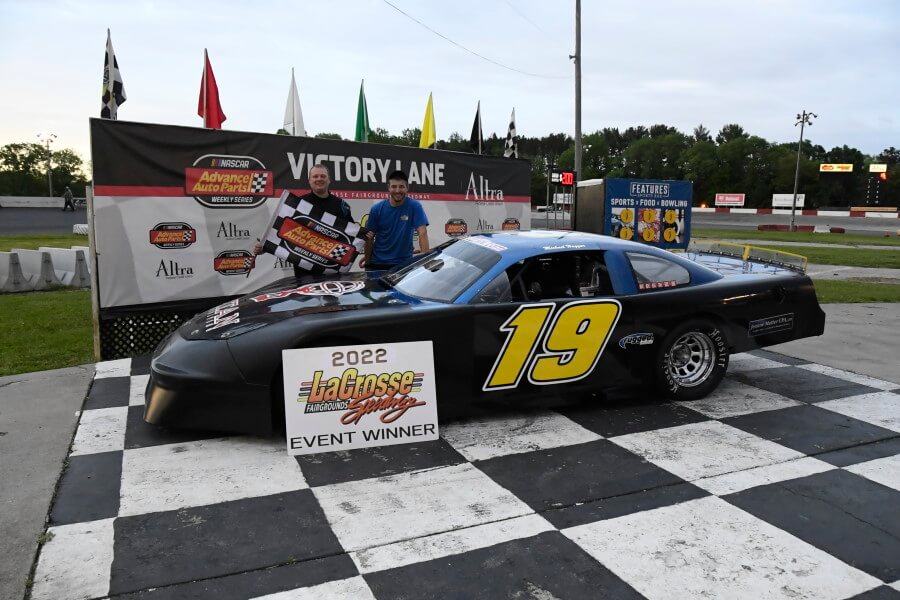 By:  Paul Reichert
June 4, 2022
Mother Nature has not been playing well with us here in the upper Midwest so far in 2022.  After a cold and wet April, sun and warmer temperatures kicked action into high gear in May.  After some light rain showers in the afternoon tried their best to dispute plans to race at the LaCrosse Speedway, those showers moved on to allow for track drying and we somehow got the entire race program completed.  MIchael Haggar was the happiest of all as he got the better of some of the best racers in the Midwest to capture his first feature victory at LaCrosse.
Michael Haggar (Hanover, MN) shot past Jerimy Wagner (Onalaska, WI) to charge into the at the start of the 25 lap Kwik Trip NASCAR Late Model feature.  The field was trying to sort itself out for several laps to find someone to challenge Haggar for the lead.  All of that battling allowed Haggar to open up his advantage on the field as the race was moving fast.  Steve Carlson (West Salem, WI) finally found a way around Wagner on the outside to settle into second on lap 10.  As the race drove past the halfway mark Haggar maintained a nearly three second advantage that Carlson was unable to make a dent in.  Lap traffic made things a little interesting with seven laps remaining as Carlson closed the gap up a little bit.  Once he got through that lap traffic Haggar started to pull away from the field again as he scored a resounding first career feature win at LaCrosse.  After the race Haggar said "This is our back-up car that we have been working on and fine tuning all week.  I think we found a great setup to go forward with."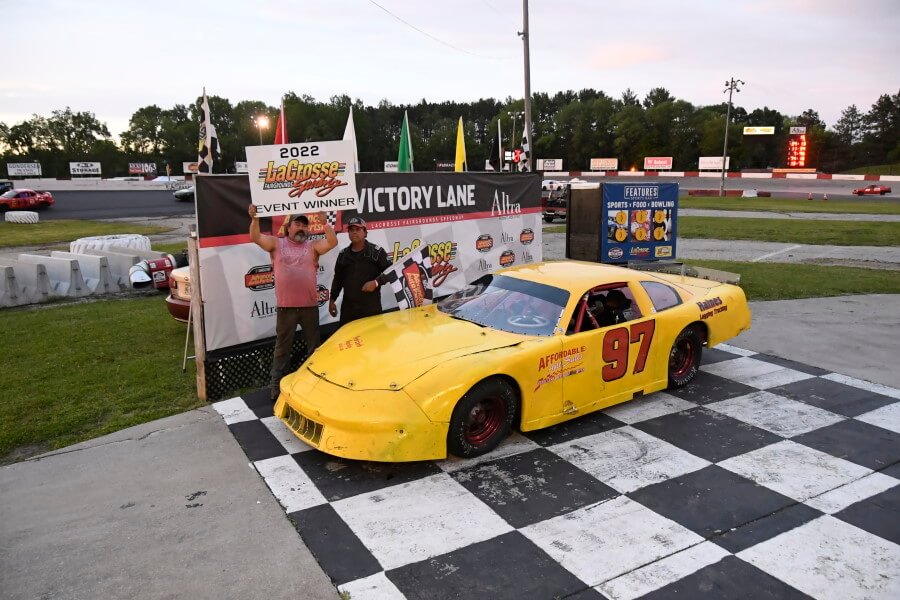 Andy Barney (West Salem, WI) and Bob Fort (Fountain City, WI) got into a hard fought battle for several laps of the Sportsmen feature.  Fort drove underneath Barney with four laps to go and drive away with his second checkered flag of the season.
In the Hornet feature Lester Stanfield charged past Kyle Cottone on a lap five restart and drove off with the feature win.
In the Six Shooter feature Matthew Cleveland charged by Al Bartels on lap six and would end up crossing the finish line first.
Last year's regional champion Mitchell Berg held off defending LaCrosse champion Braydon Lockington to score the first High School Racing Association feature of the year.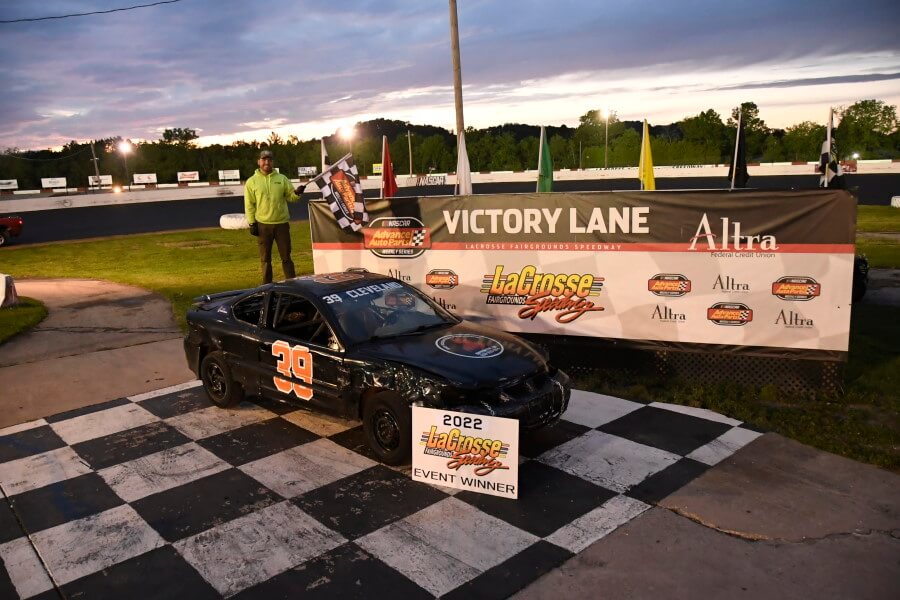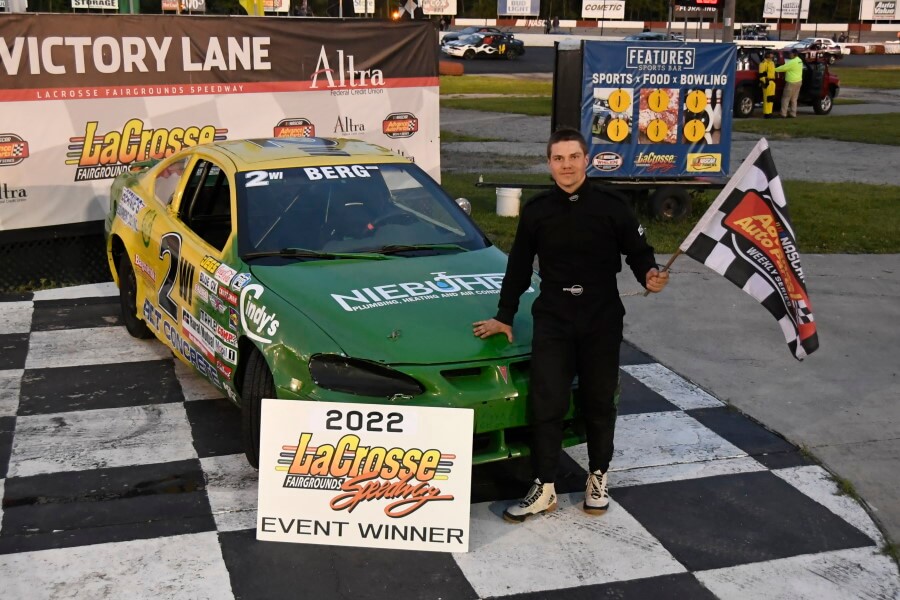 Action continues next Saturday, June 11 with the next round of double features for the Late Models highlighting the night's action.  The Sportsmen, Hornets, Street Stocks and the Novelty divisions will also compete.  Gates open at 5:30, qualifying fires up at 5:45 and the heart pounding racing action takes off at 7.
For more information about the LaCrosse Speedway or the 2022 schedule of events, please call the track office 608-786-1525 or visit our website at 
lacrossespeedway.com
.  LaCrosse Speedway is proud to be a NASCAR Hometrack, part of the NASCAR Advance Auto Parts Weekly Series.
RESULTS
Kwik Trip NASCAR Late Models
Feature (25 laps):  1. Michael Haggar, 2. Steve Carlson, 3. Brent Kirchner, 4. Jacob Goede, 5. Steve Bachman, 6. Michael Beamish, 7. Mike Carlson, 8. Nick Clements, 9. Jackson Lewis, 10. Jerimy Wagner, 11. Tom Luethe, 12. Justin Mullikin, 13. Tom Carlson, 14. Jonathan Eckelberg, 15. Kenneth Donais, 16. Joseph Scholze, 17. Pete Carlson
6-for-6 Dash (6 laps):  1. Steve Bachman, 2. Brent Kirchner, 3. Jacob Goede, 4. Nick Clements, 5. Michael Beamish, 6. Mike Carlson
Heat #1 (8 laps):  1. Michael Haggar, 2. Justin Mullikin, 3. Jackson Lewis, 4. Steve Carlson, 5. Jerimy Wagner, 6. Tom Luethe, 7. Joseph Scholze, 8. Kenneth Donais, 9. Jonathan Eckleberg, 10. Tom Carlson, 11. Pete Carlson
LawnKeepers Sportsmen
Feature (15 laps):  1. Bob Fort, 2. Andy Barney, 3. Bill Schott, 4. Sam Niles, 5. Justin Berg, 6. Dan Osthoff, 7. Travis Gordon
Dash (6 laps): 1. Andy Barney, 2. Justin Berg, 3. Sam Niles, 4. Bill Schott
Heat #1 (8 laps):  1. Dan Osthoff, 2. Scott Mahlum, 3. Travis Gordon, 4. Bob Fort
ANT's Complete Pest Control Hornets
Feature (15 laps):  1. Lester Stanfield, 2. Rob Stanfield, 3. Ben Thurk, 4. Rob Schleifer, 5. Carter Horstman, 6. Kristopher Berg, 7. Mike Carlson, 8. Joey Johnson III, 9. Chris Christen, 10. Jayden Schock, 11. Nick Hadler, 12. Kyle Cottone, 13. John Clauson, 14. Abigail Knaack, 15. Keanna Barney, 16. Jeffrey Von Ruden, 17. Justin Iverson, 18. Shawn Breese, 19. Christopher Lofquist
Dash (6 laps):  1. Joey Johnson III, 2. Kristopher Berg, 3. Lester Stanfield, 4. Rob Schleifer, 5. Jayden Schock, 6. Ben Thurk
Heat #1 (8 laps):  1. Carter Horstman, 2. Rob Stanfield, 3. Nick Hadler, 4. John Clauson, 5. Keanna Barney, 6. Christopher Lofquist
Heat #2 (8 laps):  1. Chris Christen, 2. Mike Carlson, 3. Jeffrey Von Ruden, 4. Justin Iverson, 5. Kyle Cottone, 6. Shawn Breese, 7. Abigail Knaack
Coulee Tire Six Shooters
Feature (15 laps):  1. Matthew Cleveland, 2. Al Bartels, 3. Ryan Stanfield, 4. Jake Schomers, 5. John Huebner, 6. Adam Kerley, 7. Landon Lockington, 8. Tory Lockington, 9. Matthew Miller, 10.. Katie Wolfe, 11. Alex Liebsch, 12. Jazmyn Wilson
Heat #1 (8 laps):  1. Matthew Cleveland, 2. Adam Kerley, 3. Al Bartels, 4. Alex Liebsch, 5. Ryan Stanfield, 6. Matthew Miller.
Heat #2 (8 laps):  1. John Huebner, 2. Jake Schomers, 3. Landon Lockington, 4. Tory Lockington, 5. Jazmyn Wilson, 6. Katie Wolfe
High School Racing Association
Feature (15 laps):  1. Mitchell Berg, 2. Braydon Lockington, 3. Ashton Kinsey, 4. Joey Miller, 5. Charlie Thompson, 6. Annie Green, 7. Trinity Aasen
Heat #1 (8 laps):  1. Mitchell Berg, 2. Charlie Thompson, 3. Ashton Kinsey, 4. Trinity Aasen, 5. Joey Miller, 6. Braydon Lockington, 7. Annie Green