DOUBLE HEADER WEEKEND KICKS OFF 2022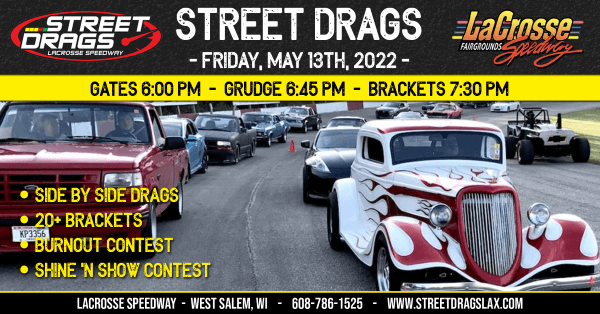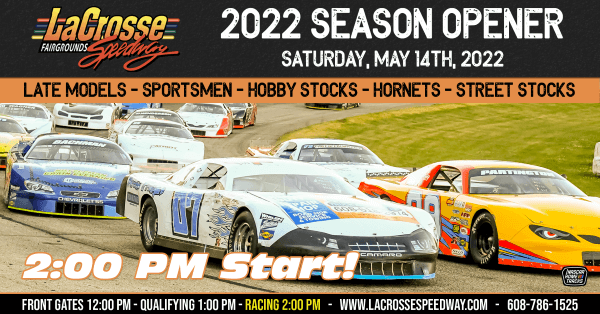 It's two days of FUN at LaCrosse Speedway this weekend to kick off the 2022 Season! On Friday Night, May 13th, the 2022 Street Drags Season kicks off with 20+ Brackets of Side-by-Side Drags on our 300 foot drag strip utilizing the front stretch. Brackets include Cars, Trucks, Cycles, ATV's, Tuners, Diesels, 4 Wheel Drive, Muscle Cars and much more! Don't forget our popular Shine & Show car show contest.
Looking to participate in Street Drags or want more information? Be sure to check out our information page: https://streetdragslax.com/about/
On Saturday, May 14th at 2:00 PM NASCAR Racing returns for the 2022 Season! Five racing divisions will be in action as part of the NASCAR Advance Auto Parts Weekly Racing Series highlighted by the Late Models, Sportsmen, Hornets, Hobby Stocks, and Street Stocks.
Don't forget the After Race Season Kick Off Party in the Fair Expo Hall after the racing events have concluded.
Don't miss an event! Be sure to check out our Full 2022 Schedule: https://lacrossespeedway.com/schedule/
New to LaCrosse Speedway? Be sure to check out our Fan Guide: https://lacrossespeedway.com/fans/
— Street Drag Info Friday, May 13th —
Event Times
6:00 PM – Gates Open
6:45 PM – Grudge (Practice) Matches Begin
7:30 PM – Brackets Begin
Event Pricing
Grandstands $10
Pit Pass $10
Each Bracket Entered $10
— 2022 Season Opener Saturday, May 14th 2PM —
Event Times
12:00 PM – Front Gates Open
1:00 PM – Qualifying
2:00 PM – Racing Begins!
Event Pricing
Adults $15
Students (12-17) $7
Kids (6-11) $4
Children 5 and Under FREE
Don't forget to take advantage of our Family Pricing! 2 Adults and up to 4 Students/Kids for only $34!
LaCrosse Speedway is located at N4985 County Road M in West Salem, WI 54669. For more information on LaCrosse Speedway, please visit our website at LaCrosseSpeedway.com or call 608-786-1525.
For up-to-the-minute updates, please "Like" LaCrosse Speedway on Facebook or "Follow" us on Twitter @LAXSpeedway