By:  Paul Reichert
May 14, 2022
Mother nature's weather calendar needed to be fine tuned and adjusted after a cold and wet April that did not allow for a lot of racing to start.  Now that the calendar has turned to May things are warming up and the race fans are coming out in droves.  A picture perfect day welcomed race fans and race teams to the LaCrosse Speedway to kick off the 2022 racing season.  Things did not start well for Mike Carlson when his own car broke an A-frame during practice.  He borrowed dad Steve's brand new ride for the rest of the day and it resulted in a heat race win as well as a dominant green-to-checkered win in the first Late Model feature of the new year.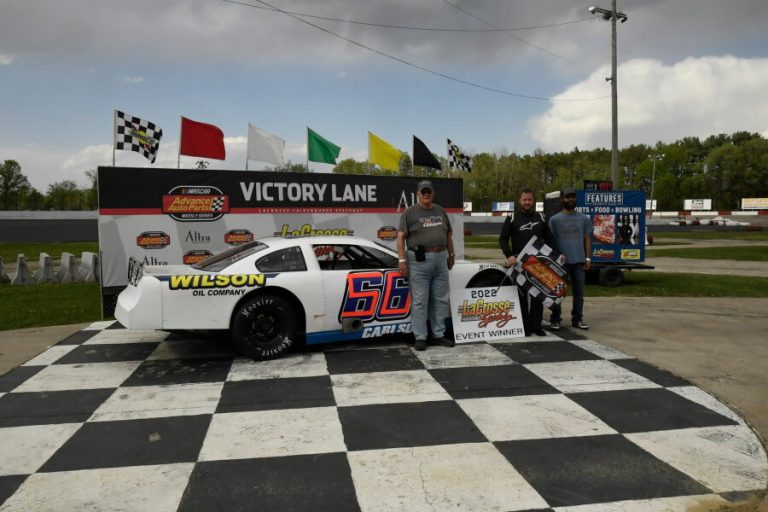 Mike Carlson (West Salem, WI) powered by pole sitter Devin Schmidt (Belle Plaine, MN) to quickly take command of the Budweiser 25 NASCAR Late Model feature.  Carlson began to open up a big advantage on Schmidt, while Schmidt maintained a healthy lead over the battle for third between Dusty Mann (Elko, MN) and Chad Walen (Prior Lake, MN).  Mann stuck to his guns on the low groove and shot past Walen to take over third on lap seven.  The gaps between the top three remained pretty constant but then the racing gremlins began to reek havoc with a few drivers.  Schmidt suddenly slowly with a mechanical issue on lap 11 and turned over the runner-up spot to Mann.  With ten laps to go Mann started falling back through the field with occasional mechanical issues.  That would give Jacob Goede (Carver, MN) second place and a chance to eat away at Carlson's huge lead.  Goede was not having very much success shrinking the deficit as Carlson was running on rails and looked unstoppable.  In the end Carlson left the entire field in his wake as he scored his most dominant feature win ever at LaCrosse.  After the race Carlson admitted he knows his Dad's new race car better than most people think.  "I spent many hours helping put Dad's new car together and I felt super comfortable in it.  I guess we will fix my car and get that ready for next week."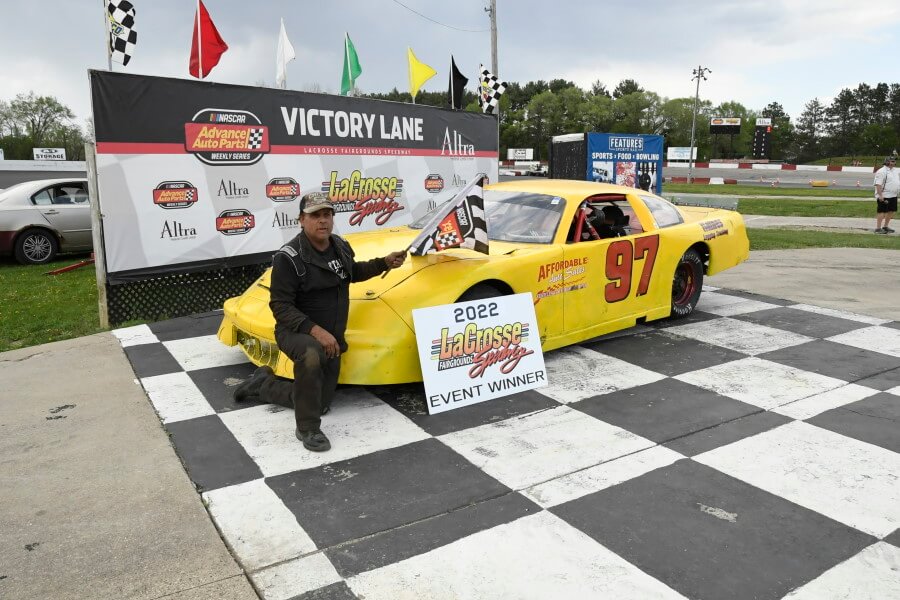 Ken Christenson (LaCrosse, WI) piloted the #racing4jason24 tribute car and led much of the Sportsmen feature.  It looked like the team was going to score an emotional win after the passing of Jason Schaller.  Former dirt racer Bob Fort (Fountain City, WI) used the outside lane to power past Christenson with two laps to go to claim his first career checkered flag.
Charles Vian, Jr. was on his way to a clean sweep of the Hobby Stock division after turning a New Track Record and recording a Dash win.  A spin in the Hobby Stock feature with four laps to go gave Mike Krueger, Jr. a chance to pull away from the field and notch a big feature win.
Former Hornet champion Jimmy Bjorkman powered by Joey Johnson III with two laps remaining to score the Hornet feature win in his triumphant return to LaCrosse.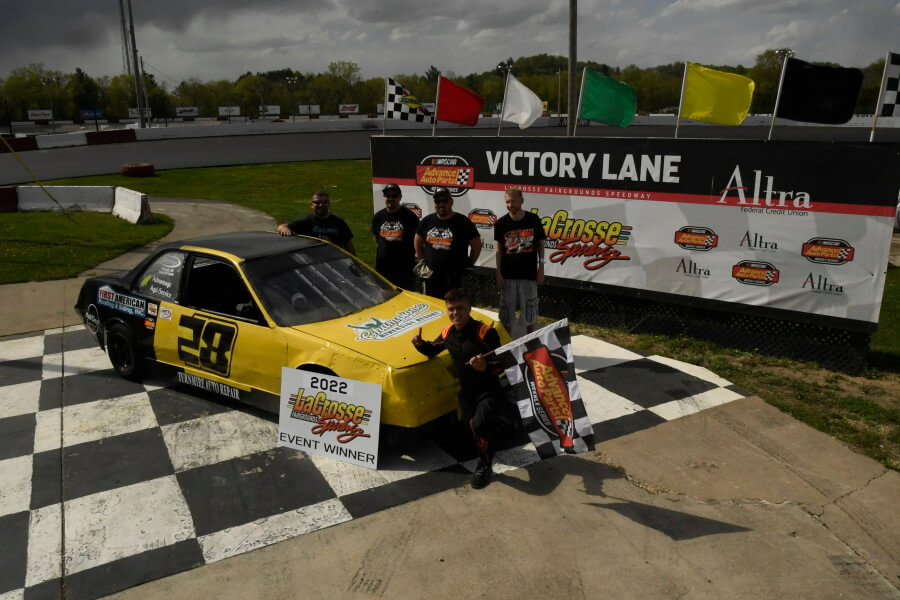 Matt Moore motored around Jonathan Burbach six laps into the Street Stock feature and survived a late race challenge from Matthew Cleveland to cross the finish line first.  Moore would complete a clean sweep of the division that included a New Track Record for the division.
The 2nd Over the Line Wins Novelty event is always a wildly entertaining race and a great way to kick off the Novelty season.  Chris Larson got a huge run coming down the back straight but it worked against him.  Newcomer Jeffrey Von Ruden let Larson go by and he picked up his first ever victory at LaCrosse.
Action continues next Saturday, May 21 with the first round of twin 20 lap features for the Late Models, plus the Sportsmen will do something never done before with their own pair of 15 lap features.  The Hornets, Six Shooters and Mini-Vans will highlight the racing on the newly paved 'Action Track' quarter-mile. Parents can help make great racing memories for the kids with the first pre-race Kids' Races of the year after qualifying.  Gates open at 5:30, qualifying fires up at 5:45 and the thrilling side-by-side racing starts at 7.
For more information about LaCrosse Speedway or the 2022 schedule of events, please call the track office at 608-786-1525 or visit our web site at 
lacrossespeedway.com
.  LaCrosse Speedway is proud to be a NASCAR Hometrack, part of the NASCAR Advance Auto Parts Weekly Racing Series.
RESULTS
Kwik Trip NASCAR Late Models
Feature (25 laps):  1. Mike Carlson, 2. Jacob Goede, 3. Brent Kirchner, 4. Nick Clements, 5. Dan Fredrickson, 6. Adam Bendzick, 7. Steve Bachman, 8. Jerimy Wagner, 9. Jackson Lewis, 10. Tony Bagstad, 11. Chad Walen, 12. Michael Haggar, 13. Michael Beamish, 14. Carter Christenson, 15. Jeff Partington, 16. Ryan Varner, 17. Justin Mullikin, 18. Don Turner, 19. Kenneth Donais, 20. Pete Carlson, 21. Dusty Mann, 22. Tom Carlson, 23. Adam Oxborough, 24. Brad Powell, 25. Tom Luethe, 26. Devin Schmidt, 27. Billy Mohn
6-for-6 Dash (6 laps):  1. Michael Beamish, 2. Dan Fredrickson, 3. Steve Bachman, 4. Jacob Goede, 5. Brent Kirchner, 6. Adam Bendzick
Heat #1 (8 laps):  1. Mike Carlson, 2. Dusty Mann, 3. Chad Walen, 4. Billy Mohn, 5. Jackson Lewis, 6. Brad Powell, 7. Nick Clements
Heat #2 (8 laps):  1. Tony Bagstad, 2. Justin Mullikin, 3. Devin Schmidt, 4. Jerimy Wagner, 5. Carter Christenson, 6. Jeff Partington, 7. Adam Oxborough
Heat #3 (8 laps):  1. Michael Haggar, 2. Ryan Varner, 3. Don Turner, 4. Tom Carlson, 5. Kenneth Donais, 6. Tom Luethe, 7. Pete Carlson
Qualifying:  1. Adam Bendzick, 2. Brent Kirchner, 3. Dan Fredrickson, 4. Jacob Goede, 5. Michael Beamish, 6. Steve Bachman, 7. Nick Clements, 8. Jackson Lewis, 9. Brad Powell, 10. Billy Mohn, 11. Chad Walen, 12. Dusty Mann, 13. Mike Carlson, 14. Devin Schmitt, 15. Adam Oxborough, 16. Justin Mullikin, 17. Jerimy Wagner, 18. Tony Bagstad, 19. Carter Christenson, 20. Jeff Partington, 21. Ryan Varner, 22. Michael Haggar, 23. Don Turner, 24. Tom Carlson, 25. Kenneth Donais, 26. Tom Luethe, 27. Pete Carlson
LawnKeepers Sportsmen
Feature (15 laps):  1. Bob Fort. 2. Ken Christenson, 3. Sam Niles, 4. Jesse Green, 5. Justin Berg, 6. Scott Mahlum, 7. Ed Ross, 8. Bill Schott, 9. Rick Coppernoll (DQ)
6-for-6 Dash (6 laps):  1. Sam Niles, 2. Bob Fort, 3. Jesse Green, 4. Rick Coppernoll
Heat #1 (8 laps):  1. Ken Christenson, 2. Scott Mahlum, 3. Justin Berg, 4. Ed Ross, 5. Bill Schott
Qualifying:  1. Bob Fort, 2. Sam Niles, 3. Jesse Green, 4. Rick Coppernoll, 5. Ken Christenson, 6. Ed Ross, 7. Justin Berg, 8. Bill Schott, 9. Scott Mahlum, 10. Diane Campbell
Auto Value Hobby Stocks
Feature (15 laps):  1. Mike Krueger, Jr., 2. Jimmie Jorgenson, 3. Alex Rud, 4. Charles Vian, Jr., 5. Tyler Stuber, 6. Joey Johnson, 7. Jestin DeLap, Sr., 8. Ray Burkum, 9. Jason Bolster, 10. Scott Mahlum, 11. Shelby Lockington, 12. John Grosskopf, 13. Bryon Olsen
Dash (6 laps):  1. Charles Vian, Jr., 2. Alex Rud, 3. Jimmie Jorgenson, 4. Jason Bolster
Heat #1 (8 laps):  1. Mike Krueger, Jr., 2. Joey Johnson, 3. Ray Burkum, 4. Tyler Stuber, 5. Scott Mahlum, 6. Jestin DeLap, Sr., 7. Bryon Olsen, 8. John Grosskopf, 9. Shelby Lockington
Qualifying:  1. Charles Vian, Jr. 15.339 (New Track Record), 2. Jason Bolster, 3. Jimmie Jorgenson, 4. Alex Rud, 5.Tyler Stuber, 6. Ray Burkum, 7. Shelby Lockington, 8. Jestin DeLap, Sr., 9. Joey Johnson
ANT's Complete Pest Control Hornets
Feature (15 laps):  1. Jimmy Bjorkman, 2. Joey Johnson III, 3. Kristopher Berg, 4. Lester Stanfield, 5. Rob Schleifer, 6. Rob Stanfield, 7. Ben Thurk, 8. Dakota Clauson, 9. John Clauson, 10. Kyle Cottone, 11. Jeffrey Von Ruden, 12. Carter Horstman, 13. Nick Hadler, 14. Abigail Knaack, 16. Shawn Breese, 16. Justin Iverson, 17. Jacob Iverson, 18. Doyle Cavender III, 19. Doyle Cavender Jr, 20. Travis Atkinson 
Heat #1 (8 laps):  1. Jimmy Bjorkman, 2. Ben Thurk, 3. John Clauson, 4. Matt Carpenter, 5. Jacob Iverson, 6. Justin Iverson, 7. Jeffrey Von Ruden, 8. Doyle Cavender III, 9. Abigail Knaack, 10. Michael Wachs, Jr., 11. Dakota Clauson
Heat #2 (8 laps):  1. Joey Johnson III, 2. Kristopher Berg, 3. Rob Stanfield, 4. Rob Schleifer, 5. NIck Hadler, 6. Lester Stanfield, 7. Carter Horstman, 8. Kyle Cottone, 9. Doyle Cavender Jr, 10. Shawn Breese
Qualifying:  1. Lester Stanfield, 2. Ben Thurk, 3. Rob Schleifer, 4. Dakota Clauson, 5. Kristopher Berg, 6. Jimmy  Bjorkman, 7. Rob Stanfield, 8. Michael Wachs, Jr., 9. Joey Johnson III, 10. Matt Carpenter, 11. Carter Horstman, 12 John Clauson, 13. Nick Hadler, 14. Jacob Iverson, 15. Kyle Cottone, 16. Abigail Knaack, 17. Shawn Breese, 18. Justin Iverson
Auto Value Street Stocks
Feature (15 laps):  1. Matt Moore, 2. Matthew Cleveland, 3. John Huebner, 4. Matthew Bornheimer, 5. Brian Larson, 6. Josh Inglett, 7. Steven Brasda, 8. Keith Larson, 9. Zach Liebsch, 10. Al Bartels, 11. Alex Liebsch, 12. Ryan Stanfield, 13. Chris Larson, 14. Peter Thompson, 15. Nathan Myhre, 16. Jonathon Burbach, 17. Wendy Liebsch, 18. Tim Murphy, Sr., 19. Zachary Morgan, 20. Jeffrey Von Ruden 
Heat #1 (8 laps):  1. Matt Moore, 2. John Huebner, 3. Matthew Bornheimer, 4. Nathan Myhre, 5. Brian Larson, 6. Josh Inglett, 7. Matt Inglett, 8. Jonathan Burbach, 9. Alex Liebsch, 10. Zach Liebsch
Heat #2 (8 laps):  1. Al Bartels, 2. Jeffrey Von Ruden, 3. Matthew Cleveland, 4. Chris Larson, 5. Keith Larson, 6. Wendy Liebsch, 7. Peter Thompson, 8. Ryan Stanfield, 9. Steven Brasda
Qualifying:  1. Matt Moore 16.183 (New Track Record), 2. Keith Larson, 3. John Huebner, 4. Chris Larson, 5. Alex Liebsch, 6. Al Bartels, 7. Zach Liebsch, 8. Peter Thompson, 9. Brian Larson, 10. Steven Brasda, 11. Josh Inglett, 12. Ryan Stanfield, 13. Matthew Bornheimer, 14. Jonathan Burbach, 15. Jeffrey Von Ruden, 16. Wendy Liebsch, 17. Nathan Myhre
Novelty
2nd Over the Line Wins:  1. Jeffrey Von Ruden, 2. John Huebner, 3. Keith Larson, 4. Rob Stanfield, 5. Zach Liebsch, 6. Al Bartels, 7. Brian Larson, 8. Jonathon Burbach, 9. Chris Larson