There is one very special week that city and country come together at the LaCrosse Speedway.  That is when the LaCrosse Interstate Fair takes place, and this is the week the 130th edition brings all of LaCrosse County together.  There is always a special moment that happens during Fair Week and tonight was no different.  Justin Mullikin fought off the furious challenges of Adam Degenhardt to win the opening feature for his first career Late Model win.  In the closing feature of the night, point leader Nick Murgic left the field in his wake as he drove off with win number two of 2021.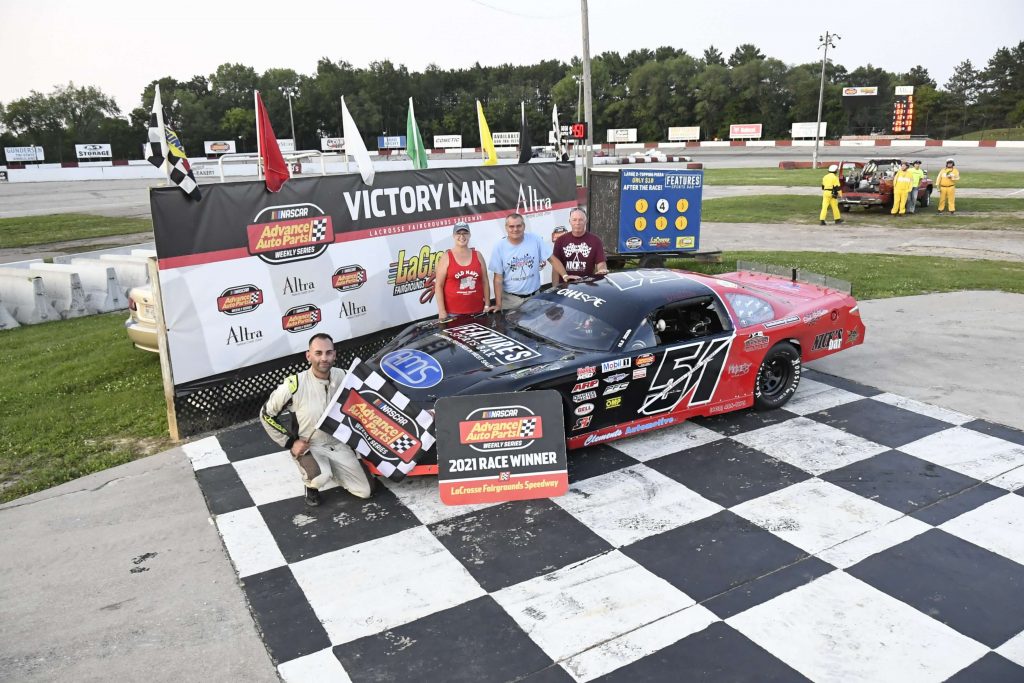 Justin Mullikin (Holmen, WI) surged into the lead at the start of the Budweiser 20 lap NASCAR Late Model feature #1.  Brent Kirchner (LaCrosse, WI) moved into second on lap three and stuck right with Mullikin in his quest for the top spot.  With six laps to go Adam Degenhardt (Coon Valley, WI) dove low on Kirchner for second and quickly caught up to Mullikin for the lead. Mullikin got loose coming out of turn four with four to go but held onto his race car and the lead.  Just when Degenhardt tried to make his move the yellow flag flew for Mandi McKinney's (West Salem, WI) spin on the back straight.  Mullikin shot in front of Degenhardt on the restart and slowly began to pull away to capture his first ever NASCAR Late Model feature win.  After the race Mullikin said "To say Degenhardt and Murgic made me work for that one is a huge understatement."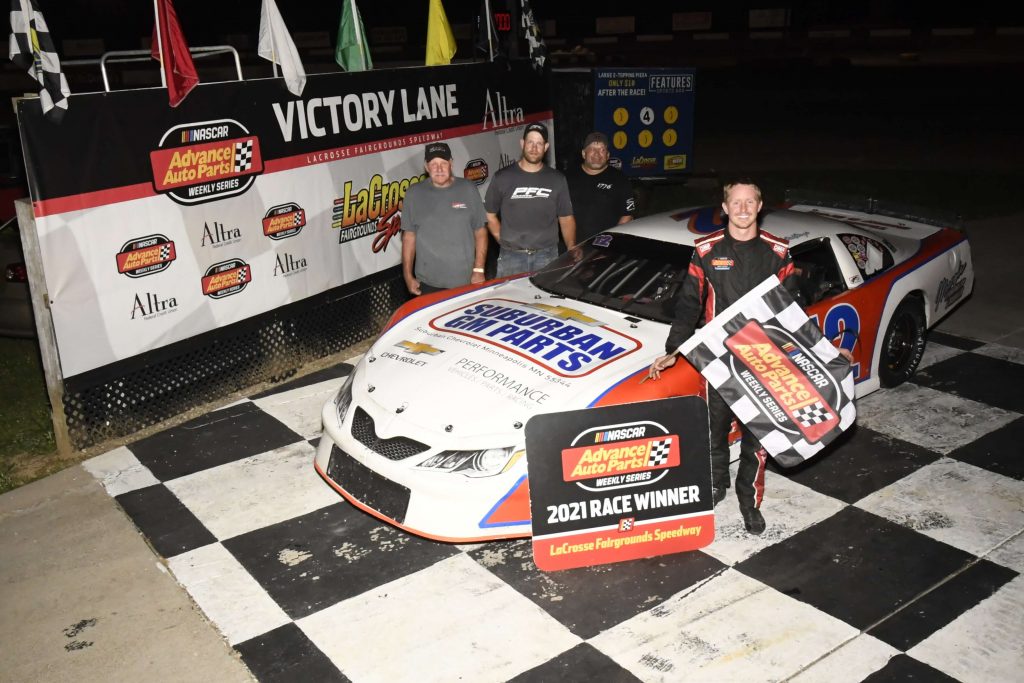 The 2nd Budweiser 20 lap NASCAR Late Model feature had a hard time getting started due to two yellow flags coming to the start.  The third time to start was the charm as Nick Clements (West Salem, WI) surged ahead of Matthew Henderson (LaCrosse, WI) to move into the top spot on lap two.  Nick Murgic (Rosemount, MN) stuck his nose under Clements on a lap six restart and was fully in command of the race by lap seven.  Whatever adjustments were made to Adam Degenhardt's car they were working as he took over second with nine laps to go and tried to slowly reel in the point leader.  There would be no stopping Murgic as he captured his second checkered flag of the season  After the race Murgic said "We were struggling the last few weeks, so we used the off week to work on the car and it paid off."  Murgic was also the night's fastest qualifier, coming within a tenth of a second of the track record.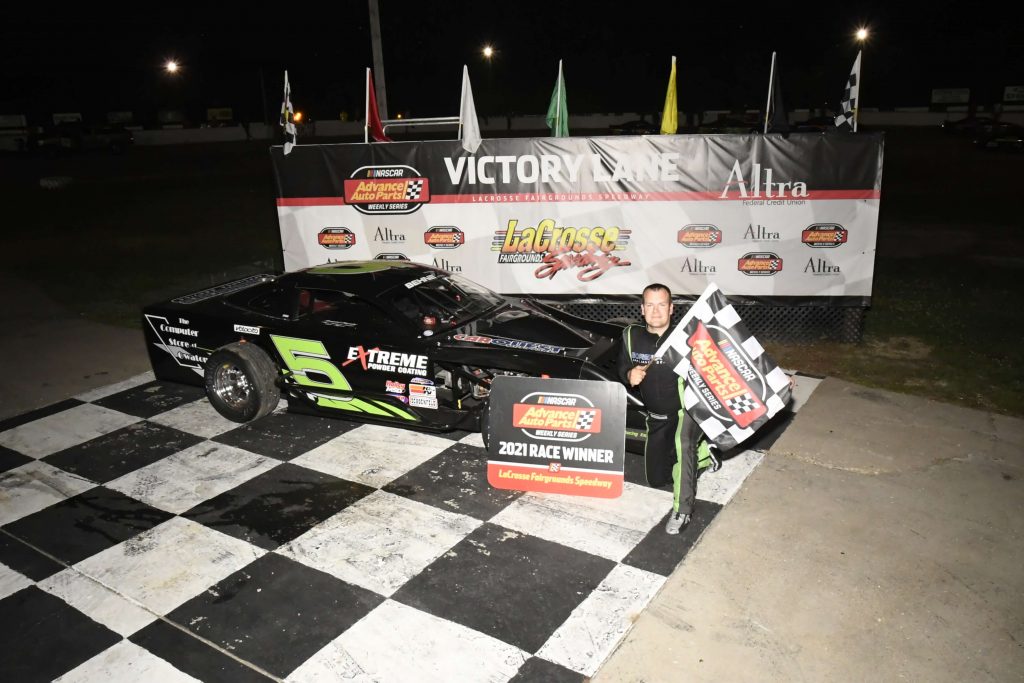 Ben Behne (Owatonna, MN) and Jesse Green (Eau Claire, WI) battled side-by-side for the final four laps of the Sportsmen feature.  Green bobbled in turn two on the final lap allowing Behne to drive away with his first career win in his first ever race night at LaCrosse.
Thomas Farra dove low and ran side-by-side with Scott Mahlum over the final few laps of the Hobby Stock feature.  Farra powered his way past Mahlum coming to the white flag to claim his third straight feature win and his third consecutive clean sweep of the division.
Rob Stanfield got around newcomer Dan Noth two laps into the Mini-Van feature.  Al Bartels challenged Stanfield for the top spot over the final six laps, but Stanfield ran away with his second straight feature victory.
The Upper Midwest Vintage Racing Series feature provided a little extra excitement with a one lap shootout for the win.  Todd Korish surged ahead of Jim Kulseth in that one lap shootout to claim his first feature win in nearly ten years.
The Mini-Vans ran their first ever 2nd Over the Line Wins Novelty event.  Big race cars fighting for position saw a four wide finish to decide the win.  Zach Liebsch waited for another competitor to flinch and scored the victory.
Action continues next Saturday, July 24 with the Late Models, Sportsmen, Hobby Stocks, Hornets, Street Stocks and High School Racing Association taking to the track.  Gates open at 5:30, qualifying begins at 5:45 and racing starts at 7.
For more information about LaCrosse Speedway or the 2021 schedule of events, please call the track office at 608-786-1525 or visit our web site at lacrossespeedway.com.  LaCrosse Speedway is proud to be a NASCAR Hometrack, part of the NASCAR Advance Auto Parts Weekly Series.
RESULTS
Kwik Trip NASCAR Late Models
Feature #1 (20 laps):  1. Justin Mullikin, 2. Adam Degenhardt, 3. Nick Murgic, 4. Adam Oxborough, 5. Steve Carlson, 6. Brent Kirchner, 7. Jerimy Wagner, 8. Michael Haggar, 9. Matthew Henderson, 10. Nick Clements, 11. Steve Bachman, 12. Carter Christenson, 13. Devin Schmidt, 14. Mike Carlson, 15. Jackson Lewis, 16. Cole Howland, 17. Don Turner, 18. Tony Leis, 19. Darren Wolke, 20. Joseph Scholze, 21. Kenneth Donais, 22. Mandi McKinney, 23. Jimmy Summerfield
Feature #2 (20 laps):  1. Nick Murgic, 2. Adam Degenhardt, 3. NIck Clements, 4. Jerimy Wagner, 5. Steve Bachman, 6. Devin Schmidt, 7. Michael Haggar, 8. Steve Carlson, 9. Don Turner, 10. Mike Carlson, 11. Brent Kirchner, 12. Adam Oxborough, 13. Cole Howland, 14. Jackson Lewis, 15. Justin Mullikin, 16. Tony Leis, 17. Joseph Scholze, 18. Kenneth Donais, 19. Carter Christenson, 20. Mandi McKinney, 21. Matthew Henderson, 22. Jimmy Summerfield, 23. Darren Wolke
6-for-6 Dash (6 laps):  1. Steve Bachman, 2. Adam Degenhardt, 3. Nick Clements, 4. Matthew Henderson, 5. Adam Oxborough, 6. Nick Murgic
Heat #1 (8 laps):  1. Michael Haggar, 2. Brent Kirchner, 3. Carter Christenson, 4. Jerimy Wagner, 5. Steve Carlson, 6. Cole Howland, 7. Jackson Lewis, 8. Mike Carlson, 9. Justin Mullikin
Heat #2 (8 laps):  1. Don Turner, 2. Joseph Scholze, 3. Tony Leis, 4. Kenneth Donais, 5. Darren Wolke, 6. Devin Schmidt, 7. Mandi McKinney, 8. Jimmy Summerfield
Qualifying:  1. Nick Murgic, 2. Adam Oxborough, 3. Matthew Henderson, 4. Nick Clements, 5. Steve Bachman, 6. Adam Degenhardt, 7. Steve Carlson, 8. Jerimy Wagner, 9. Brent Kirchner, 10. Carter Christenson, 11. Justin Mullikin, 12. Jackson Lewis, 13. Mike Carlson, 14. Michael Haggar, 15. Cole Howland, 16. Devin Schmidt, 17. Tony Leis, 18. Joseph Scholze, 19. Don Turner, 20. Darren Wolke, 21. Kenneth Donais, 22. Mandi McKinney, 23. Jimmy Summerfield
LawnKeepers Sportsmen
Feature (15 laps):  1. Ben Behne, 2. Jesse Green, 3. Sam Niles, 4. Dave Swanson, 5. Ken Christenson, 6. Ed Ross, 7. Dexter Malin, 8. Bill Schott, 9. Justin Berg, 10. Travis Gordon
Dash (8 laps):  1. Bill Schott, 2. Justin Berg, 3. Ken Christenson, 4. Dave Swanson, 5. Jesse Green
Heat #1 (8 laps):  1. Ben Behne, 2. Sam Niles, 3. Ed Ross, 4. Travis Gordon, 5. Dexter Malin 
Qualifying:  1. Dave Swanson, 2. Jesse Green, 3. Ken Christenson, 4. Justin Berg, 5. Bill Schott, 6. Ed Ross, 7. Ben Behne, 8. Dexter Malin, 9. Travis Gordon, 10. Sam Niles
Auto Value Hobby Stocks
Feature (15 laps):  1. Thomas Farra, 2. Scott Mahlum, 3. Jason Bolster, 4. Cam Dezelske
Dash (8 laps):  1. Thomas Farra, 2. Jason Bolster, 3. Scott Mahlum, 4. Cam Dezelske
Qualifying:  1. Thomas Farra, 2. Scott Mahlum, 3. Jason Bolster, 4. Cam Dezelske
Mountain Dew Mini-Vans
Feature (15 laps):  1. Rob Stanfield, 2. Al Bartels, 3. Zach Liebsch, 4. Dan Noth, 5. Kreg Miller
Heat #1 (8 laps):  1. Rob Stanfield, 2. Al Bartels, 3. Don Noth, 4. Kreg Miller, 5. Zach Liebsch
Qualiyfing:  1. Rob Stanfield, 2. Zach Liebsch, 3. Al Bartels, 4. Kreg Miller, 5. Dan Noth
Upper Midwest Vintage Racing Series
Feature (15 laps):  1. Todd Korish, 2. JIm Kulseth, 3. Dan Linnehan, 4. Ken Christenson, 5. Ralph Cottone, 6. Jim Olson, 7. Ed Reynolds, 8. Ron Demers, 9. Jerry Aylsworth, 10. Kenny Baum, 11. Brian Lee, 12. Justin Jessup
Heat #1 (8 laps):  1. Ralph Cottone, 2. Jim Olson, 3. Justin Jessup, 4. Bob Fitapatrick, 5. Ed Reynolds, 6. Jerry Aylsworth
Heat #2 (8 laps):  1. JIm Kulseth, 2. Todd Korish, 3. Brian Lee, 4. Dan Linnehan, 5. Ken Christenson, 6. Kenny Baum
Novelty
2nd Over the Line Wins Race (MIni-Vans):  1. Zach Liebsch, 2. Al Bartels, 3. Dan Noth, 4. Kreg Miller, 5. Rob Stanfield