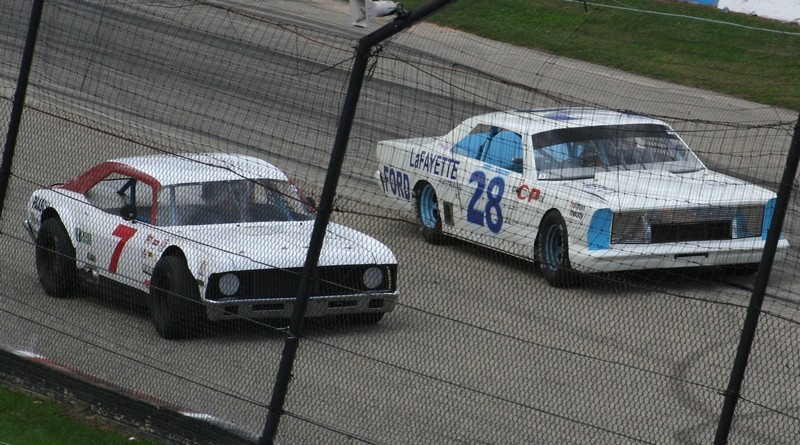 Saturday July 13th
Fan Photo returns!
Vintage cars added to schedule!
Street Stocks do the double spin!
Late Models anxious to get racing again.
Vintage Cars!
It is that time of year for the return of the Vintage Cars….the Upper Midwest Vintage Car series will make the traditional appearance this Saturday. It is fun to watch these old hot rods from their glory years back on the track for more racing action. There is a lot a variety and the racing is pretty darn good also. In addition to the Vintage cars, we have the:
-Tobacco Outlet plus Grocery LATE MODELS
-AMP Mountain Dew Game Fuel SPORTSMEN
-Auto Value HOBBY STOCKS
-Auto Value STREET STOCKS
Plus…. the Street Stocks will attempt a double spin novelty event. Who knows what will happen with that!
Attention bargain hunters: For just $20…three cold beers and a 50th anniversary Oktoberfest T-Shirt…at the beer stand. While supplies last.
FREE parking and great food. Be sure to join us in the fun.
Three weeks without Late Models
It has been three weeks since the Late Models and Sportsmen have hit the track. Rain and other events have deprived the race fans any chance to see them….until Saturday.
With the lack of racing for the last three weeks for the Late Models and Sportsmen, one wonders if the things will change. Nick Panitzke and Steve Carlson are locked in a tight battle for the Championship. Both have taken all the feature wins this season as well. However….will the heat, track conditions and lack of racing change things up? We will see this Saturday as we get back to our weekly racing program.
STREET DRAGS FRIDAY!
Street Drags return this Friday and NEXT Friday (Fair). Try your skill or join in the fun of these events. 18 Brackets to accommodate all the cool vehicles on the road…and not on the road. It is cheap, it is fun, it is Street Drags. Just $8 bucks to get in…$5 for a bracket.