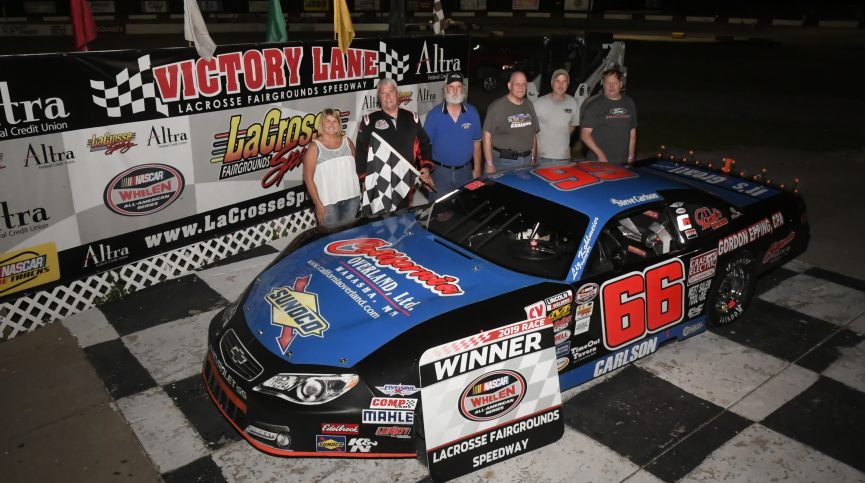 By: Paul Reichert
June 8, 2019
A warm summer night greeted the race fans at the LaCrosse Speedway, and they were treated to another great night of racing. Steve Carlson showed everyone why he still has a big say in his season long battle with Nick Panitzke. Carlson squeezed past Brent Kirchner with a handful of laps remaining to score his second feature win of the season.
Brent Kirchner lead from the start in the Pischke Motors 25-lap NASCAR Late Model feature. A couple yellow flags slowed the action, and allowed Steve Carlson and Nick Panitzke to move into the top five on the restart. Kirchner got his foot on the gas on the restart, but he knew that both Carlson and Panitzke were coming. Panitzke tried to power past Kirchner using the outside groove, but he could not complete the pass. Carlson tried squeezing under Kirchner with three laps to go, and it worked. Carlson took over the lead and claimed his first feature win since the Frostbuster. After the race, Carlson admitted he made a mistake. "On the first restart, I went to the inside. That was on me. I learned my lesson on the second restart and chose the outside."
In the Sportsmen feature, Tom Luethe and Chris Weber got into a tight battle for much of the second half of the race. Weber powered by Luethe on the outside with three to go to capture his second win of the season.
Charles Vian, Jr. had to contend with Kaleb Hardy for much of the Hobby Stock feature, but fought off Hardy's challenges to take the win.
A female driver came away with the victory in the Hornet feature once again. 16 year old Jaydin Schock got around Chris Christen on the final lap to score her first ever feature win.
The Double Spin to Win race featured a new twist with the cars having to spin around tires in the middle of the front stretch and the back stretch on the designated laps. Shawn McCarthy did the best job around the tires to win the race.
Action continues with another Friday Night Street Drags event on Friday, June 14. Practice runs begin at 6:45 and bracket racing starts at 7:30. On Saturday, June 15 the annual Fan Photo and Autograph Night takes place prior to the racing. Bring your bags to collect all the driver hero cards and free treats being handed out. At the end of the night, Dan and Bill will Be sure to stick around for the Piano Smash at the end of the night. Gates open at 6:00, the Fan Photo and Autograph session starts at 6:15 and racing begins at 7:30.
For more information about LaCrosse Speedway or the 2019 schedule of events, please call the office at 608-786-1525 or visit lacrossespeedway.com. LaCrosse Speedway is proud to be a NASCAR Hometrack, part of the NASCAR Whelen All-American Series.
RESULTS
Tobacco Outlet Plus Grocery NASCAR Late Models
Feature: 1. Steve Carlson, 2. Nick Panitzke, 3. Brent Kirchner, 4. Mike Carlson, 5. Matt Henderson
6-For-6 Dash: 1. S. Carlson, 2. Jerimy Wagner, 3. Panitzke
Heat 1: 1. Kirchner, 2. Mike Ehde, 3. Henderson
Heat 2: 1. Carter Christenson, 2. Jeff Partington, 3. Don Turner
Qualifying: 1. Panitzke, 2. Brad Powell, 3. Nick Clements
Mountain Dew AMP Game Fuel Sportsmen
Feature: 1. Chris Weber, 2. Tom Luethe, 3. Mark Challet, 4. Sam Niles, 5. Brian Hesselberg
Dash: 1. Hesselberg, 2. Weber, 3. Jeff Thompson
Heat: 1. Niles, 2. Challet, 3. Jesse Green
Qualifying: 1. Weber, 2. Luethe, 3. Hesselberg
Auto Value Hobby Stocks
Feature: 1. Charles Vian, Jr., 2. Kaleb Hardy, 3. Adam Moore, 4. Taylor Dobbs, 5. Brandon Gallagher
Dash: 1. Jason Bolster, 2. Gallagher, 3. Hardy
Heat: 1. Vian, Jr., 2. Dobbs, 3. Alex Rud
Qualifying: 1. Moore, 2. Hardy, 3. Gallagher
ANT's Complete Pest Control Honrets
Feature: 1. Jaydin Schock, 2. Mark Bornitz, 3. Andy Barney, 4. Chris Christen, 5. Scott Mahlum
Heat 1: 1. Christen, 2. Shawn McCarthy, 3. Scott Mahlum
Heat 2: 1. Bornitz, 2. Rob Schliefer, 3. Barney
Heat 3: 1. Rob Stanfield, 2. Jake Schomers, 3. Kris Berg
Double Spin to Win Race: 1. Shawn McCarthy, 2. John Huebner, 3. Rob Stanfield