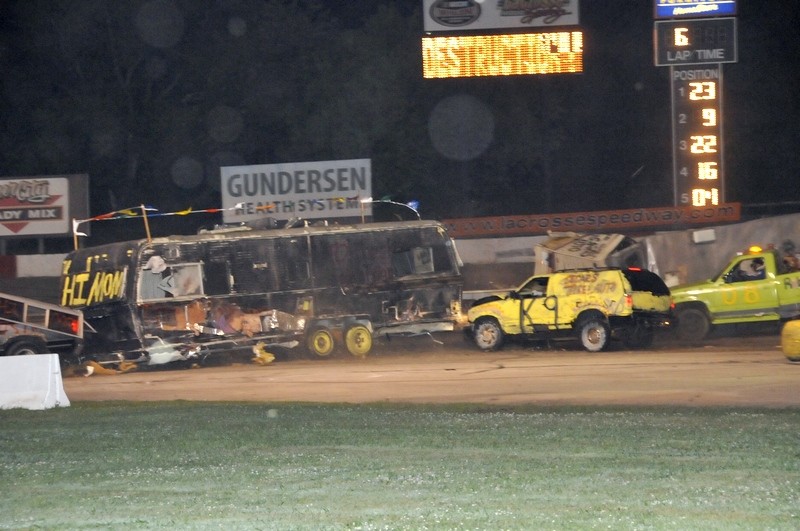 July 31, 2018 (West Salem, WI) – The Trailer Race of Destruction will crash, crunch and bash it's way back this weekend. The popular event of destroying trailers in a fun and crashed filled event will highlight the night. It is a sight to see if you have not witnessed one, and if you have, you know you will shake your head in disbelief while cheering on the "Destructors".
In addition to the Trailer Race, fans will see the Tobacco Outlet plus Grocery Late Models, the Dean's Satellite Sportsmen, the Auto Value Thunderstox, the Mountain Dew Mini Vans and the A.N.T.S Complete Pest Control Hornets. Gates open at 6pm and the first green flag will be at $7:30. Adults are $14.50, Students are $7.50 and Kids are $3.50.
Thre weekly shows remain for 2018 and the "Chase" field narrows!
Only three weekly oval track shows remain for this season! Points battles are being fought on every lap in every division. Plus, the "Chase" continues this Saturday. The Chase started with the top 16 race teams in points for the Late Model and Sportsmen division on July 7th. The Chase runs through the Oktoberfest Race Weekend (Oct. 4-7) and each week 2 race teams are eliminated from the Chase. Finishing positions in the feature events is what determines whom is out of the Chase. Essentially if you are in the Chase and finish behind the rest of the contestants of the Chase…you are out. Drivers must remain competitive and stay out of trouble to bring home the coveted trophy. The Chase provides some extra racing drama and gives some teams a chance to make the second half of the season a good one if they have had a bad start. The remaining Chase contenders are:
Tobacco Outlet plus Grocery Late Models-
Nick Clements
Nick Panitake
Justin Mullikin
Mike Ehde
Mike Carlson
Michael Bemish
Tom Carlson
Tony Bagstad
Dean's Satellite Sportsmen-
Tom Luethe
Sam Niles
Steve Bachman
Jeff Thompson
Travis Gordan
Mandi Eckelberg
Dan Secor
Jesse Green
Mark Challet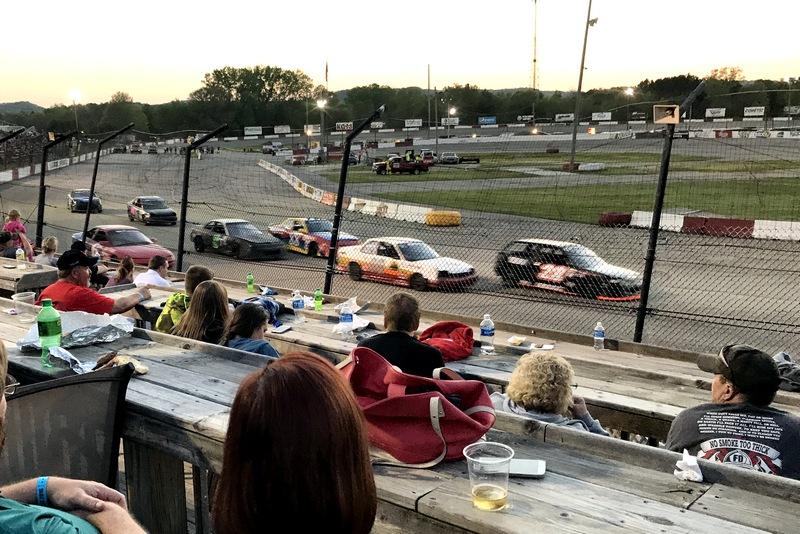 EVENT INFORMATION:
Pit Gate Opens at 4:00, Practice Laps at 4:45, Grandstand Gate opens at 6:00 and Qualifying starts at 6:15. Racing starts at 7:30 p.m.
General Admission is $14.50, Students age 12-17 are $7.50, Kids age 6-11 are $3.50.
PARKING IS FREE!
LaCrosse Speedway is located at N4985 County Road M, West Salem, Wisconsin. For more information about the 2018 Schedule of Events, please call the office at 608-786-1525 or visit LaCrosseSpeedway.com.
LaCrosse Speedway is a proud NASCAR Hometrack.