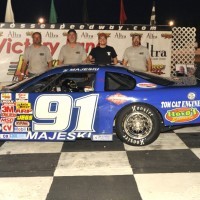 By: Paul Reichert
The race fans were not only treated to picture perfect weather, but they were also treated to some great racing on the track at the LaCrosse Speedway. Taking a break from his duties with Roush Fenway Racing and racing in the NASCAR Xfinity Series, Ty Majeski returned to his home track for the first time in 2018. Majeski would score a clean sweep of night's racing as he would capture quick time, a last to first 6-For-6 Dash win and a dominant performance in the feature event.
Brent Kirchner outdueled Don Turner for the lead at the start of the NASCAR Late Model feature. Justin Mullikin would catch Kirchner and assume command of the race on lap six. Mullikin would lead the next four laps, the first feature laps Justin has lead in the NASCAR Late Model division. Coming from tenth, Ty Majeski would power his way by Kirchner to take over second on lap eight. It would take Majeski only two laps to track down and zoom past Mullikin to take charge of the race. Yellow flew on lap 11 for an incident in turn two between Kirchner, Brad Powell, Jacob Goede and Nick Panitzke. This incident would be a big blow to Panitzke's championship hopes. Off the restart, Majeski would leave the field in his dust. He built up as much as a straightaway lead over Nick Clements before yellow returned with three laps to go. The restart did not get far before yellow came out again for the spinning cars of Kirchner, Turner and Jonathan Eckelberg. Steve Carlson now lined up alongside Majeski for the restart. Majeski powered by Carlson and drove away to a comfortable win. After the race, Ty said "My car was running well all night. Things were clicking for us on the outside lane." Nick Clements came home in third, Tom Carlson ran fourth and Justin Mullikin scored a career-best fifth place finish.
Just like Steve Bachman did in the Sportsmen feature four days ago, Tom Luethe did the same in tonight's feature event. Luethe got the lead on lap two and built up a quarter of a lap over Bachman. Luethe would not be challenged the rest of the way as he claimed his first-ever Sportsmen feature victory.
Taylor Dobbs would also build a big lead in Thunderstox feature, but Dobbs would have to deal with veteran Jason Bolster in the closing laps. Not even a love tap on the final lap would stop Dobbs from winning his first Thunderstox in at least two years. Benjamin Arendt and his BWM would lead much of the Street Stock feature, but then lap traffic became an issue. Matt Moore would use the lap traffic to get around Arendt with five laps to go to score the win. The Street Stocks also got to run the 2nd Over the Line Wins novelty race. Alex Liebsch came from deep in the pack to win the first race. In the second race, Chris Larson would use patience to claim victory.
Action continues with a doubleheader of racing next weekend. It starts Friday, July 13th with another edition of the Friday Night Street Drags, presented by Jeff's Auto & Cycle Repair. Bracket racing starts at 7:30, with practice runs starting at 6:45. You can also check out or participate in the Burnout Contest and the Shine n' Show Contest. Racing continues on Saturday, July 14th with the NASCAR Late Models, Sportsmen, Thunderstox and Street Stocks. You will also travel back in time as the Upper Midwest Vintage Racing Series makes their annual summertime visit to LaCrosse. Gates open at 6:00, qualifying starts at 6:15 and racing begins at 7:30.
For information on the LaCrosse Speedway or the 2018 schedule of events, please call the office at 608-786-1525 or visit lacrossespeedway.com. LaCrosse Speedway is proud to be a NASCAR Hometrack, part of the NASCAR Whelen All-American Series.
Click here for the full results.