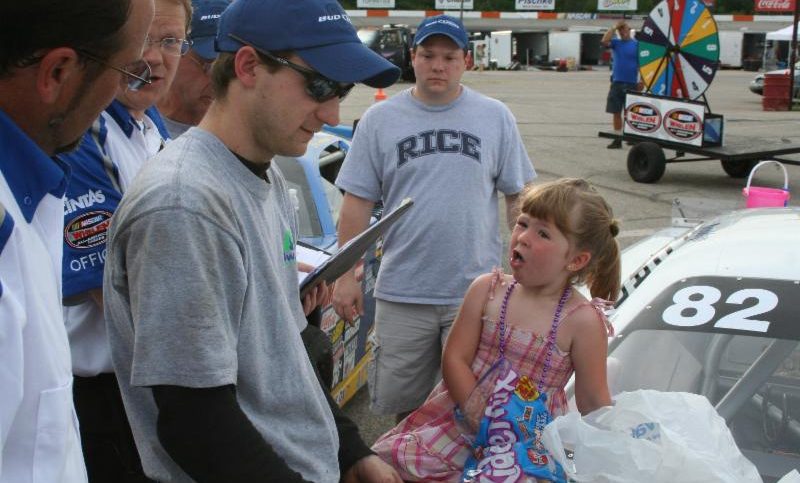 June 21 2018 – (West Salem, WI) – The great folks at Pischke Motors will be presenting this weeks race event and the annual fan autograph session. That means the first 500 folks through the gate will receive a limited edition collectors posters of the 2018 Tobacco Outlet plus Grocery Late Models. In addition to the "wall art" (poster), there will be a full night of racing, including the Tobacco Outlet plus Grocery Late Models, Dean's Satellite Sportsmen, Auto Value Thunderstox, and the A.N.T.S. complete pest control Hornets. Plus, the Hornets will compete in a "tag team" novelty event.
A "green" track, two weeks without racing and hot and humid weather = crashfest.
The perfect storm of factors led to yellow flag filled feature last Saturday. The race track was green (no rubber on the surface), race teams not getting any real racing in because of the rain outs, really hot temperatures and high humidity made for a long night for some teams. The racer as always will push the car to the maximum and with the factors making the track as slick as it was made the handling of the cars very difficult.
Fortunately, it appears we will have great temps this weekend and it will provide some cars that will be dialed in.
This could be the week that Steve Carlson's win streak gets broken.
The annual fan photo will take place around 6:45 on the track. Race teams will be on hand with plenty of collectors cards, candy and other items. Be sure to have the Late Model drivers sign the collectors poster! Pischke Motors is presenting the race night and sponsoring the 25 lap main event for the Tobacco Outlet plus Grocery Late Models. Also on hand will be the Dean's Satellite & Security Sportsmen, the Auto Value Parts Stores Thunderstox, the A.N.T.S. complete pest control Hornets, and the unique Novelty event..the Tag Team races.
Don't forget June 30th….Monster Trucks, Boat Race, Fireworks…fun!
SATURDAY JUNE 23 – EVENT INFORMATION:
Pit Gate Opens at 3:30, Practice Laps at 4:45, Grandstand Gate opens at 6:00 and Qualifying starts at 6:15. Racing starts at 7:30 p.m.
General Admission is $12.50, Students age 12-17 are $6.50, Kids age 6-11 are $3.50
PARKING IS FREE!
LaCrosse Speedway is located at N4985 County Road M, West Salem, Wisconsin. For more information about the 2018 Schedule of Events, please call the office at 608-786-1525 or visit LaCrosseSpeedway.com.
LaCrosse Speedway is a proud NASCAR Hometrack.