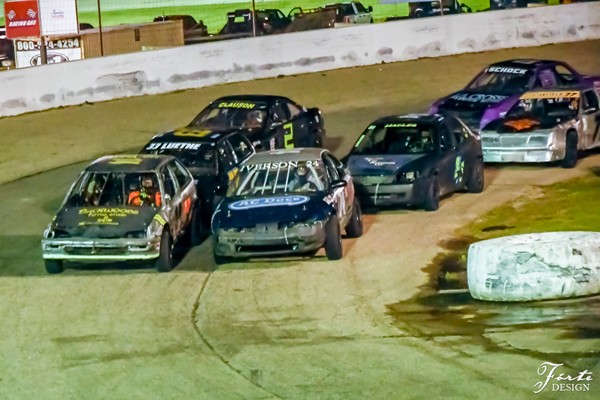 May 31, 2018 – (West Salem, WI) – One of the oldest and most popular novelty events will return this Saturday- the Outhouse Race. Although it is not a traditional race- fans (and the kids) have enjoyed the shenanigans of the event. Drivers are racing for novelty points and the bragging rights. There will be four divisions on hand as well…the Tobacco Outlet plus Grocery Late Models, Dean's Satellite Sportsmen, Auto Value Thunderstox, and the Auto Value Street Stocks.
Carlson on a hot streak.
Steve Carlson is coming off another feature win last Saturday- but he had to earn it. Competition from Matt Henderson and Nick Panitzke at the end of the feature event was intense. Carlson will have his hands full as he tries to hold off the rest of the Tobacco Outlet Plus Grocery Late Models, many whom are hungry for their first feature win of the year, or at least a top five finish as they compete in the Altra Federal Credit Union 25 lap main event. The Dean's Satellite & Security Sportsmen and the Auto Value Parts Stores Thunderstox have also had their share of on track excitement. Drivers have been very aggressive in the first few events and it appears this Saturday will be no different- hard charging racing. The Auto Value Street Stocks will be on hand as well…they have had a few weeks off and should be anxious to get back racing. Plus…the Outhouse Race..will test the speed, athletics and hand-eye coordination of the entrants in this popular Novelty Event.
Quarter mile action- The Auto Value Street Stocks return this Saturday.
Pit Gate Opens at 3:30, Practice Laps at 4:45, Grandstand Gate opens at 6:00 and Qualifying starts at 6:15. Racing starts at 7:30 p.m.
General Admission is $12.50, Students age 12-17 are $6.50, Kids age 6-11 are $3.50 and children ages 5 & under are FREE.
PARKING IS FREE!
LaCrosse Speedway is located at N4985 County Road M, West Salem, Wisconsin. For more information about the 2018 Schedule of Events, please call the office at 608-786-1525 or visit LaCrosseSpeedway.com.
LaCrosse Speedway is a proud NASCAR Hometrack.