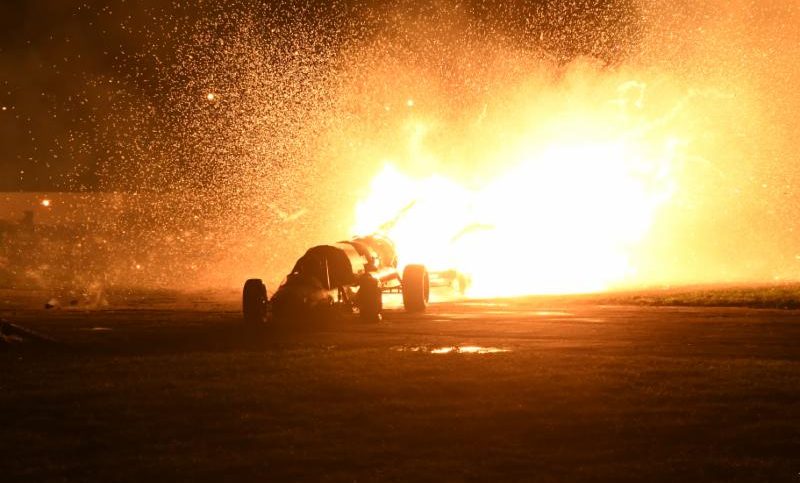 Sept. 5, 2017 – A big weekend of fun, action and excitement is ahead for area gearheads and thrillseekers, as the LaCrosse Speedway features its popular Street Drags on Friday and the Night of Destruction on Saturday night.
FRIDAY NIGHT STREET DRAGS
The action starts on Friday night, September 8th as Subway Restaurants presents the final
"Friday Night" Drags of the 2017 season. Double Elimination style bracket street-car drag racing (It's FOR FUN – NOT TIMED OR "REAL" Drag Racing) will begin at 7:30. Pit Gate opens at 6:00, practice runs and "Grudge Matches" start at 6:45.
Event Brackets include:
Open Class, Cycles, ATV's, Detroit Iron OEM (American Made Muscle Cars), Family Sedans, Domestic Performance, 2WD-OEM Trucks, Open Class (with Handicapping), Tuner Performance, Vans / SUV's, Mustang OEM, NOS / Forced Air, Tuner OEM, Detroit Iron Performance, 4WD Gasoline, Mustangs Performance, 4WD Diesel, High Skool.
The FIRST 250 into the pits get a FREE 6″ Sub voucher for area Subway Restaurants!
Plus, there's a Burnout Contest and a Shine N' Show Contest during the event. Pit Passes are $7 per person, Bracket Entry is $5 per bracket. Grandstand Admission is $7, Kids age 11 & Under are Free in the Grandstands to watch. Bring out your Friends – it's Fast Friday Night Fun!
26th NIGHT OF DESTRUCTION SATURDAY
On Saturday night, September 9th, it's the It's the night that Thrill Seekers have been waiting for all summer! Western Technical College presents the action and excitement of the NIGHT OF DESTRUCTION!
Watch the Thrills and spills of stuntmen, racers, and mechanical wonders of the Monster Trucks, Jet Car, Hornet Racers and more as they pull you to the edge of your seat!
The FUN Includes: Trailer Race of Destruction, Green Mamba Jet Car, Incinerator Monster Truck, Mechanical Mischief Monster Truck, Super Trike Stunts, ANTS Complete Pest Control Hornets, Roll Over Contest, Steel Wall Crash, Trailer T-Bone Crash, Splashtacular Pool Crash
& More!*
General Admission is $20.50, Students (Age 12-17) are $10.50 and Kids age 6-11 are $6.00. Children age 5 & Under are FREE. Advance Tickets are on sale now through business hours this Friday at area Auto Value Parts Stores and you can save time at the gate and save $2 on adult tickets and $1 on Kids' and Students' tickets.
Preview the Event by watching our video here: https://youtu.be/dfiXkWLkH5s
For more information please call the Speedway office at (608) 786-1525 or visit www.lacrossespeedway.com.
LaCrosse Fairgrounds Speedway is a proud NASCAR Hometrack, part of the NASCAR Whelen All-American Series – www.hometracks.nascar.com.
2017 NIGHT OF DESTRUCTION EVENT SCHEDULE
5:45 – Hornet Practice
6:10 – Drivers' Meeting
6:30 – Trailer Race Drivers' Meeting
7:00 – The FUN Starts*
Hornet Heats
Super Cycle
Steel Wall
Monster Truck Wheelie Contest
Roll Over Contest
T-Bone Crash
Super Cycle
Monster Trucks
Burnout Contest
Dukes of Hazzard Jump
Monster Trucks
Air Bag Competition
Hornet Feature
Super Cycle
Trailer Race of Destruction
Green Mamba Jet Car Meltdown
* – Order of events / content subject to change.