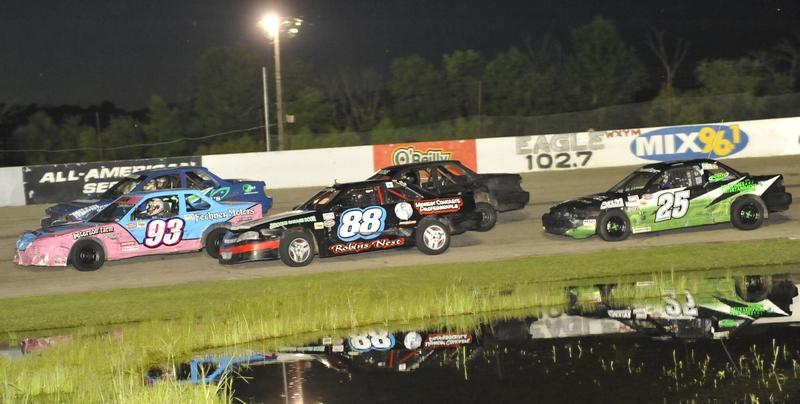 FAN FAVORITE EVE OF DESTRUCTION IS SATURDAY NIGHT
An outstanding night of family fun and excitement is headed your way this Saturday!
It's the 25th annual Eve of Destruction, presented by Western Technical College! All the fan favorites will be on hand for a great night of action, excitement, thrills and spills. The record attempt pool jump will feature a hot-rod limousine, before stunts like the T-Bone Crash and Steel Wall will get fans on the edge of their seats.
Then there's the destruction caused by three monster trucks, including the Incinerator, Mechanical Mischief and the Defender. But wait.. there's more Benny the Human Bomb will blow up a car, while inside it! The Green Mamba Jet Car will melt down an entire vehicle and the always-popular Trailer Race of Destruction will thrill fans of all ages. All of this plus more, before the night ends with Fireworks!
It's the second to last race of the 2016 Championship for the ANTS Complete Pest Control Hornet drivers. Kris Berg currently holds a slim 14 point lead and is looking for his first Hornet championship title. Second through fourth all are within reach of the title as well, as Brandon LeMoine is seven points ahead of Garrett Thicke and ten ahead of Jordan Young. All drivers involved would be a first ever champion in the Hornet Division.
Brandon LeMoine (88) is trying to chase down Kris Berg (25) for this year's Hornet Title.
General Admission is $20, while Students age 12-17 are $10 and Kids age 6-11 are $6. Hurry in to area Auto Value Parts Stores and you can save on your admission by getting tickets in advance and avoid waiting in line at the gate!
Be sure to arrive early; gates open at 5:30 and the FUN Begins at 7:00 p.m.
STREET DRAGS ON FRIDAY NIGHT
The next Premier Powdercoating Street Drags event on the calendar is this Friday Night, September 9th. Join us for the fun of many different brackets of street car drag racing, including: Muscle Cars, Family Sedans, ATV's, SUV's, Cycles, Pickup Trucks, AWD / 4×4, Tuners, High Schoolers and more.
Plus, the Burnout Competition and Shine N' Show add to the Friday Night Fun. Gates open at 6:00, practice runs / grudge matches at 6:45 and the first bracket gets going at 7:30. General grandstand admission is $7, and pit passes for all ages is $7. Bracket registration is $5. For more info, visit www.streetdragslax.com.
EVE OF DESTRUCTION ADVANCE TICKETS ON SALE THROUGH FRIDAY
Advance General Admission tickets are still available for the September 10th Eve of Destruction.
Save $2 on your Adult Gen. Admission ticket, and save $1 off of your Student and Kids' tickets. Tickets are available at area Auto Value Parts Stores during regular business hours. Prices in advance are $18 for ages 18+, $9 for ages 12-17, and $5 for kids age 6-11. Gate prices the day of the event are $20, $10 and $6 respectively. Children ages 5 & under are always FREE.
To find the Auto Value Parts Store closest to you, visit www.autovalue.com.
ARCA MIDWEST TOUR OKTOBERFEST 200 TICKETS "ON SALE" AT MENARDS STARTING THIS FRIDAY!
Are you thinking about heading to the Big Oktoberfest 200 on Sunday, October 8th? Do you like to "Save BIG Money" at Menards? Here's a great deal for you!
Between Friday, September 3rd and Saturday, October 8th, you can stop in at one of the following Menards Stores and get discounted tickets to the Oktoberfest 200! General Admission is $25 at the gate the day of the event, but you can save $5 off your adult admission ticket – get it at Menards for $20! They're on sale!
PARTICIPATING MENARDS STORES:
Apple Valley, MN
Appleton East, WI
Appleton West, WI
Baraboo, WI
Beloit, WI
Cedar Rapids South, IA
Dundas, MN
Eau Claire East, WI
Eau Claire West, WI
Janesville, WI
La Crosse, WI
Machesney Park, IL
Madison East, WI
Madison West, WI
Marion, IA
Marshfield, WI
Monona, WI
Onalaska, WI
Oshkosh WI
Plover, WI
Red Wing, WI
Rochester North, MN
Rochester South, MN
Waukesha, WI
Wausau, WI
Winona, MN
SAVE $ ON YOUR OKTOBERFEST 200 ADMISSION TICKET!