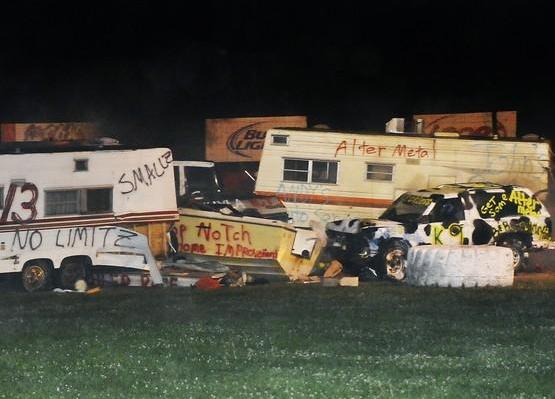 Just 3 Weekly Racing Events Remain in 2016
Auto Value Parts Stores presents a fun night of NASCAR HomeTracks Stock Car Racing and the local stars and cars of the NASCAR Whelen All-American Series. Four great divisions of racing action will precede the race that so many have been waiting for… it's the Trailer Race of Destruction!
Watch the top guns of local racing battle it out in the Kwik Trip NASCAR Late Model division, plus the
Dean's Satellite Sportsmen, Auto Value Thunderstox and the ANTS Complete Pest Control Hornets. Bonus! The excitement builds with the new Mini-Van class, as they run their second race ever at LaCrosse Speedway!
General Admission is $14, Students age 12-17 are $7, Kids age 6-11 are $3, and children age 5 & under are Free. The Gates open at 6:00, and the action gets going at 7:30.
Notes from Last Weekend
Ty Majeski may have won both Late Model Features last Saturday night, but there was another driver that was celebrating. Justin Mullikin received an opportunity to team up with Eckelberg Racing, and drive Curt's car from last year. This was Mullikin's first Late Model Start in the Late Model division, changing the car's number from 68 to #88..
Just(in) Racin': Justin Mullikin #88 dives underneath Justin Zmyewski going into turn one last Saturday night.
A Full field of 22 Street Stocks cars ran a remarkable caution-free race on the quarter mile. That's not saying there wasn't any action though. These hard chargers frequently exhibited three wide racing.
Brent Kirchner made his first start of the 2016 season in Late Model, was 4th in time trials, made the fast dash, and finished 5th in both features.
ENDURO 200 NEXT MONTH
Rules and registration are now available online for the Enduro 200 on Saturday, September 3rd. The racing program will start at 7:30, and will feature the Auto Value Street Stocks Championship night, as well as the new Mini-Van Class. Then, after those events are complete, the Enduro 200 will commence for 200 green flag laps, with the aid of a Jam Truck! No cautions!
The Enduro 200 rules and registration are available at: CLICK HERE FOR ENDURO 200 RULES & REGIST. 9-3-16
HIGHWAY 16 IS NOW OPEN
Highway 16 between Onalaska and West Salem is now open, but is still a construction zone. Please drive carefully for the safety of other motorists and the crews still working on the re-construction of the new lanes. Traffic is only one-lane in each direction.