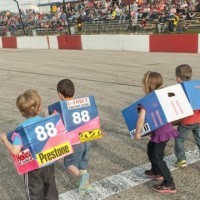 August 19, 2015 – (West Salem, WI) – It's time to conclude the 2015 NASCAR Whelen All-American Series weekly season this Saturday night!
Fans will be treated to 40 laps of Kwik Trip NASCAR Late Model feature racing, as they race in TWO 20-Lap Features. In addition to all the Late Model action, fans will get to see the Dean's Satellite Sportsmen, Auto Value Thunderstox and Mountain Dew Outlawz.
It's your last chance to register to win a NASCAR Ingersoll-Rand Fan Prize pack this Saturday night. Remember to text IRTOOLSLFS to 313131 for your chance to win!
Bring out the kids early and sign up at the back of the Announcer Race Tower for the Kids' Box Car Races! It's the last kids' event of 2015, so be sure to sign up between 6:00 and 6:50. Kids will be invited onto the race track after the conclusion of qualifying to race their own home-built cardboard box racers! (Just get a cardboard box, cut holes in it for arms, legs and head, and paint it up like your favorite race car. Bring your runnin' shoes and get ready….. get set…. GO!)
General Admission is $13, Students age 12-17 are $7, Kids age 6-11 are $3 and children age 5 & under are FREE. Gates open at 6:00, Qualifying at 6:15 and the first race takes the green flag at 7:30.
CHAMPIONSHIP CHASE
Drivers chasing points in all divisions are battling to get top honors, or maybe accomplish other goals that they have set for the 2015 season. Steve Carlson has the Late Model championship locked in, but with the new "Chase" this year, there are two nights left for drivers to be contenders or watchers.
This Saturday night two more drivers will be eliminated in both Sportsmen and Late Models, based on remaining contenders eligible. Of those contenders, the drivers finishing lowest are eliminated. The final four in both Sportsmen and Late Model will battle it out at the Oktoberfest Race Weekend, Thursday October 8th. Highest finishing driver will earn the "Championship Chase" honors and the awesome trophy that accompanies it.
CHASE CONTENDERS AS OF 8-19-15
Late Model: Steve Carlson, Jerimy Wagner, Harley Jankowski, Jonathan Eckelberg, Curt Eckelberg, Matthew Henderson
Sportsmen: Nick Clements, Steve Bachman, Brian Hesselberg, Brad Warthan, Justin Mullikin, Jamie Dummer
EVE OF DESTRUCTION
The Western Technical College Eve of Destruction is coming soon, and fans can get advanced tickets starting Monday, August 24th at area Auto Value Parts Stores. Save money by getting them in advance! To locate the closest Auto Value Parts Store near you, visit www.autovalue.com. Click here for information about the 2015 Eve of Destruction!
For more information, follow @LAXSpeedway on Twitter, "Like" LaCrosse Speedway on Facebook, or visit the website at www.lacrossespeedway.com.
FAN VOTING IS ON
It's time to start voting on the 2015 "Best Appearing Car" and "Most Popular Driver" at LaCrosse Speedway. Print out this ballot, fill it in and drop it off at the souvenir stand on race day. We'll count the ballots and reward the winners with a trophy and recognition at this winter's driver awards banquet. The drivers and race teams work hard to prepare a car and race it all season long. Get them the recognition they deserve by voting for them!
NEXT EVENT
The Speedway will be quiet on the August 29th weekend, but then action resumes on Saturday, September 5th, with the Enduro 200, for 4 & 6 cylinder cars, as well as the Auto Value Street Stocks. The Street Stocks will be racing in their championship night. Inaugural Champion John Eron holds a slim 12 point lead over Taylor Dobbs. Jonathan Burbach is 22 behind and both are looking for their first racing track championship.