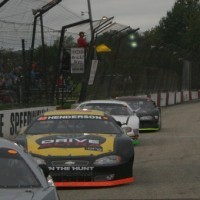 By: Kevin Ramsell(West Salem, WI – October 5, 2013) Day three of the 44th Annual Oktoberfest Race Weekend crowned two winners and two champions as the Big 8 Series and Mid-American Series took center stage at the La Crosse Fairgrounds Speedway.
Chris Marek picked up a huge win in his young career as he got by Austin Nason with five laps to go to get the Big 8 Series 68 victory. Nason took the lead at the start of the event and pulled away to a big lead. He would lose that lead as the caution flew lap 50 for an incident involving Ryan DeStefano and J. Herbst. Both made heavy contact with the turn one wall and walked away.
Marek was on Nason's bumper after the restart searching for a way to get by the Illinois driver. But with five to go, went to the outside lane and was able to make the winning move. Dan Lensing was third with Tim Sargent in fourth. Corey Jankowski rounded out the top five.
Casey Johnson finished tenth to claim the Big 8 Series championship.
Dan Gilster gave the hometown crowd something to cheer about as he won the Mid-American Stock Car Series 40-lap feature event. Taylor Bauknecht made a bold move on the opening lap as he went from this third starting position to the lead coming out of turn two. Bauknecht led until lap 27 when Gilster, who started eleventh, chased him down and made the winning pass coming out of turn two to lead the final 13 laps to the checkered flag. Bauknecht finished second with Brad Keith in third. Bill Prietzel was fourth and Bobby Gutknecht rounded out the top-five.
Keith's third place finish secured the 2013 Mid-American Series championship.
In ARCA Midwest Tour preliminary action, Andrew Morrissey held off a late charge from Dan Fredrickson to win the fast dash. Morrissey and Fredrickson will lead the field to the green flag for Sunday's Oktoberfest 100.
Colin Reffner won the odd qualifier heat with Bryan Syer-Keske in second and Dennis Prunty in third. Ross Kenseth took the checkers in the even qualifier heat with Ryan Hinner in second and Tim Sauter in third. These six drivers advance to the 100-lap event on Sunday.
The final day of the 2013 edition of the Oktoberfest Race Weekend gets underway at noon on Sunday. The ARCA Midwest Tour will highlight the afternoon with the Oktoberfest 100. The JMCK 63 Invitational for the Big 8 Series, Late Model Challenge, Vintage Cars, Outlawz and Bandits in action. For more information please call the Speedway office at (608) 786-1525 or visit www.lacrossespeedway.com.
LaCrosse Fairgrounds Speedway is a proud NASCAR Hometrack, part of the NASCAR Whelen All-American Series – www.hometracks.nascar.com.