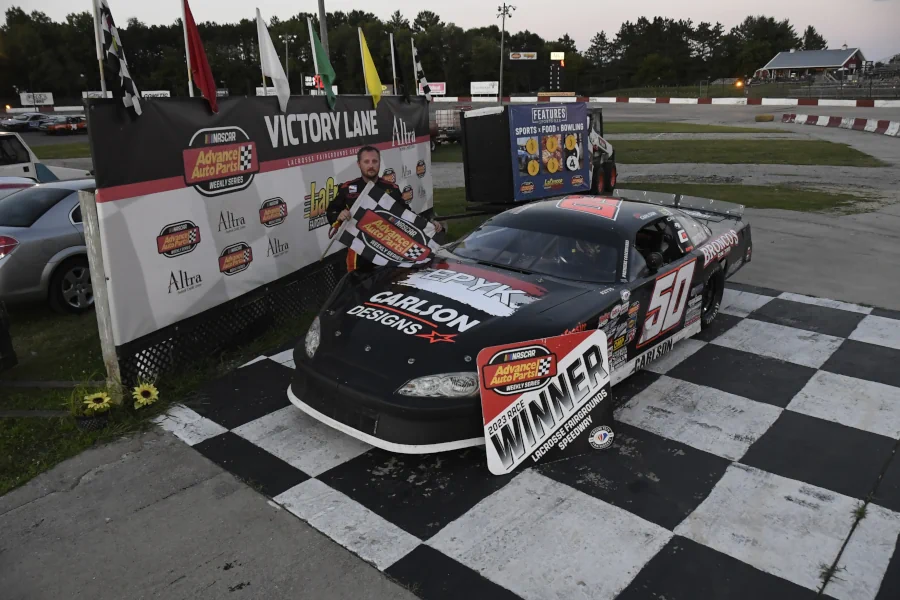 By: Paul Reichert
August 12, 2023
It is hard to believe but we are nearing the end of another exciting and competitive racing season at the LaCrosse Speedway.  Just as we were enjoying all the close quarters racing and the nail biting photo finishes throughout the season, all of that excitement we have had this season will soon be just a memory.  While there were three division championships on the line along with two Dash titles to be settled, the drivers in all of this evening's divisions put on great showings in the feature events that went without a single caution.  The latest round of double features for the NASCAR Late Models saw nothing but green the entire time, but a different driver putting in a dominant performance in each.  Mike Carlson was the driver to beat in the first feature as he was back in victory lane since opening day.  Nick Clements turned in a repeat performance from two weeks ago as he was large and in charge in the second feature.  
The first 20 lap Bobcat of the Coulee Region NASCAR Late Model feature saw Mike Carlson (West Salem, WI) charged by Michael Haggar (Hanover, MN) for the lead.  Jerimy Wagner (Onaslaka, WI) drove under Haggar to drop to take over second place on lap two.  The rest of the front runners were struggling to make their way to the front as Carlson and Wagner began to pull away from the pack.  Jacob Goede (Carver, MN) was the first of those front runners to break out of the traffic as he took over the number three spot from Haggar on lap seven.  As fast as Goede is every week he was having a hard time catching the lead duo as Carlson was starting to pull away from Wagner.  Skylar Holzhausen (Bangor, WI) did not break into the top five until eight laps were left to run.  Holzhausen began to close in on Goede and then they put on a great battle for third place over the final four laps that ended up going to Goede.  Back up front Carlson was unstoppable as he led the entire race without a yellow flag to score his second feature win of the season.  After the race Carlson said "We have had a hard time finding our championship pace from last year, but we may be getting things back together after the first feature."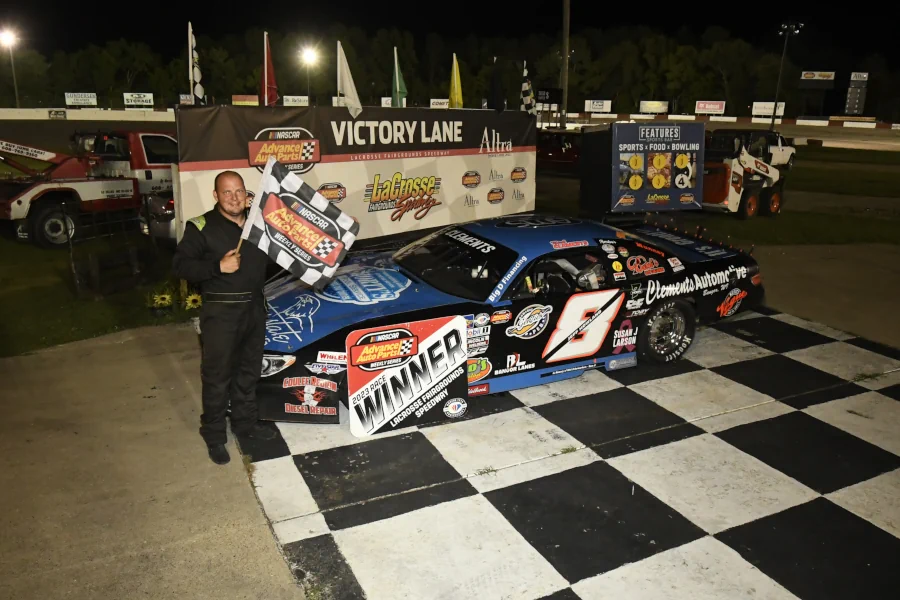 Nick Clements (West Salem, WI) shot past veteran Tom Carlson (West Salem, WI) to lead the early laps of the 20 lap Bobcat of the Coulee Region NASCAR Late Model feature #2.  Steve Bachman (Rockland, WI) powered his way under Carlson to take over second on lap three.  Three laps later Brent Kirchner (LaCrosse, WI) worked his way around Carlson to settle into third position.  Jacob Goede moved to the outside groove and powered his way past Carlson to take over fourth on lap eight.  At the mid-race point of the feature there was an equal gap separating each of the front four competitors.  Skylar Holzhausen caught Carlson with eight laps to go and they put on a very exciting battle over who would end up in the top five.  With three laps remaining there was some contact between those two drivers that allowed Carlson to remain in the top five.  Back up front Bachman tried to eat away at Clements' lead, but it would be too little too late as Clements put in another masterful 'start to finish' effort for the second time in three weeks.  After the race Clements said "I gotta thank Toby (Nuttleman) for helping me try some new things that brought my car to life in the second feature."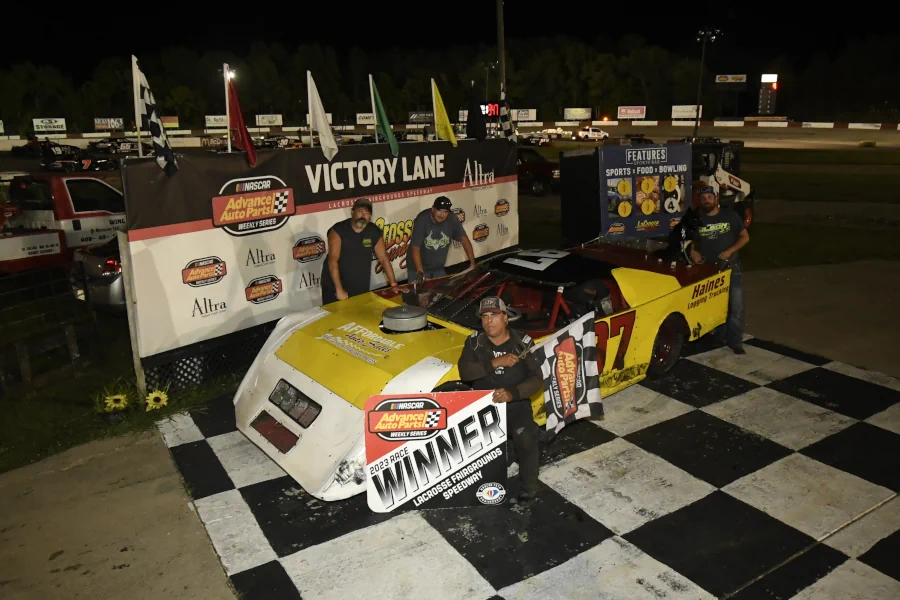 The NASCAR Sportsmen feature saw Bob Fort (Fountain City, WI) powered by the classic Chevrolet race car of Jamie Dummer (Tomah, WI) for the race lead on lap four.  Justin Berg (Bangor, WI) was quickly filling up Fort's mirrors over the final four laps of the race seeking his second victory in 2023.  It was not to be this evening as Fort fought back Berg's advances to make his first trip to victory lane.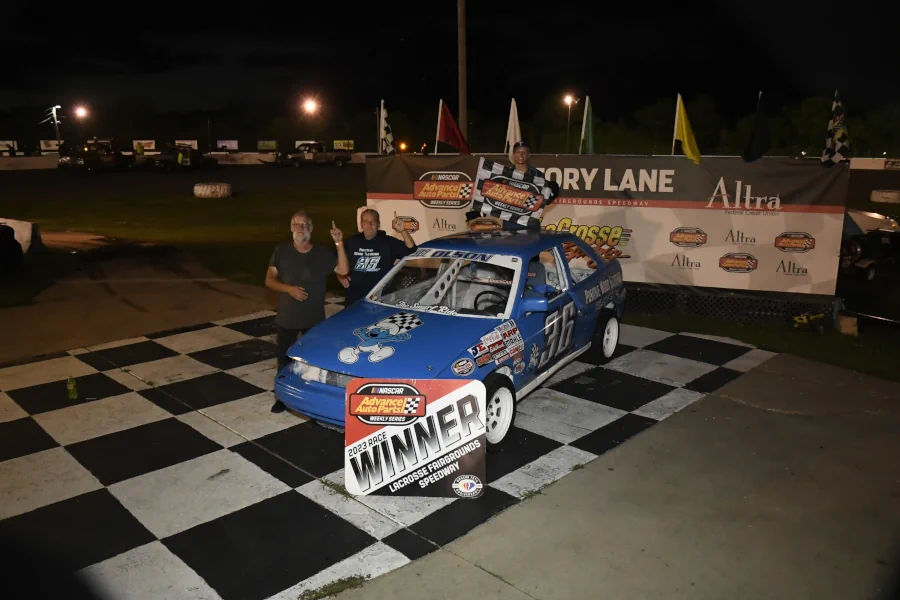 Brandon Olson motored around the outside of Brandon McCarthy to settle into first place on lap six of the NASCAR Hornet feature.  Joey Johnson tried to rally for the win late in the race, but Olson was positive he would drive away from Johnson to score his second feature win in the last three weeks.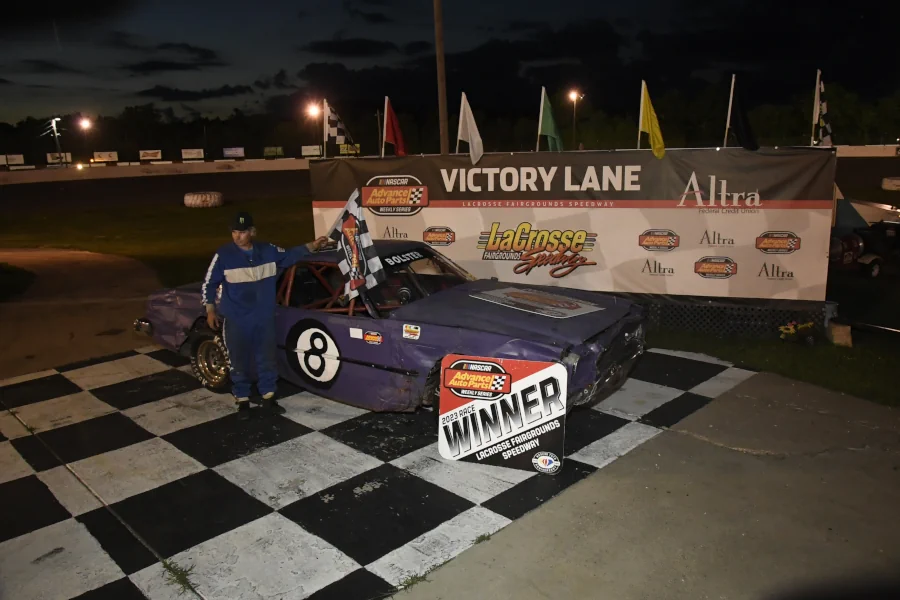 The final Hobby Stock feature of the year saw Jason Bolster power around Grant Witcraft for the lead just before halfway.  Witcraft was within shouting distance of Bolster but could make a move to steal the lead back.  Bolster would go on to capture another checkered flag and wrap up his fifth division championship.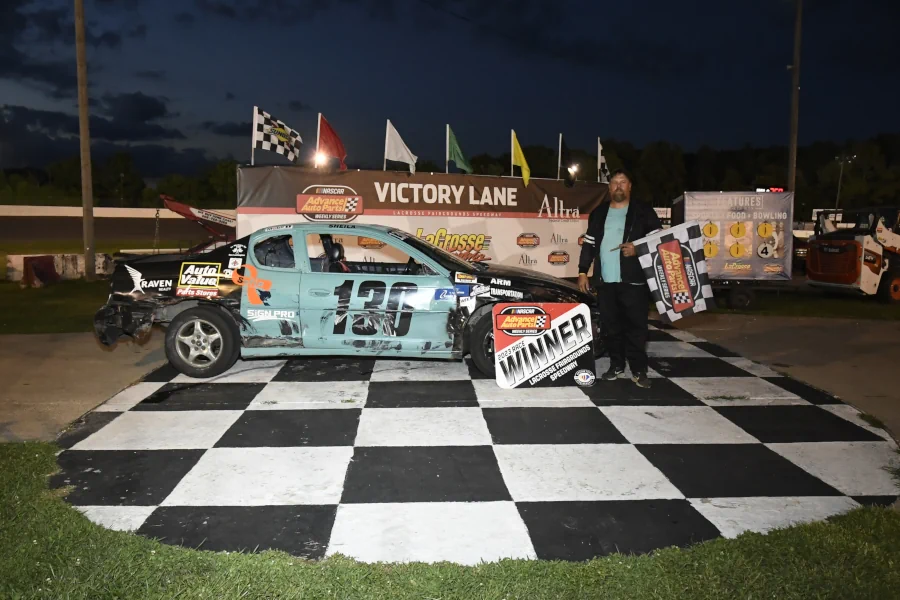 Tory Lockington would have his hands full holding back Rob Stanfield late in the going in the Six Shooter feature.  Lockington valiantly defended the inside line to fight off Stanfield for his first career feature win.  He may have been the runner-up in the race, but Stanfield came away with another quarter-mile championship to add to his very successful racing resume.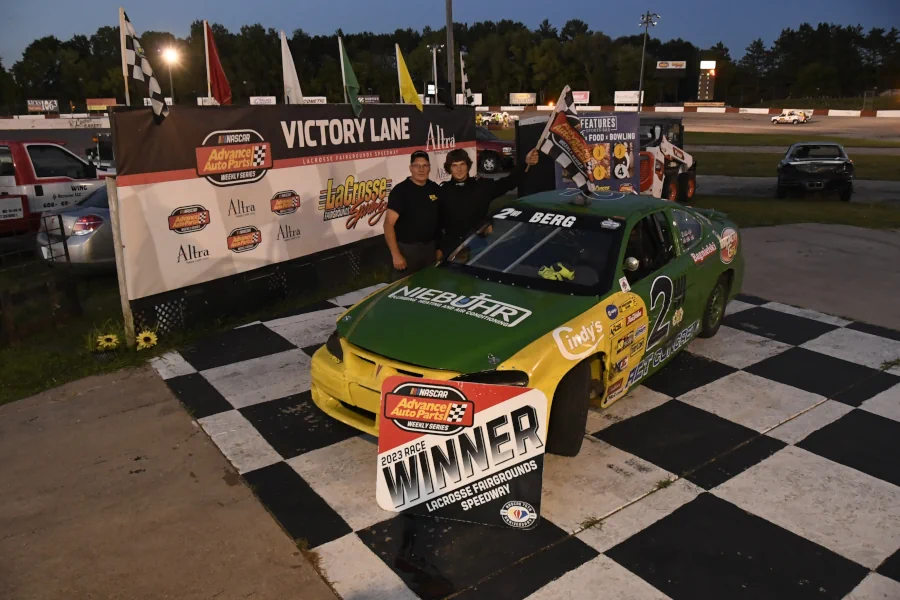 Late drama highlighed the final High School Racing Association feature of the year.  Contact between race long leader Trenton Frye and Ryatt Dobbratz with two laps to go allowed Mitchell Berg to power by both of them to make a long overdue return to Altra Federal Credit Union Victory Lane. With a strong fourth place effort and the retirement of Kennedy Krueger late in the race, Braydon Lockington rallied to capture his second LaCrosse HSRA title in three years.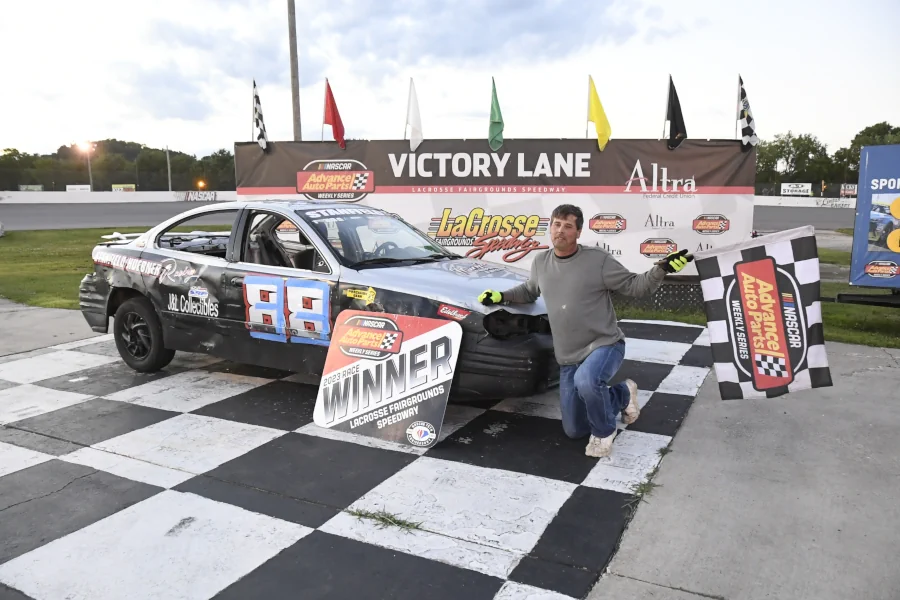 The Six Shooters participated in this week's Novelty event, the Joker Lap Race.  In this event the drivers had to go around the outside of the tire placed in turn two twice during the race.  Lester Stanfield made quick work of the Joker Lap twice during his run to pull away from the field for the victory.
We will take a two week break from racing then return with a couple of special fun events before the 54th annual Oktoberfest Race Weekend takes place.  The first fun special event will be the Big Cheese 200 Enduro on Saturday, September 2. This is our annual 200 lap enduro around the 'action track' quarter mile with 4-cylinder and 6-cylinder cars competing at the same time.  This is a $1,000 to win this race with up to $500 in bonuses for such categories as the highest finishing driver under 18, driver over 55, female driver and mini-vans.  We will even hold contests for the best and worst appearing cars before the enduro action gets underway.  Gates open at 5:30 and the wild and wooly enduro action takes the green flag at 7.
For more information about LaCrosse Speedway or the 2023 schedule of events, please call the track office at 608-786-1525 or visit our web site at 
lacrossespeedway.com
.  LaCrosse Speedway is proud to be a NASCAR Hometrack, part of the NASCAR Advance Auto Parts Weekly Series.
RESULTS
Kwik Trip NASCAR Late Models
Feature #1 (20 laps):  1. Mike Carlson, 2. Jerimy Wagner, 3. Jacob Goede, 4. Skylar Holzhausen, 5. Brent Kirchner, 6. Steve Bachman, 7. Adam Bendzick, 8. Tom Carlson, 9. Devin Schmidt, 10. Nick Clements, 11. Michael Beamish, 12. Steve Carlson, 13. Jeff Partington, 14. Michael Haggar, 15. Don Turner, 16. Tom Luethe, 17. Nicholas Beaver, 18. Ridge Oien, 19. Ryan Brown, 20. Alex Braseth, 21. Jimmy Summerfield
Feature #2 (20 laps):  1. Nick Clements, 2. Steve Bachman, 3. Brent Kirchner, 4. Jacob Goede, 5. Tom Carlson, 6. Skylar Holzhausen, 7. Adam Bendzick, 8. Mike Carlson, 9. Jerimy Wagner, 10. Steve Carlson, 11. Jeff Partington, 12. Michael Beamish, 13. Devin Schmidt, 14. Michael Haggar, 15. Nicholas Beaver, 16. Don Turner, 17. Ryan Brown, 18. Ridge Oien, 19. Alex Braseth, 20. Jimmy Summerfield, 21. Tom Luethe
Qualifying:  1. Skylar Holzhausen, 2. Jacob Goee, 3. Brent Kirchner, 4. Nick Clements, 5.Adam Bendzick, 6. Devin Schmidt, 7. Michael Beamish, 8. Steve Bachman, 9. Jerimy Wagner, 10. Michael Haggar, 11. Mike Carlson, 12. Tom Carlson, 13. Tom Luethe, 14. Don Turner, 15. Steve Carlson, 16. Nicholas Beaver, 17. Ryan Brown, 18. Jeff Partington, 19. Ridge Oien, 20. Alex Braseth, 21. Jimmy Summerfield
Line-X NASCAR Sportsmen
Feature (15 laps):  1. Bob Fort, 2. Justin Berg, 3. Jamie Dummer, 4. Taylor Goldman, 5. Bill Schott, 6. Andy Barney, 7. Travis Gordon, 8. Zach Oliver, 9. Kenneth Donais
Heat #1 (8 laps):  1. Bob Fort, 2. Jamie Dummer, 3. Andy Barney, 4. Taylor Goldman, 5. Justin Berg, 6. Bill Schott, 7. Travis Gordon, 8. Kenneth Donais, 9. Zach Oliver
Qualifying:  1. Bob Fort, 2. Bill Schott, 3. Travis Gordon, 4. Justin Berg, 5. Andy Barney, 6. Taylor Goldman, 7. Zach Oliver, 8. Kenneth Donais, 9. Jamie Dummer
Skyline Fireworks NASCAR Hornets
Feature (15 laps):  1. Brandon Olson, 2. Joey Johnson III, 3. Jimmy Bjorkman, 4. Jacob Iverson, 5. Ben Thurk, 6. Brandon McCarthy, 7. Nick Hadler, 8. Carter Horstman, 9. Darren Pahl, 10. Mitchell Rinartz, 11. Christopher Lofquist, 12. Terry Lafleur, 13. Abigail Knaack, 14. Bentley Knaack, 15. Alex Liebsch, 16. Justin Iverson, 17. Austin Albrecht, 18. Jace Lafleur, 19. Shane Kohlmeier, 20. Brandon Mennicke, 21. Nick Loesel, 22. Jake Schomers, 23. Chris Christen
6-for-6 Dash (6 laps):  1. Ben Thurk, 2. Jacob Iverson, 3. Joey Johnson III, 4. Carter Horstman, 5. Abigail Knaack, 6. Jimmy Bjorkman
Heat #1 (8 laps):  1. Brandon McCarthy, 2. Brandon Mennicke, 3. Brandon Olson, 4. Jace Lafleur, 5. Darren Pahl, 6. Nick Hadler, 7. Christopher Lofquist, 8. Thomas Farra, 9. Jake Schomers
Heat #2 (8 laps):  1. Mitchell Rinartz, 2. Alex Liebsch, 3. Terry Lafleur, 4. Austin Albrecht, 5. Keanna Barney, 6. Bentley Knaack, 7. Nick Loesel, 8. Shane Kohlmeier, 9. Justin Iverson, 10. Chris Christen
Qualifying:  1. Ben Thurk, 2. Jacob Iverson, 3. Carter Horstman, 4. Joey Johnson III, 5. Abigail Knaack, 6. Jimmy Bjorkman, 7. Brandon Olson, 8. Thomas Farra, 9. Jake Schomers, 10. Darren Pahl, 11. Brandon Mennicke, 12. Nick Hadler, 13. Christopher Lofquist, 14. Jace Lafleur, 15. Brandon McCarthy, 16. Keanna Barney, 17. Chris Christen, 18. Terry Lafleur, 19. Justin Iverson, 20. Mitchell Rinartz, 21. Shane Kohlmeier, 22. Bentley Knaack, 23. Austin Albrecht, 24. Nick Loesel, 25. Alex Liebsch, 26. Al Bartels
Auto Value Hobby Stocks
Feature (15 laps):  1. Jason Bolster, 2. Grant Witcraft, 3. Landon Lockington
Heat #1 (8 laps):  1. Landon Lockington, 2. Jason Bolster, 3. Grant Witcraft
Qualifying:  1. Jason Bolster, 2. Grant Witcraft, 3. Landon Lockington
Auto Value Six Shooters
Feature (15 laps):  1. Tory Lockington, 2. Rob Stanfield, 3. Matthew Miller, 4. Chris Larson, 5. Ashton Kinsey, 6. Nathan Myhre, 7. Kyle Cottone,  8. Bernie Lucey, 9. Cody Bell, 10. Carlie Rinartz, 11. Landon Lockington, 12. Wendy Liebsch, 13. Kreg Miller, 14. Steven Brasda, 15. Josh Heyer, 16. Lester Stanfield 
Heat #1 (8 laps):  1. Lester Stanfield, 2. Landon Lockington, 3. Kyle Cottone, 4. Wendy Liebsch, 5. Tory Lockington, 6. Nathan Myhre, 7. Steven Brasda, 8. Josh Heyer, 9. Bryon Olson 
Heat #2 (8 laps):  1.  Matthew Miller, 2. Ashton Kinsey, 3. Rob Stanfield, 4. Chris Larson, 5. John Huebner, 6. Cody Bell, 7. Kreg Miller, 8. Carlie Rinartz, 9. Bernie Lucey
Qualifying:  1. Chris Larson, 2. John Huebner, 3. Rob Stanfield, 4. Matthew Miller, 5. Ashton Kinsey, 6. Cody Bell, 7. Kreg Miller, 8. Carlie Rinartz, 9. Bernie Lucey, 10. Wendy Liebsch, 11. Tory Lockington, 12. Kyle Cottone, 13. Nathan Myhre, 14. Landon Lockington, 15. Steven Brasda, 16. Bryon Olson, 17. Lester Stanfield, 18. Josh Heyer
High School Racing Association
Feature (15 laps):  1. Mitchell Berg, 2. Ryatt Dobbratz, 3. Trenton Frye, 4. Braydon Lockington, 5. Caleb Arneson, 6. Ayla Reiter, 7. Charlie Thompson, 8. Paityn Barney, 9. Trinity Aasen, 10. Xavier Weeks, 11. Bella Bolduan, 12. Kennedy Krueger, 13. Landin Frye
Heat #1 (8 laps):  1. Patiyn Barney, 2. Bella Bolduan, 3. Xavier Weeks, 4. Ayla Reiter, 5. Trenton Frye, 6. Kennedy Krueger
Heat #2 (8 laps):  1. Braydon Lockington, 2. Ryatt Dobbratz, 3. Landin Frye, 4. Trinity Aasen, 5. Caleb Arneson, 6. Mitchell Berg, 7. Charlie Thompson
Qualifying:  1. Mitchell Berg, 2. Ryatt Dobbratz, 3. Landin Frye, 4. Trinity Aasen, 5. Caleb Arneson, 6. Braydon Lockington, 7. Trenton Frye, 8. Xavier Weeks, 9. Kenney Krueger, 10. Bella Bolduan, 11. Paityn Barney, 12. Ayla Reiter
Novelty
Joker Lap Race:  1. Lester Stanfield, 2. Alex Liebsch, 3. Matthew Miller, 4. Nathan Myrhe, 5. Bernie Lucey, 6. Rob Stanfield, 7. Kyle Cottone, 8. Chris Larson, 9. Ashton Kinsey, 10. Cody Bell, 11. Josh Heyer, 12. Steven Brasda, 13. Wendy Liebsch