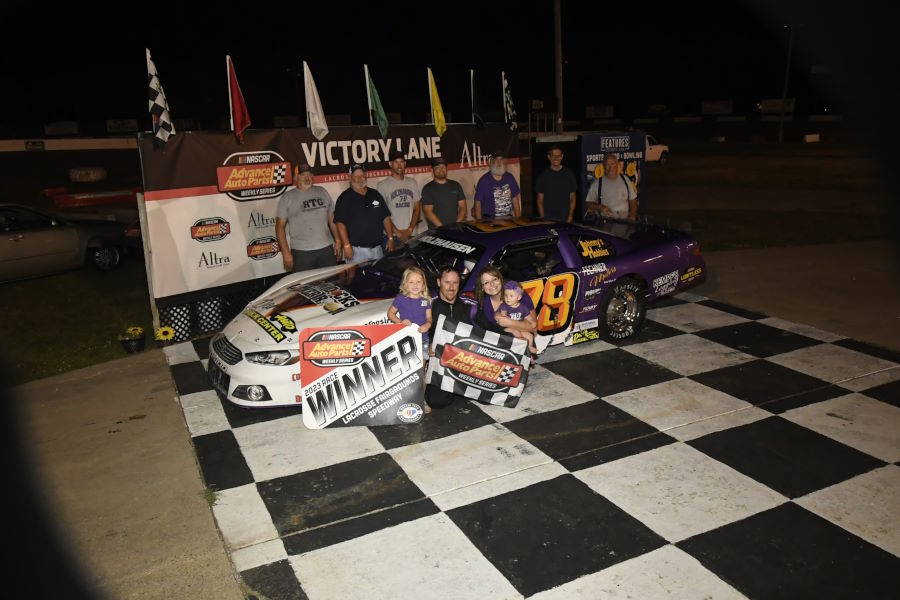 By: Paul Reichert
July 1, 2023
Welcome to another fabulous Fourth of July extended holiday weekend.  Lots of parties and picnics and family get-togethers to celebrate our country's 247th birthday.  Of course what was a Fourth of July holiday without any booming aerial fireworks?  We will be witnessing a lot of big booms and bangs, and everyone will be exclaiming a lot of "OOOHHH"s and "AAAHHH"s.  There are a lot of action packed racing fireworks every week here at the LaCrosse Speedway thanks to famous racing names that are carrying on their family legacies.  Tonight would be no different as Skylar Holzhausen powered by Michael Beamish on a restart with nine laps to go and would end up in Altra Federal Credit Union Victory Lane with his second victory of 2023.
At the start of the 25 lap Kwik Trip NASCAR Late Model feature, Michael Beamish (Eagan, MN) powered by Nicholas Beaver (Webster, MN) to take charge of the race.  The rest of the field was trying to sort itself out as Beamish began to open up a sizable lead.  Tony Bagstad (Westby, WI) and Michael Haggar (Hanover, MN) fought hard over the number two position that Bagstad would eventually take over on lap 11.  Skylar Holzhausen (Bangor, WI) was making fast moves through traffic in his quest to get to the front before he caught up to the Haggar-Bagstad battle.  Holzhausen took third from Haggar on lap 12, then at the crossed flags powered around Bagstad for the runner-up spot.  A yellow with ten laps left for a spin by Joe Nuttleman (Holmen, WI) erased that lead.  Holzhausen wasted little time right off the restart to power into the lead position.  Yellow flew again with three laps left for a spin on the back straight by Christopher Christen (Onalaska, WI).  Holzhausen got shot out of a cannon on the restart and left the field to fight over the rest of the top three as he drove off with his second victory of the season. After the race Skylar said "We have been making small adjustments to the car recently and leaving it basically alone.  The consistency is starting to show in our car."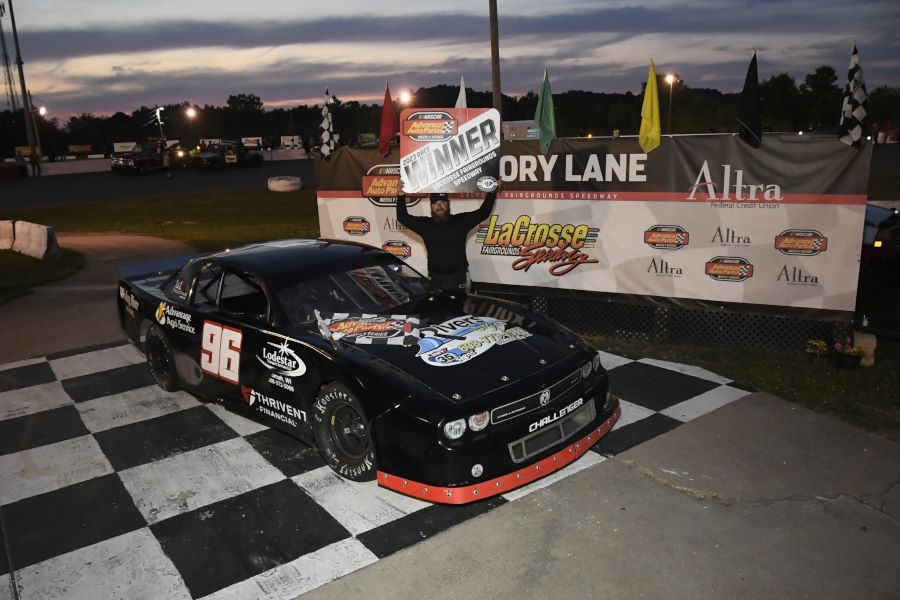 Andy Barney (West Salem, WI) and Jamie Dummer (Tomah, WI) were putting on a good show for the fans in the middle stages of the NASCAR Sportsmen feature.  Barney pulled away from Dummer with six laps to go, but Dummer closed back up with three laps left and brought Bob Fort (Fountain City, WI) with him.  Barney was able to fight off both drivers to capture his third checkered flag win this year.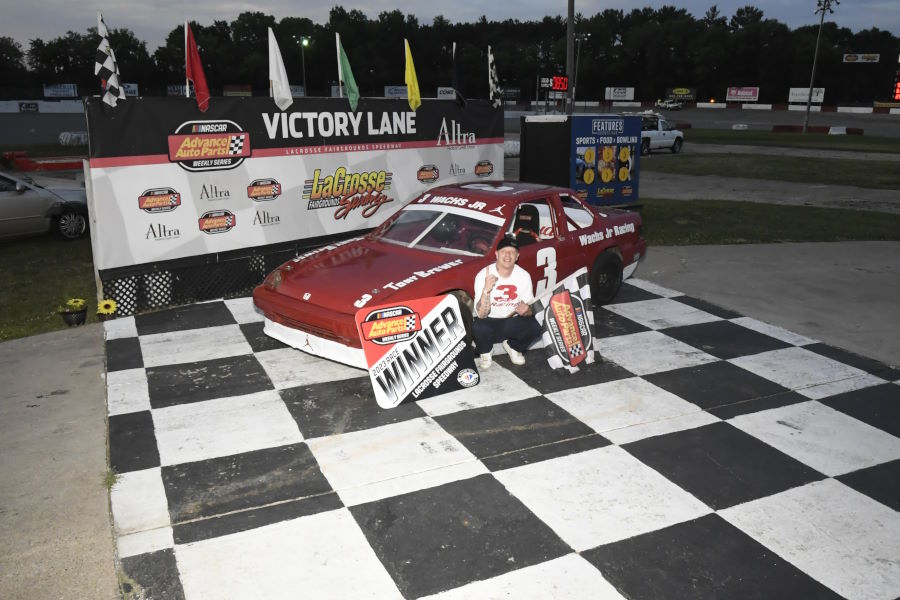 In the NASCAR Hornet feature, Michael Wachs, Jr. (Albert Lea, MN) charged around Jake Schomers (Hokah, MN) to take over the top spot on lap six.  Shortly after that Schomers suffered a mechanical failure that ended his race early.  Wachs, Jr. had his mirrors full of Ben Thurk (LaCrosse, WI) in the late going, but Wachs, Jr. kept Thurk in check to hit the finish line first for his first feature win in a couple of years.
Rob Stanfield needed only three laps to get around Marshall Rinartz for the lead in the Six Shooter feature.  Stanfield left the field in his wake the rest of the way as he dominated the feature event.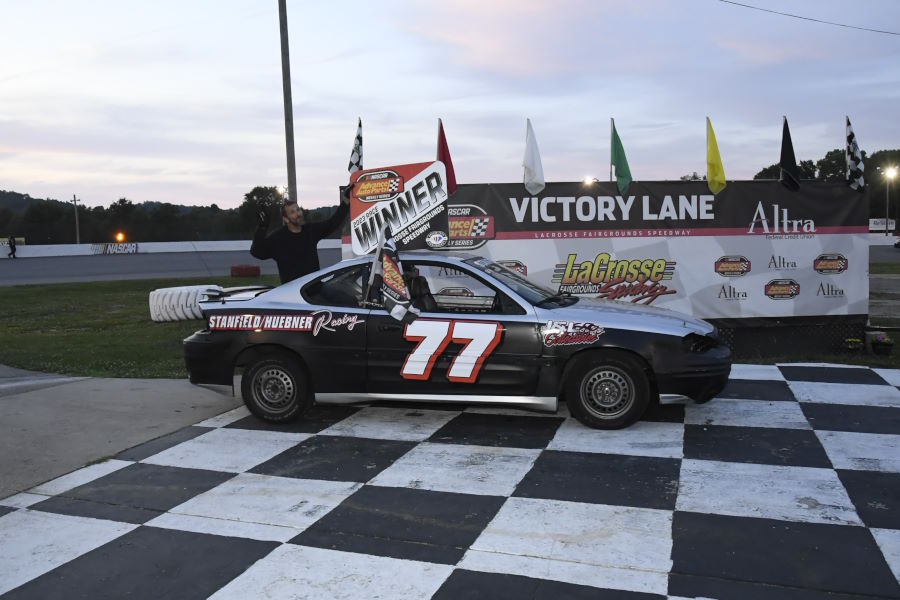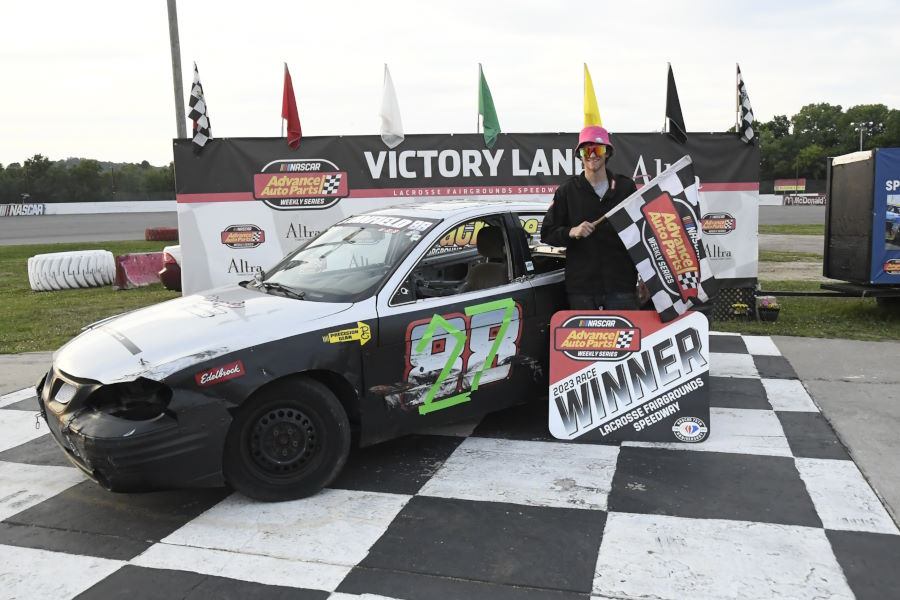 The wacky Outhouse Race was this week's novelty event for our Six Shooters.  The R.I.O.T. Motorsports team all piled into Matthew Miller's mini-van as Matthew went into the port-a-potty to change into a wedding dress as rose petals were tossed toward the new 'bride'.  There may have been a "Just Married' sign on the back of the vehicle.  Alex Liebsch pulled out an amazing leap from his car to the port-a-potty and back in 24.96 seconds to win the event and be crowned 'King of the Plastic Throne'.
We take another break from the big track battles next Saturday, July 8 and put the 'action track' quarter-mile in the spotlight during Quarter MIle Mania..  All of the action packed quarter-mile divisions will be competing, including the Hobby Stocks, Street Stocks, Six Shooters, MIni-Vans and the High School Racing Association.  In addition, there will be a Figure 8 race along with Contact Drags and a Demolition Derby to end the night.  Gates open at 5:30, the quick laps on the quarter-mile will begin shortly after that and the heart stopping quarter-mile racing roars to life at 7.
For more information about LaCrosse Speedway or the 2023 schedule of events, please call the track office at 608-786-1525 or visit our web site at 
lacrossespeedway.com
.  LaCrosse Speedway is proud to be a NASCAR Hometrack, part of the NASCAR Advance Auto Parts Weekly Series.
RESULTS
Kwik Trip NASCAR Late Models
Feature (25 laps):  1. Skylar Holzhausen, 2. Brent Kirchner, 3. Adam Bendzick, 4. Michael Beamish, 5. Tony Bagstad, 6. Mike Carlson, 7. Steve Carlson, 8. Steve Bachman, 9. Jerimy Wagner, 10. Nick Clements, 11. MIchael Haggar, 12. Jeff Partington, 13. Nicholas Beaver, 14. Don Turner, 15. Tom Carlson, 16. Ridge Oien, 17. Ryan Brown, 18. Joe Nuttleman, 19. Cam Dezelske, 20. Christopher Christen, 21. Brad Powell, 22. Tom Luethe, 23. Jimmy Summerfield
6-for-6 Dash (6 laps):  1. Tony Bagstad, 2. Adam Bendzick, 3. Brent Kirchner, 4. Skylar Holzhausen, 5. Nick Clcments, 6. Steve Bachman
Heat #1 (8 laps):  1. Steve Carlson, 2. Michael Beamish, 3. Tom Carlson, 4. Michael Haggar, 5. NIcholas Beaver, 6. Jerimy Wagner, 7. MIke Carlson, 8. Brad Powell
Heat #2 (8 laps):  1. Jeff Partington, 2. Ryan Brown, 3. Don Turner, 4. Christopher Christen, 5. Tom Luethe, 6. Ridge Oien, 7. Joe Nuttleman, 8. Cam Dezelske, 9. Jimmy Summerfield
Qualifying:  1. Skylar Holzhausen, 2. Brent Kirchner, 3. Nick Clements, 4. Steve Bachman, 5. Tony Bagstad, 6. Adam Bendzick, 7. Mike Carlson, 8. Brad Powell, 9. Michael Haggar, 10. Jerimy Wagner, 11. Michael Beamish, 12. Nicholas Beaver, 13. Steve Carlson, 14. Tom Carlson, 15. Jeff Partington, 16. Don Turner, 17. Christopher Christen, 18. Ryan Brown, 19. Ridge Oien, 20. Cam Dezelske, 21. Joe Nuttleman
Line-X NASCAR Sportsmen
Feature (15 laps):  1. Andy Barney, 2. Jamie Dummer, 3. Bob Fort, 4. Justin Berg, 5. Travis Gordon
Dash (8 laps):  1. Andy Barney, 2. Bob Fort, 3. Justin Berg, 4. Jamie Dummer, 5. Travis Gordon
Qualifying:  1. Jamie Dummer, 2. Justin Berg, 3. Bob Fort, 4. Andy Barney, 5. Travis Gordon
Skyline Fireworks NASCAR Hornets
Feature (15 laps):  1. Michael Wachs, Jr., 2. Ben Thurk, 3. Joey Johnson III, 4. Carter Horstman, 5. Thomas Farra, 6. Terry Lafleur, 7. Jacob Iverson, 8. Christopher Lofquist, 9. Dakota Miller, 10. Kendon Thurk, 11. Nick Hadler, 12. Al Bartels, 13. Brandon Olson, 14. Jace Lafleur, 15. Mitchell Rinartz, 16. Matthew Drazkowski, 17. Abigail Knaack, 18. Bentley Knaack, 19. Brandon McCarthy, 20. Jake Schomers
6-for-6 Dash (6 laps):  1. Joey Johnson III, 2. Brandon McCarthy, 3. Thomas Farra, 4. Ben Thurk, 5. Carter Horstman, 6. Michael Wachs, Jr.
Heat #1 (8 laps):  1. Brandon Olson, 2. Jake Schomers, 3. Christopher Lofquist, 4. Jacob Iverson, 5. Nick Hadler, 6. Terry Lafleur, 7. Dakota Miller, 8. Kendon Thurk
Heat #2 (8 laps):  1. Al Bartels, 2. Jace Lafleur, 3. Bentley Knaack, 4. Abigail Knaack, 5. Matthew Drazkowski, 6. Mitchell Rinartz, 7. Justin Iverson
Qualifying:  1. Michael Wachs, Jr., 2. Carter Horstman, 3. Thomas Farra, 4. Ben Thurk, 5. Joey Johnson III, 6. Brandon McCarthy, 7. Jacob Iverson, 8. Kendon Thurk, 9. Dakota Miller, 10. Terry Lafleur, 11. Nick Hadler, 12. Christopher Lofquist, 13. Jake Schomers, 14. Brandon Olson, 15. Justin Iverson, 16. Abigail Knaack, 17. Jace Lafleur, 18. Al Bartels, 19. Bentley Knaack, 20. Matthew Drazkowski, 21. Mitchell Rinartz
Auto Value Six Shooters
Feature (15 laps):  1. Rob Stanfield, 2. Matthew Miller, 3. Marshall Rinartz, 4. John Clauson, 5. Ashton Kinsey, 6. Landon Lockington, 7. Kreg Miller, 8. Cody Bell, 9. Kyle Cottone, 10. Nathan Myhre, 11. Paul Servais, 12. Tristan Drazkowski, 13. Bryon Olson
Heat #1 (8 laps):  1. John Clauson, 2. Marshalk Rinartz, 3. Kyle Cottone, 4. Nathan Myhre, 5. Paul Servais, 6. Bryon Olson, 7. Landon Lockington
Heat #2 (8 laps):  1.Rob Stanfield, 2. Matthew Miller, 3. Ashton Kinsey, 4. Cody Bell, 5. Kreg Miller, 6. Tristan Drazkowski 
Qualifying:  1. Rob Stanfield (16.185–New Track Record), 2. Tristan Drazkowski, 3. Cody Bell, 4. Ashton Kinsey, 5. Matthew Miller, 6. Kreg Miller, 7. Nathan Myhre, 8. Landon Lockington, 9. Bryon Olson, 10. Marshall Rinartz, 11. Paul Servais, 12. John Clauson, 13. Kyle Cottone
Novelty
Outhouse Race:  1. Alex Liebsch 24.96, 2. John Clauson 28.08, 3. Rob Stanfield 29.11, 4. Bryon Olson 40.81, 5. Matthew Miller 68.60