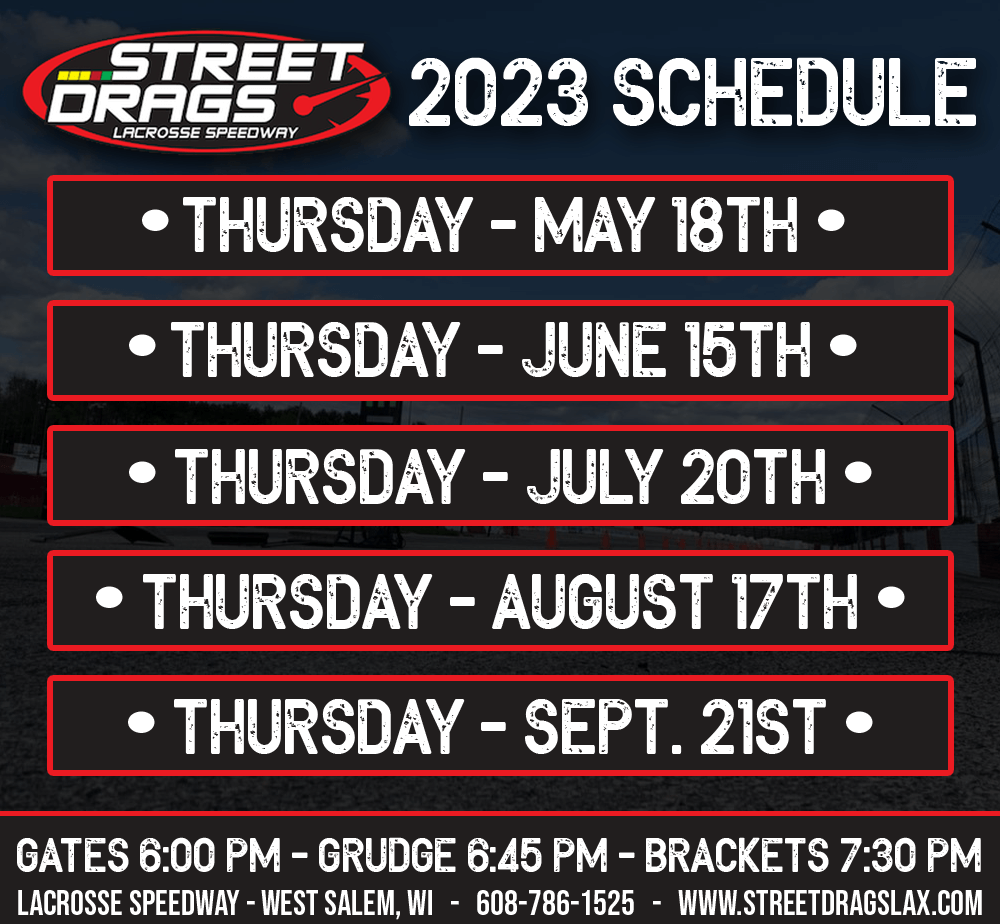 WEST SALEM, WI – It's time to start thinking about summer! What better way to think about summer than Street Drags at LaCrosse Speedway. New for this year, Street Drags make the move the Thursday Nights in 2023. The event will take place the third Thursday of the month May-September.
Street Drags are an event that allows anyone to drag race on our 300-foot dragstrip utilizing the front stretch of the racetrack. Cars will be broken up into brackets, so you will race with cars like yours. Side by side fun in your own lane. We always like to say, if it has wheels, we have a bracket for you!
Brackets include (but are not limited to) Open Class, Cycles, Detroit Iron, Family Sedans, Forced Air, Domestic Performance, 2WD Trucks, Electric, SUV, ATV, Side by Side, Euro Performance, Tuners, 4WD Gas, 4WD Diesel, and High School! Bracket entry is only $10! Be sure to join in the FUN!
Don't forget to participate in the Shine 'n Show car show contest or our popular burnout contest!
Looking to participate or want more information? Be sure to check out our website information page: https://streetdragslax.com/about/
Schedule of Events
6:00 PM – Pit area and Registration Opens, Grandstands Open
6:45 PM – Practice/Grudge Runs
7:30 PM – Brackets Begin
8:00-8:30 PM est. – Burnout Contest
8:15 PM – Shine and Show (Judging during the Burnout Contest)
10:00 PM or earlier – Event Completed
Admission
$10 Pit Pass
$10 Grandstand Admission
$10 per each Bracket Entered
2023 Street Drag Schedule
Thursday, May 18th, 2023
Thursday, June 15th, 2023
Thursday, July 20th, 2023 (Fair Time Street Drags!)
Thursday, August 17th, 2023
Thursday, September 21st, 2023
LaCrosse Speedway is located at N4985 County Road M in West Salem, WI 54669. For more information on LaCrosse Speedway, please visit our website at LaCrosseSpeedway.com or call 608-786-1525.
For up-to-the-minute updates, please "Like" LaCrosse Speedway on Facebook or "Follow" us on Twitter @LAXSpeedway
We will see YOU this summer at LaCrosse Fairgrounds Speedway!