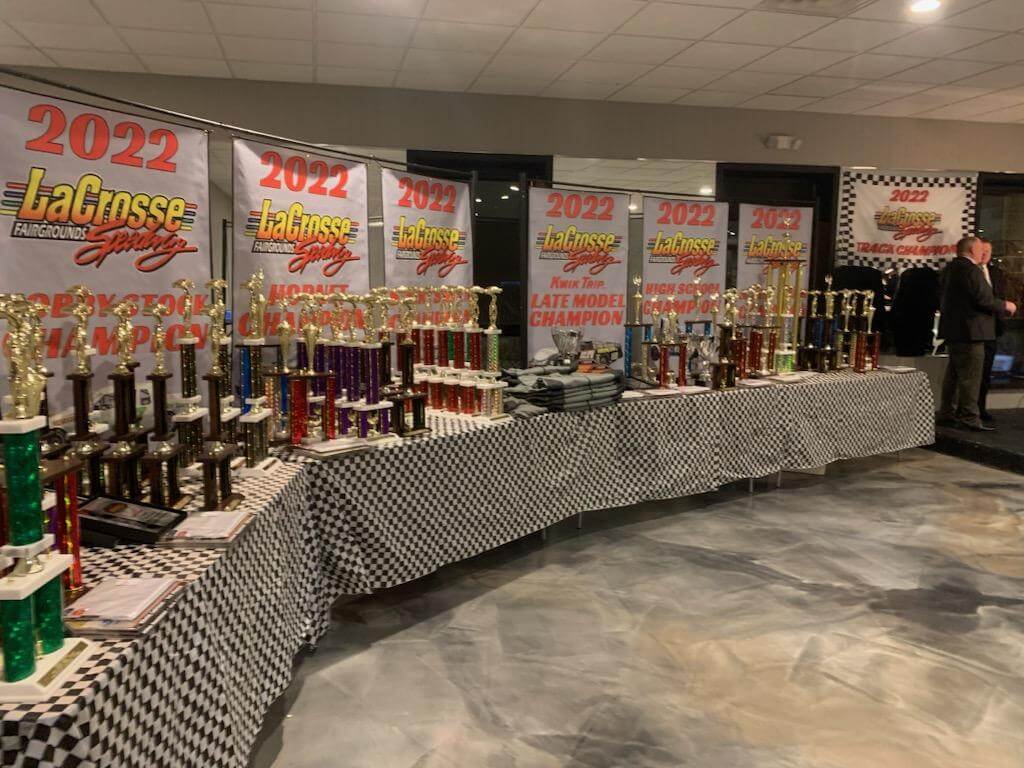 By:  Paul Reichert
January 14, 2023
The just completed 2022 racing season was filled with some very competitive racing action and amazing racing memories that we will soon not forget.  Before we could move on to focus our attention and efforts on the brand new racing season, we recognized those fabulous unforgettable performances during the 2022 LaCrosse Speedway Champions' Banquet at the Maple Grove Venues south of West Salem. After enjoying a delicious meal once again served by the staff of C&C Catering, it was time to hand out a ton of shiny and gleaming championship hardware.
The theme of this year's Champions' Banquet was the performances of many family owned race teams.  Headlining the fabulous family showings during 2022 was the efforts of Barney Racing.  Andy Barney had a very rough start to his Sportsmen season with major engine issues that earned him the Good Luck Award.  After some encouragement from family and other racing friends, Andy stepped hard on the gas to finish in the top five in Sportsmen points.  That effort gave Andy the Sportsmen Rookie of the Year title, the Outstanding Performance Award, and he got the better of Justin Berg to claim the Chase Championship.  His daughter Keanna had a breakout season with her first two career Hornet feature wins, and that gave her a top ten finish in Hornet points.  Keanna won the Most Popular Driver and Best Appearing Car awards from the fans, and outlasted her other three challengers to claim the inaugural Hornet Chase Championship.
Just when it looked like a Sportsmen championship was out of Sam Niles' reach, a couple of his competitors got a little exuberant on the next to last night of racing.  On night one of Oktoberfest, Niles earned enough points to charge past his challengers to lock up his second straight Sportsmen title.  At the heart of Sam Niles Racing is his dad and former racer Andy Niles as his crew chief.  A little over a month ago Niles was diagnosed with cancer, but everyone knew that was not going to stop Niles from guiding his son.  Niles gave a very emotional speech as he was surprised with the Mechanic of the Year award, which he received from his own brother Bill. 
Liebsch Family Racing has been a mainstay at LaCrosse in the Street Stock and Six Shooters divisions for several years.  The Liebschs received one of Pastor Andy Buhrow's Racing Family of the Year awards for what they have done for both divisions.  He may be known as 'Pony Boy' thanks to Pinkie Pie from My Little Pony on top of his race car, Alex Liebsch has been a very formidable challenger week in and week out.  It was a successful 2022 for him as he came in fifth in both Street Stock and Six Shooter points as well as third in the Novelty division.  Liebsch was also named by the fans as the Most Popular Driver in the Street Stock class to go along with his win in the first Trailer Race of Destruction during the season.   
Mike Carlson joined the NASCAR Late Model wars at LaCrosse back in 2006.  We have witnessed Mike put in some strong performances to score a number of NASCAR Late Model victories, but there have been times that Mike has struggled to find the right setup.  This season Mike was able to put in many great performances to power past another LaCrosse veteran in Brent Kirchner late in the season to secure his first ever NASCAR Late Model championship.  The Larson family is also another family that is very prominent in the Street Stock and Six Shooter divisions.  Chris has come close many times to earning a Street Stock championship, but this year would be different.  Thanks to a new car and a lightning fast repaved quarter-mile, Chris was an unstoppable force as he outlasted dad Keith to finally drive away with his first ever Street Stock title.
This year's Champions' Banquet was the fond farewell for Chuck Deery, who announced at the end of Oktoberfest his retirement after 36 years of being track manager at LaCrosse.  After receiving another Racing Family of the Year award from Pastor Andy, Deery thanked everybody for their hard work to make Saturday night a great night for racing at LaCrosse.  It was not a Chuck effort, as Deery stated in his farewell speech, but a total team effort by the drivers, crews and track staff.  After his speech, Deery announced this year's recipient of the prestigious Sportsmen of the Year Award.  John Huebner always has an infectious smile and laugh every race night.  No matter if you see him in a NASCAR Late Model or a Minivan, John is a racing dude and he is always proud to be doing what he is so passionate about.  The Sportsmen of the Year Award will go well with Huebner's Minivan and Novelty titles, a seventh place effort in Six Shooters and receiving another Racing Family of the Year award on behalf of Huebner-Stanfield Racing. 
Now that we have celebrated the accomplishments of many during the 2022 racing season, it is time for the drivers and teams to get hard at work on their race cars and make preparations for the upcoming 2023 campaign.  The La Crosse Speedway is also hard at work for the new season with Austin Wells taking over for Chuck Deery as the new track manager.  Right before Christmas one of Austin's first official acts was releasing a tentative 2023 schedule, which will begin in earnest on Saturday, May 19.  Weekly racing will run through Saturday, August 12 and culminate with the 54th Annual Oktoberfest Race Weekend on October 5 through 8.
For more information about the LaCrosse Speedway and the 2023 schedule of events, call the track office at 608-786-1525 or visit our web site at lacrossespeedway.com.  LaCrosse Speedway is proud to be a NASCAR Hometrack, part of the NASCAR Advance Auto Parts Weekly Series.
RESULTS
2022 LaCrosse Fairgrounds Speedway Champions' Banquet
Kwik Trip NASCAR Late Model Champion–Mike Carlson
LawnKeepers Sportsmen Champion–Sam Niles
ANT's Complete Pest Control Hornet Champion–Lester Stanfield
Auto Value Hobby Stock Champion–Charles Vian, Jr.
Auto Value Street Stock Champion–Chris Larson
Auto Value Six Shooter Champion–Jake Schomers
Mountain Dew Minivan Champion–John Huebner
High School Racing Association La Crosse Champion–Ashton Kinsey
High School Racing Association Regional Champion–Ashton Kinsey
Novelty Champion–John Huebner
Chase Champions:  NASCAR Late Models–Nick Clements, Sportsmen–Andy Barney, Hornets–Keanna Barney
Rookie of the Year:  NASCAR Late Models–Tom Luethe, Sportsmen–Andy Barney, Hornets–Carter Horstman
Best Appearing Car (Voted by Fans):  NASCAR Late Models–Steve Bachman, Sportsmen–Randy Humfeld, Hornets–Keanna Barney
Best Appearing Car (Voted by Drivers):  NASCAR Late Models–Nick Clements, Sportsmen–Travis Gordon, Hornets–Kristopher Berg
Hard Charger Award:  NASCAR Late Models–Brent Kirchner and Jerimy Wagner, Sportsmen–Justin Berg and Bill Schott, Hornets–Joey Johnson III and Robert Stanfield
Outstanding Performance Award:  NASCAR Late Model–Michael Haggar, Sportsmen–Andy Barney, Hornets–Abigail Knaack
Budweiser Dash Champions:  NASCAR Late Models–Steve Bachman, Sportsmen–Bill Schott, Hornets–Lester Stanfield
Most Improved Driver:  NASCAR Late Models–Joseph Scholze, Sportsmen–Scott Mahlum, Hornets–Carter Horstman, Hobby Stocks–Alex Rud, Street Stocks–Matthew Bornheimer, Six Shooters–Matthew Cleveland, Mini-Vans–Kreg Miller
Showmanship Award:  Braydon Lockington Racing, Liebsch Brothers Racing, Eckelberg Family Racing
Competition Achievement Awards:  #racinforjason24 Team (by Paul Reichert), Jesse Green (by Barry Folgat Sr), Lance Berger (by Jim Compton), Jason Bolster (by Ray Loughan), Kenneth Donais (by Andy Jandt), Justin Mullikin (by Bill Niles), Don 'Thunder' Turner (by Jeff Garbers)
Racing Family of the Year (by Pastor Andy Buhrow): Liebsch Family Racing, Huebner-Stanfield Racing, Chuck Deery
Sharing Award:  Travis Gordon, Nick Hadler, Nick Clements
Mechanics of the Year:  Michael Young and Andy Niles
Good Luck Award–Travis Gordon and Andy Barney
Most Popular Driver (Voted by Fans):  NASCAR Late Models–Nick Clements, Sportsmen–Justin Berg, Hornets–Keanna Barney, Hobby Stocks–Jason Bolster, Street Stocks–Alex Liebsch, Six Shooters–Adam Kerley, Mini-Vans–Jake Lisowski
Sportsmen of the Year–John Huebner