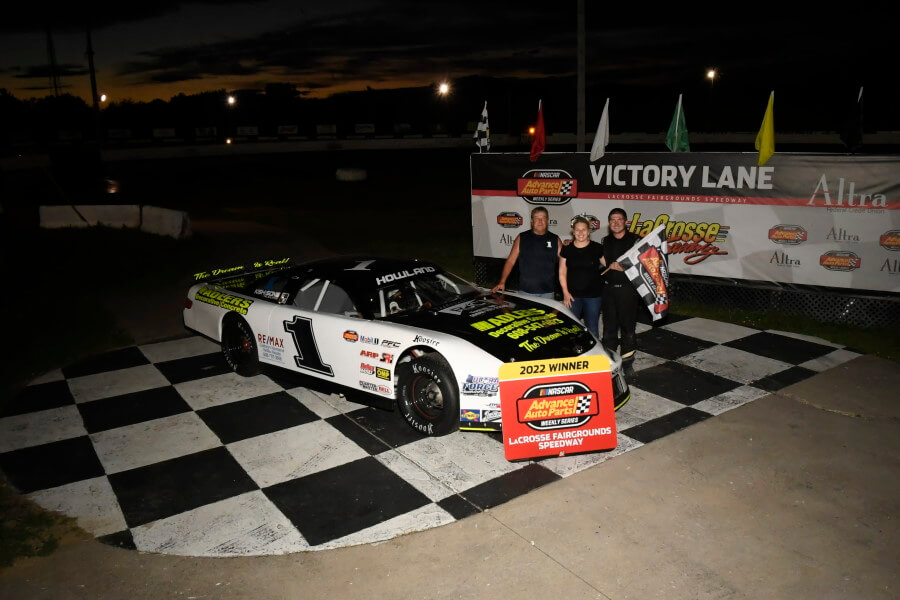 By: Paul Reichert
July 16, 2022
While we love seeing new faces in victory lane and drivers scoring their first career feature wins, we also love seeing drivers we expect in victory lane claim a much needed win for the first time in quite a while.  Various things like accidents, engine issues, suspension problems or a poor performing car in general can keep a front runner out of victory lane.  Such was the case for Cole Howland, but both he and his father continued to preserve and not lose faith in their racing program.  Howland powered around Jackson Lewis with nine laps remaining and held back the field to capture his first feature win in three years.    
The Altra 25 lap feature for the NASCAR Late Models saw Jackson Lewis (Elko New Market, MN) powered by Michael Haggar (Hanover, MN) and into the lead.  Cole Howland (LaCrosse, WI) stuck right behind both drivers and maintained the number three position as Howland patiently waited for the right moment to strike.  Haggar stayed within two car lengths of Lewis in second as he also waited for his golden opportunity to claim LaCrosse feature win number two.  That lead trio was pulling away from the field and began their own race for the win.  Howland dove low entering turn one on lap 12 to power his way past Haggar to take over the runner-up spot.  Howland wasted no time in going after Lewis for the lead, but lap traffic on lap 13 made Howland take a step back and reset things.  It finally paid off as Howland dove low on Lewis entering turn one on lap 16 and came out with the lead on the back straight.  Haggar would not let Howland get away that easily as he wrestled second away from Lewis.  Haggar could not make a late charge as Howland scored a long overdue victory that was three years in the making.  After the race, Howland said "I almost lost faith in my abilities as a driver.  I have to thank my dad and my wife for helping me not losing faith in our racing program."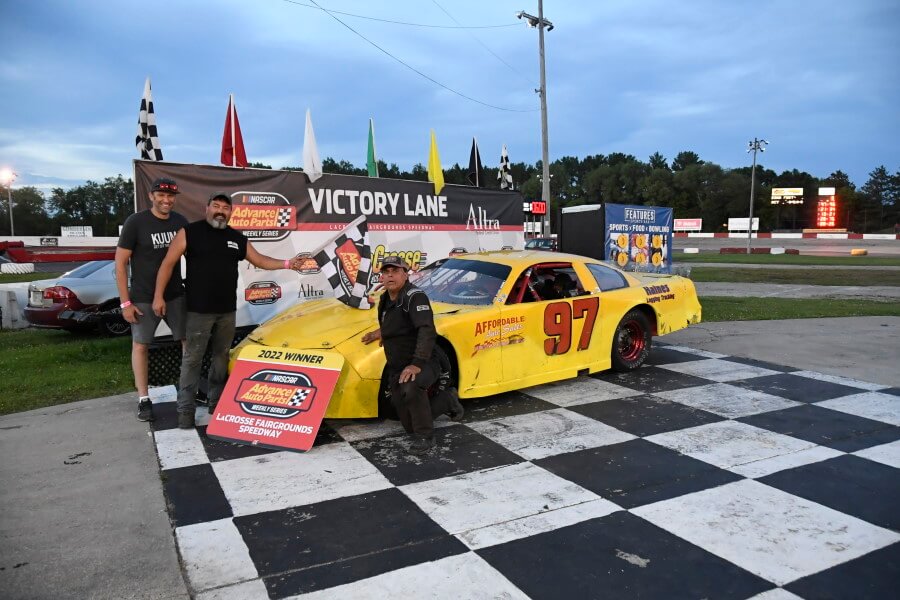 In the Sportsmen feature, Bill Schott (LaCrosse, WI) powered his way around Dexter Malin (LaCrosse, WI) to move into the top spot on lap five.  Just when it looked like Schott might get an early birthday present, the yellow flag made an appearance with three laps remaining.  Bob Fort (Fountain City, WI) charged by Schott on the restart and was able to repel Schott's many challenges to score his fourth feature win of the year.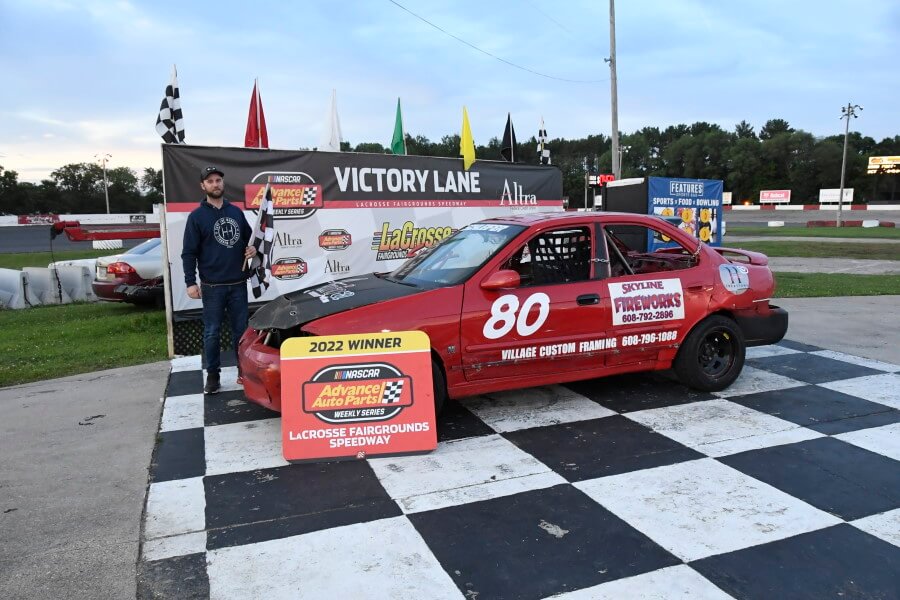 In the Hornet feature, Rob Schleifer drove past Jacob Iverson into the top spot on lap six.  Lester Stanfield tried to cut into the gap late in the running but Schleifer was too strong and scored his first career feature win.
MIke Krueger, Jr. took the lead halfway through the Hobby Stock feature and held a strong lead over Charles Vian, Jr. to prevent a second straight clean sweep by Vian, Jr.
Zach Liebsch led from the start of the Six Shooter feature in only his third night of racing this season.  Liebsch did everything he could in the final four laps to hold off new track record holder Jake Schomers to make a long overdue return to Altra Federal Credit Union Victory Lane.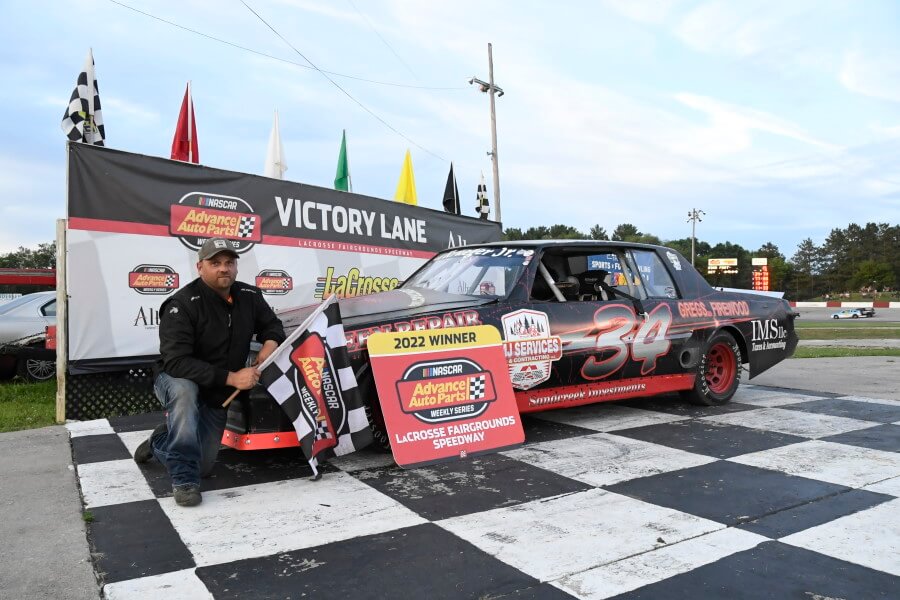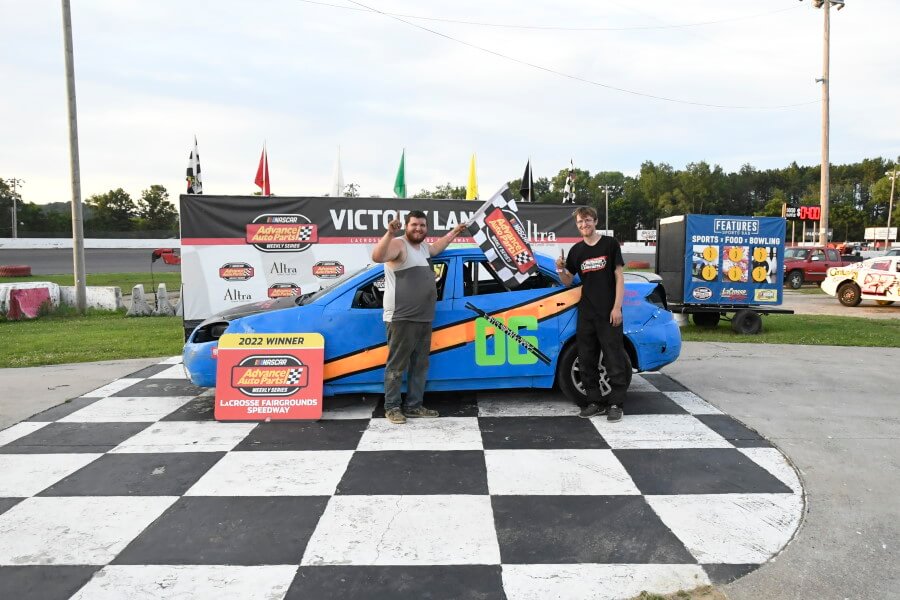 A new Novelty event was introduced to the drivers and the fans as The Slip-N-Slide race had the 'action track' quarter mile wet down with water and Tide.  The drivers had to maneuver the now slippery new pavement for five laps.  There was a lot of contact in the turns as the drivers had to show some patience and not get on the gas too quickly.  Rob Stanfield did the best job in navigating the wet racing surface to win a very entertaining race. 
Next week is a very special week for all of LaCrosse County as the 131st edition of the LaCrosse Interstate Fair takes place.  The opening night of the fair on Wednesday, July 20 will feature the annual Tribute to Larry Wehrs race headlined by the Central Wisconsin Racing Association Late Models running a pair of 30 lap features.  The Street Stocks will also be racing that night along with the Wisconsin Fastrac Legends, who make their first appearance at LaCrosse in over 15 years.  Gates open at 5:30, qualifying revs up at 5:45 and racing takes the green flag starting at 7.
For more information about LaCrosse Speedway or the 2022 schedule of events, please call the track office at 608-786-1525 or visit our web site at 
lacrossespeedway.com
.  LaCrosse Speedway is proud to be a NASCAR Hometrack, part of the NASCAR Advance Auto Parts Weekly Series.
RESULTS
Kwik Trip NASCAR Late Models
Feature (25 laps):  1. Cole Howland, 2. Michael Haggar, 3. Adam Degenhardt, 4. Mike Carlson, 5. Brent Kirchner, 6. Bradley Powell, 7. Jackson Lewis, 8. Steve Bachman, 9. Jerimy Wagner, 10. Tom Luethe, 11. Steve Carlson, 12. Nick Clements, 13. Don Turner, 14. Kenneth Donais, 15. Peter Carlson, 16. Tom Carlson, 17. Joseph Scholze, 18. Michael Beamish, 19. Jimmy Summerfield
6-for-6 Dash (6 laps):  1. Adam Degenhardt, 2. Brent Kirchner, 3. Steve Bachman, 4. Mike Carlson, 5. Nick Clements, 6. Jerimy Wagner
Heat #1 (8 laps):  1. Tom Luethe, 2. Jackson Lewis, 3. Michael Haggar, 4. Cole Howland, 5. Bradley Powell, 6. Michael Beamish, 7. Steve Carlson
Heat #2 (8 laps):  1. Don Turner, 2. Joseph Scholze, 3. Kenneth Donais, 4. Tom Carlson, 5. Peter Carlson, 6. Jimmy Summerfield
Qualifying:  1. Mike Carlson, 2. Steve Bachman, 3. Jerimy Wagner, 4. Brent Kirchner, 5. Adam Degenhardt, 6. Nick Clements, 7. Bradley Powell, 8. Michael Beamish, 9. Cole Howland, 10. Michael Haggar, 11. Jackson Lewis, 12. Steve Carlson, 13. Tom Luethe, 14. Joseph Scholze, 15. Kenneth Donais, 16. Don Turner, 17. Tom Carlson, 18. Peter Carlson, 19. Jimmy Summerfield
LawnKeepers Sportsmen
Feature (15 laps):  1. Bob Fort, 2. Bill Schott, 3. Mark Challet, 4. Sam Niles, 5. Dan Osthoff, 6. Andy Barney, 7. Travis Gordon, 8. Scott Mahlum, 9. Justin Berg, 10. Dave Swanson, 11. Dexter Malin, 12. Jamie Dummer
Dash (6 laps):  1. Bill Schott, 2. Andy Barney, 3. Jamie Dummer, 4. Mark Challet, 5. Dave Swanson, 6. Justin Berg
Heat #1 (8 laps):  1. Sam Niles, 2. Dan Osthoff, 3. Travis Gordon, 4. Dexter Malin, 5. Scott Mahlum, 6. Bob Fort
Qualifying:  1. Mark Challet, 2. Justin Berg, 3. Jamie Dummer, 4. Dave Swanson, 5. Andy Barney, 6. Bill Schott, 7. Sam Niles, 8. Dan Osthoff, 9. Scott Mahlum, 10. Dexter Malin, 11. Travis Gordon, 12. Bob Fort
ANT's Complete Pest Control Hornets
Feature (15 laps):  1. Rob Schleifer, 2. Lester Stanfield, 3. Mark Bornitz, 4. Jacob Iverson, 5. Joey Johnson III, 6. Carter Horstman, 7. Kristopher Berg, 8. Nick Hadler, 9. Shawn Breese, 10. Kyle Cottone, 11. Keanna Barney, 12. Kendon Thurk, 13. Abigail Knaack, 14. John Clauson, 15. Rob Stanfield, 16. Ben Thurk, 17. Dan Osthoff, 18. Christopher Lofquist
Dash (6 laps):  1. Carter Horstman, 2. Rob Schleifer, 3. Lester Stanfield, 4. Joey Johnson III, 5. Kristopher Berg, 6. Mark Bornitz
Heat #1 (8 laps):  1. Kyle Cottone, 2. Nick Hadler, 3. Keanna Barney, 4. Shawn Breese, 5. Chirstopher Lofquist, 6. Jaydin Schock
Heat #2 (8 laps):  1. Jacob Iverson, 2. Kendon Thurk, 3. John Clauson, 4. Abigail Knaack, 5. Rob Stanfield, 6. Ben Thurk, 7. Dan Osthoff
Qualifying:  1. Lester Stanfield, 2. Rob Schleifer, 3. Kristopher Berg, 4. Joey Johnson III, 5. Mark Bornitz, 6. Carter Horstman, 7. Kyle Cottone, 8. Christopher Lofquist, 9. Jaydin Schock, 10. Shawn Breese, 11. Nick Hadler, 12. Keanna Barney, 13. Rob Stanfield, 14. Kendon Thurk, 15. Jacob Iverson, 16. Abigail Knaack, 17. Ben Thurk, 18. John Clauson, 19. Dan Osthoff
Auto Value Hobby Stocks
Feature (15 laps):  1. Mike Krueger, Jr., 2. Charles Vian, Jr., 3. Tyler Stuber, 4. Alex Rud, 5. Jason Bolster
Heat #1 (8 laps):  1. Charles Vian, Jr., 2. Alex Rud, 3. Mike Krueger, Jr., 4. Jason Bolster, 5. Tyler Stuber
Qualifying:  1. Charles Vian, Jr., 2. Jason Bolster, 3. Tyler Stuber, 4. Alex Rud
Coulee Tire Six Shooters
Feature (15 laps):  1. Zach Liebsch, 2. Jake Schomers, 3. Matthew Miller, 4. Adam Kerley, 5. John Huebner, 6. Alex Liebsch, 7. Matthew Cleveland, 8. Ryan Stanfield, 9. Spencer Ketchum, 10. Clayton Haessig, 11. Landon Lockington, 12. Kaleb Scharpf, 13. Al Bartels, 14. Cody Bell
Heat #1 (8 laps):  1. Zach Liebsch, 2. Matthew Miller, 3. Adam Kerley, 4. Cody Bell, 5. Landon Lockington, 6. Kaleb Scharpf
Heat #2 (8 laps):  1. Jake Schomers, 2. Matthew Cleveland, 3. John Huebner, 4. Alex Liebsch, 5. Al Bartels, 6. Ryan Stanfield, 7. Clayton Haessig, 8. Spencer Ketchum
Qualifying:  1. Jake Schomers (New Track Record–16.274), 2. Al Bartels, 3. John Huebner, 4. Spencer Ketchum, 5. Alex Liebsch, 6. Ryan Stanfield, 7. Clayton Haessig, 8. Cody Bell, 9. Adam Kerley, 10. Matthew Miller, 11. Landon Lockington, 12. Kaleb Scharpf, 13. Zach Liebsch
Novelty
Slip-N-Slide Race:  1. Rob Stanfield, 2. Zach Liebsch, 3. John Heubner, 4. Alex Liebsch, 5. Adam Kerley, 6. Matthew Miller, 7. Clayton Haessig, 8. Jazmyn Wilson, 9. Jake Schomers