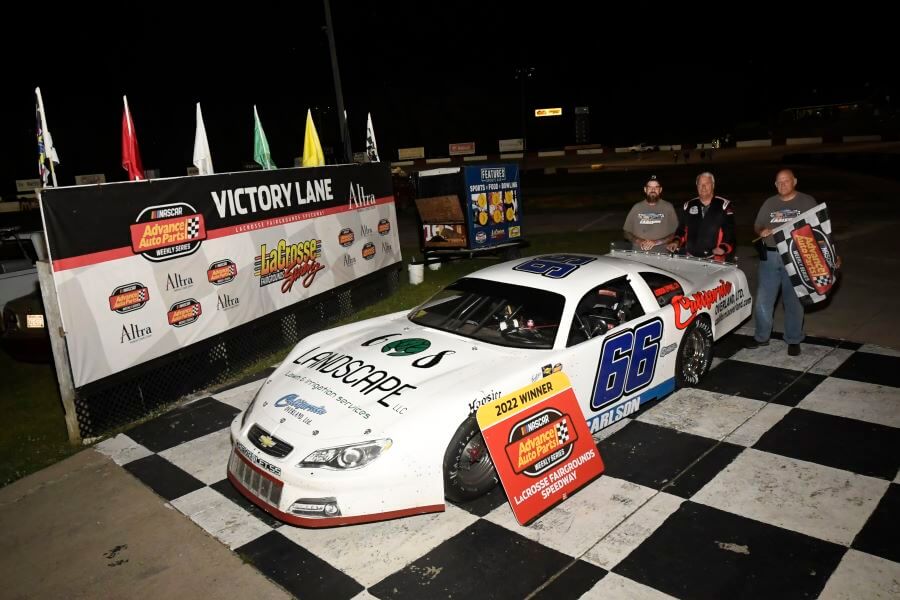 By: Paul Reichert
July 30, 2022
We have witnessed drivers who struggle to find the right setup and it takes them a while to search for the right combination to bring them back to the winners' circle.  That is what Steve Carlson has experienced this season at the LaCrosse Speedway with a lot of new things going on with his race team.  Becoming a car owner and building a brand new race car from the ground up has left the team scratching their heads trying to hit upon the right setup.  Tonight Carlson may have found that winning combination and was able to fend off title contender Steve Bachman to take a much needed return to victory lane. 
Justin Mullikin (Holmen, WI) powered by Tom Luethe (West Salem, WI) to take the lead early in the Pepsi 25 lap NASCAR Late Model feature.  Steve Carlson (West Salem, WI) needed just four laps to catch and pass Mullikin to take over command of the race.  After a yellow flag on lap eight for a solo spin in turn four by Kenneth Donais (Sparta, WI), Jerimy Wagner (Onalaska, WI) stayed within a couple car lengths of Carlson on the restart.  Carlson began to slowly pull away from Wagner after a few laps but Nick Clements (West Salem, WI) was slowly reeling in Wagner to start a battle for the runner-up spot.  Steve Bachman (Bangor, WI) took advantage of a big booble entering turn one by Clements to take over third and set his sights on Wagner.  The pair made contact down the front straight with four laps remaining, and that allowed Bachman to vault into second place.  Bachman did his darndest to close the gap on Carlson but got as close as three car lengths as Carlson claimed a long overdue victory this season.  After the race Carlson said "It felt like we have been putting a jigsaw puzzle together to find the right combination this season.  Tonight everything fit just perfectly."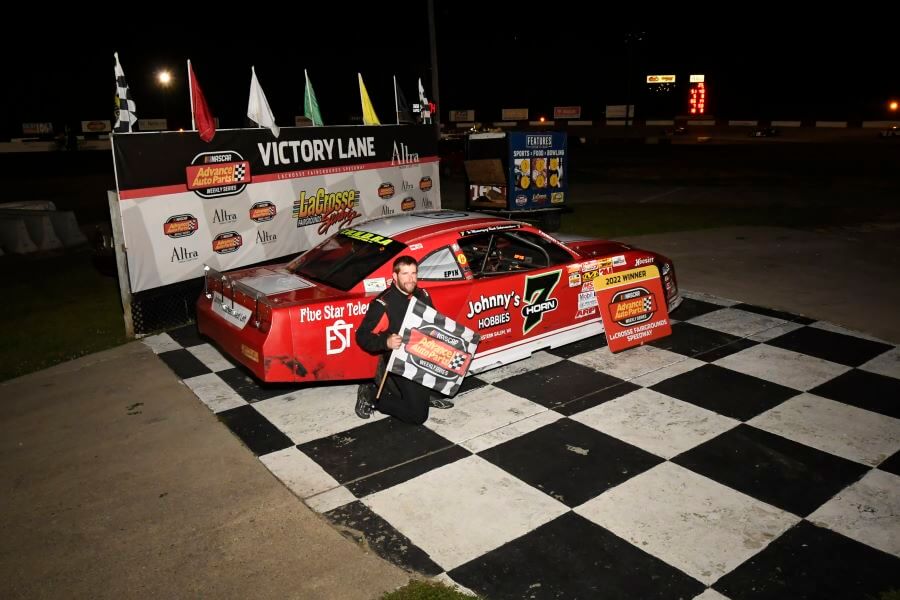 The Sportsmen feature had a hair raising moment thanks to contact between Sam Niles (Holmen, WI) and Bill Schott (LaCrosse, WI) in turn four with six laps to go.  The incident caused the rest of the field to slow down and check up, everybody except Randy Humfeld (Chaseburg, WI).  We stayed green and Humfeld pulled away to a very emotional return to victory lane.
Ben Thurk powered his way around Chris Christen to take the lead in the Hornet feature with six laps to go.  Thurk was able to fend off repeated challenges by point leader Lester Stanfield down the stretch to claim a big feature win.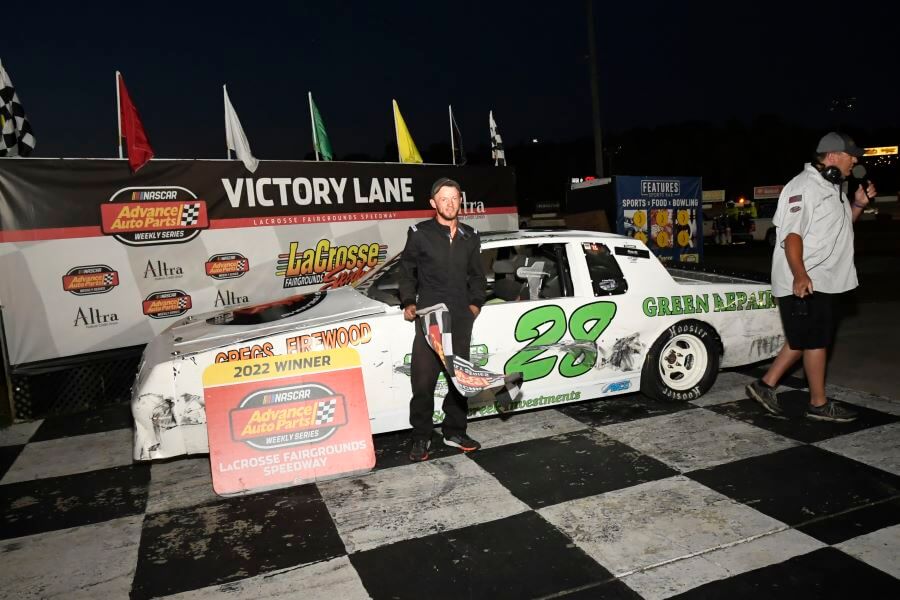 The Hobby Stock feature was a thrilling conclusion to the season as Charles Vian, Jr. and Mike Krueger, Jr. battled neck and neck for the win.  Vian, Jr. got on the gas just a little quicker to nose ahead of Krueger, Jr. to claim the win and wrap up his first career track championship.
Landon Lockington and John Huebner ran a masterful side-by-side race for the first half of the Six Shooter feature.  A bobble by Lockington with six laps to go allowed Huebner to pull away and capture the checkered flag victory.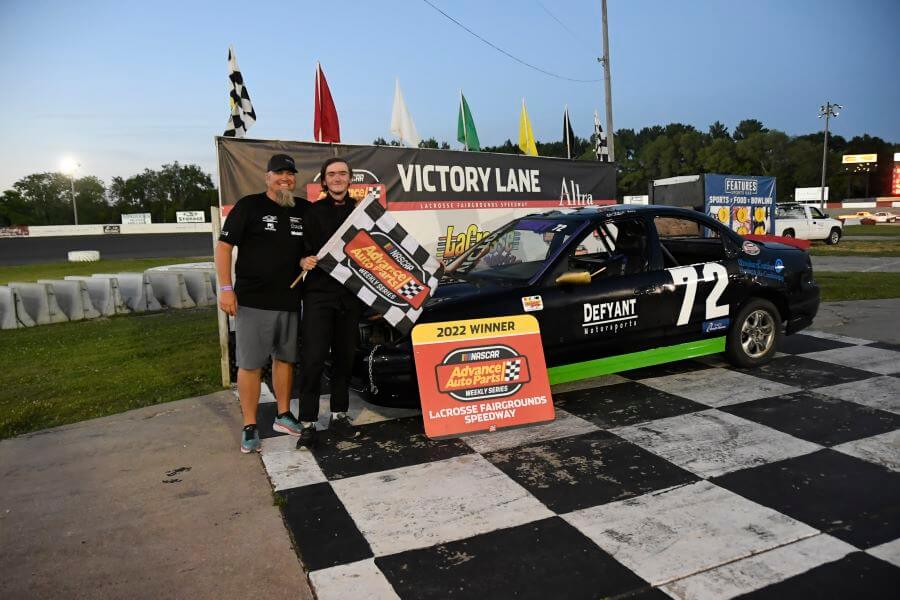 Even though Ashton Kinsey was driving a different car in the High School Racing Association feature, he was the man to beat.  Taking the lead on the second lap, Kinsey drove away with the win and scored his third straight feature win in three HSRA races. 
The Six Shooters competed in this week's Novelty event, the Pylon Race.  Here the field had to make a slalom left and right turns around a line of pylons set up in turn one and another line in turn two.  Alex Liebsch did the best job of maneuvering his way around the pylons to capture the win.
Action continues next Saturday, August 6 with the biggest annual event of the season.  Make sure to arrive at the track early and get a good seat for the annual World Famous Trailer Race of Destruction that will wrap up the night.  The Late Models, Sportsmen, Hornets and Street Stocks will put on another thrilling night of racing before the destruction and crashing takes place. Gates open at 5:30, qualifying begins at 5:45 and racing starts at 7.
For more information about LaCrosse Speedway or the 2022 schedule of events, please call the track office at 608-786-1525 or visit our web site at 
lacrossespeedway.com
.  LaCrosse Speedway is proud to be a NASCAR Hometrack, part of the NASCAR Advance Auto Parts Weekly Series.
RESULTS
Kwik Trip NASCAR Late Models
Feature (25 laps):  1. Steve Carlson, 2. Steve Bachman, 3. Dan Fredrickson, 4. Jerimy Wagner, 5. Nick Clements, 6. Adam Degnehardt, 7. Brent Kirchner, 8. Mike Carlson, 9. Cole Howland, 10. Michael Haggar, 11. Michael Beamish, 12. Adam Oxborough, 13. Don Turner, 14. Joseph Scholze, 15. Gib Scharpf, 16. Tom Luethe, 17. Kenneth Donais, 18. Peter Carlson, 19. Jonathan Eckelberg, 20. Jackson Lewis, 21. Justin Mullikin, 22. Jimmy Summerfield
6-for-6 Dash (6 laps):  1. Dan Fredrickson, 2. Brent Kirchner, 3. Mike Carlson, 4. Steve Bachman, 5. Adam Degenhardt, 6. Nick Clements
Heat #1 (8 laps):  1. Justin Mullikin, 2. Steve Carlson, 3. MIchael Haggar, 4. Michael Beamish, 5. Cole Howland, 6. Jerimy Wagner, 7. Tom Luethe, 8. Jackson Lewis
Heat #2 (8 laps):  1. Jonathan Eckelberg, 2. Adam Oxborough, 3. Don Turner, 4. Kenneth Donais, 5. Joseph Scholze, 6. Peter Carlson, 7. Gib Scharpf, 8. Jimmy Summerfield
Qualifying:  1. Dan Fredrickson, 2. Steve Bachman, 3. Adam Degenhardt, 4. Mike Carlson, 5. Nick Clements, 6. Brent Kirchner, 7. Michael Beamish, 8. Jerimy Wagner, 9. Cole Howland, 10. Michael Haggar, 11. Jackson Lewis, 12. Steve Carlson, 13. Tom Luethe, 14. Justin Mullikin, 15. Gib Scharpf, 16. Adam Oxborough, 17. Don Turner, 18. Joseph Scholze, 19. Peter Carlson, 20. Jonathan Eckelberg, 21. Jimmy Summerfield, 22. Kenneth Donais
LawnKeepers Sportsmen
Feature (15 laps):  1. Randy Humfeld, 2. Sam Niles, 3. Dave Swanson, 4. Bill Schott, 5. Andy Barney, 6. Travis Gordon, 7. Dexter Malin, 8. Justin Berg, 9. Scott Mahlum, 10. Tom Carlson, 11. Bob Fort
Dash (8 laps):  1. Tom Carlson, 2. Randy Humfeld, 3. Bill Schott, 4. Sam Niles, 5. Andy Barney, 6. Dave Swanson
Heat #1 (8 laps):  1. Bob Fort, 2. Justin Berg, 3. Dexter Malin, 4. Travis Gordon, 5. Scott Mahlum
Qualifying:  1. Bill Schott, 2. Sam Niles, 3. Andy Barney, 4. Dave Swanson, 5. Randy Humfeld, 6. Tom Carlson, 7. Bob Fort, 8. Justin Berg, 9. Scott Mahlum, 10. Dexter Malin, 11. Travis Gordon
ANT's Complete Pest Control Hornets
Feature (15 laps):  1. Ben Thurk, 2. Lester Stanfield, 3. Carter Horstman, 4. Zach Oliver, 5. Kristopher Berg, 6. Mark Bornitz, 7. Mike Carlson, 8. Nick Hadler, 9. John Clauson, 10. Kendon Thurk, 11. Jaydin Schock, 12. Shawn Breese, 13. Keanna Barney, 14. Andrew Gardner, 15. Kyle Cottone, 16. Jeffrey Von Ruden, 17. Christopher Lofquist, 18. Rob Stanfield, 19. Chris Christen, 20. Jacob Iverson, 21. Abigail Knaack, 22. Joey Johnson III, 23. Anthony Stagman
Dash (6 laps):  1. Joey Johnson III, 2. Lester Stanfield, 3. Ben Thurk, 4. Carter Horstman, 5. Kristopher Berg, 6. Chris Christen
Heat #1 (8 laps):  1. Mark Bornitz, 2. Shawn Breese, 3. Nick Hadler, 4. Zach Oliver, 5. Andrew Gardner, 6. Christopher Lofquist, 7. Rob Stanfield
Heat #2 (8 laps):  1. Kyle Cottone, 2. Kendon Thurk, 3. John Clauson, 4. Jacob Iverson, 5. Keanna Barney, 6. Jeffrey Von Ruden, 7. Abigail Knaack, 8. Anthony Stagman, 9. Jaydin Schock, 10. MIke Carlson
Qualifying:  1. Lester Stanfield, 2. Ben Thurk, 3. Kristopher Berg, 4. Joey Johnson III, 5. Carter Horstman, 6. Chris Christen, 7. Rob Schleifer, 8. Nick Hadler, 9. Zach Oliver, 10. Mark Bornitz, 11. Shawn Breese, 12. Andrew Gardner, 13. Christopher Lofquist, 14. Rob Stanfield, 15. Jaydin Schock, 16. Jacob Iverson, 17. Kendon Thurk, 18. Keanna Barney, 19. Jeffrey Von Ruden, 20. John Clauson, 21. Abigail Knaack, 22. Kyle Cottone, 23. Anthony Stagman
Auto Value Hobby Stocks 
Feature (15 laps):  1. Charles Vian, Jr., 2. Mike Krueger, Jr., 3. Jason Bolster, 4. Tyler Stuber, 5. Alex Rud, 6. Landon Lockington
Heat #1 (8 laps):  1. Jason Bolster, 2. Mike Krueger, Jr., 3. Alex Rud, 4. Tyler Stuber, 5. Charles Vian, Jr., 6. Landon Lockington
Qualifying:  1. Charles Vian, Jr., 2. Tyler Stuber, 3. Alex Rud, 4. Jason Bolster, 5. Landon Lockington
Coulee Tire Six Shooters
Feature (15 laps):  1. John Huebner, 2. Jake Schomers, 3. Landon Lockington, 4. Adam Kerley, 5. Al Bartels, 6. Alex Liebsch, 7. Tim Murphy, Sr., 8. Greg Brown, 9. Specner Ketchum, 10. Matthew Miller, 11. Tory Lockington, 12. Ryan Stanfield, 13. Matthew Cleveland
Heat #1 (8 laps):  1. Al Bartels, 2. Jake Schomers, 3. Alex Liebsch, 4. Matthew Cleveland, 4. Tim Murphy, Sr., 6. Greg Brown
Heat #2 (8 laps):  1. Landon Lockington, 2. John Huebner, 3. Matthew Miller, 4. Adam Kerley, 5. Ryan Stanfield, 6. Tory Lockington, 7. Spencer Ketchum 
Qualifying:  1. Matthew Cleveland, 2. Jake Schomers, 3. Greg Brown, 4. Alex Liebsch, 5. Tim Murphy, Sr., 6. Al Bartels, 7. Tory Lockington, 8. Ryan Stanfield, 9. Adam Kerley, 10. Matthew MIller, 11. Spencer Ketchum, 12. John Huebner, 13. Landon Lockington 
High School Racing Association
Feature (15 laps):  1. Ashton Kinsey, 2. Joey Miller, 3. Braydon Lockington, 4. Landin Frye, 5. Kennedy Krueger, 6. Trinity Aasen, 7. Mitchell Berg, 8. Charlie Thompson
Heat #1 (8 laps):  1. Ashton Kinsey, 2. Braydon Lockington, 3. Joey Miller, 4. Charlie Thompson, 5. Kennedy Krueger, 6. Trinity Aasen, 7. Anne Green, 8. Mitchell Berg, 9. Landin Frye
Qualifying:  1. Landin Frye, 2. Ashton Kinsey, 3. Braydon Lockington, 4. Mitchell Berg, 5. Charlie Thompson, 6. Trinity Aasen, 7. Joey Miller, 8. Anne Green, 9. Kennedy Krueger 
Novelty
Pylon Race:  1. Alex Liebsch, 2. John Huebner, 3. Rob Stanfield, 4. Tim Murphy, Sr., 5. Matthew Miller, 6. Ryan Stanfield, 7. Adam Kerley, 8. Al Bartels, 9. Jeffrey Von Ruden, 10. Jake Schomers, 11. Matthew Cleveland