By: Paul Reichert
August 17, 2019
Even though it was the final weekly show of the season at the LaCrosse Speedway, the racing action was a little more intense that usual. Drivers jockeying for vital positions and a few getting caught up in on track incidents were building up the championship battles to be settled on Thursday of Oktoberfest. Nick Murgic and Nick Panitzke were victorious in the twin 20s for the NASCAR Late Models, and Panitzke closed the deficit between Carlson and him to a scant few points.
Brent Kirchner (La Crosse, WI) drove around Matt Henderson (La Crosse, WI) to take the lead two laps into the first Bobcat of the Coulee Region NASCAR Late Model 20-lap feature. As Kirchner was stretching out his lead, Nick Panitzke (Lonsdale, MN) and Steve Carlson (West Salem, WI) were making their way through the field. Panitzke drove around Jerimy Wagner (Onalaska, WI) for second just before halfway. As the laps clicked away, Panitzke began to slowly reel in Kirchner. Panitzke caught Kirchner with four laps to go and patiently waited for the right opening. Panitzke got that opening with two to go as he drove around Kirchner to claim his sixth win of the year. After the race, Panitzke said "It was just hard racing between Kirchner and me." Carlson took third and saw his lead drop to 13 points goign to feature #2.
In the second 20-lap Bobcat of the Coulee Region NASCAR Late Model feature, Henderson quickly assumed command of the race and began to open up a lead on the field. Nick Murgic (Rosemount, MN) got around Devin Schmidt (Belle Plaine, MN) for second on lap three. Murgic would pursue Henderson for several laps as they both pulled away from the field. Pantizke and Carlson again came from the middle of the pack as the championship duo motored around Wagner to move into third and fourth on lap 13. Back up front, Murgic slowly caught Henderson. After battling side by side for a couple laps, Murgic got around Henderson with five laps to go and drove away with his second win in three weeks. After the race, Murgic said "That was a great side-by-side battle I had with Matt Henderson." With just one feature to run, Carlson maintains a five point advantage on Panitzke as they settle the 'rubber match' at Oktoberfest.
A rash of yellows late in the going in the Sportsmen feature made things interesting for Sam Niles. Niles would fight off the field in the final three lap shootout to score his first win since the Frostbuster. After a few post-race developments, Chris Weber goes into Oktoberfest with an 18 point lead over Tom Luethe.
In the Hobby Stock feature, Kaleb Hardy took the lead three laps into the race. Andy Moore tried to catch Hardy late in the going, but Hardy walked away with the win. Hardy finds himself 13 points behind Jason Bolster going to Oktoberfest.
Kendon Thurk looked like he was on a Sunday drive in the Hornet feature until Marc Leuthe caught him seven laps in. Thurk held off Luethe to claim his first win of the season. Mark Bornitz holds an eight point advantage over Jimmy Bjorkman heading to Oktoberfest.
The Hornets got to play in the Double Spin to Win race. The spinning action around the tires got very intense, especially during the final spin on the back straight. Rob Stanfield spun around and snuck under Kris Berg to capture the win.
Action continues next Saturday, August 24 with a special Saturday edition of the Friday Night Street Drags. It's only $5 to watch and $8 to compete in a bracket. Don't forget about the Burnout and the Shine n' Show Contests that will also take place. Practice starts at 6:45 and the bracket racing kicks off at 7:30. Then on Saturday, August 31, the Quarter-Mile Mania 200-lap Enduro for four and six cylinder cars will take place. The Street Stocks will be racing that night, and the Mini-Vans will be the first to crown their 2019 season champion. Gates open at 6:00, qualifying happens at 6:15 and racing starts up at 7:30.
For more information about LaCrosse Speedway or the 2019 schedule of events, please call the office at 608-786-1525 or visit lacrossespeedway.com. LaCrosse Speedway is proud to be a NASCAR Hometrack, part of the NASCAR Whelen All-American Series.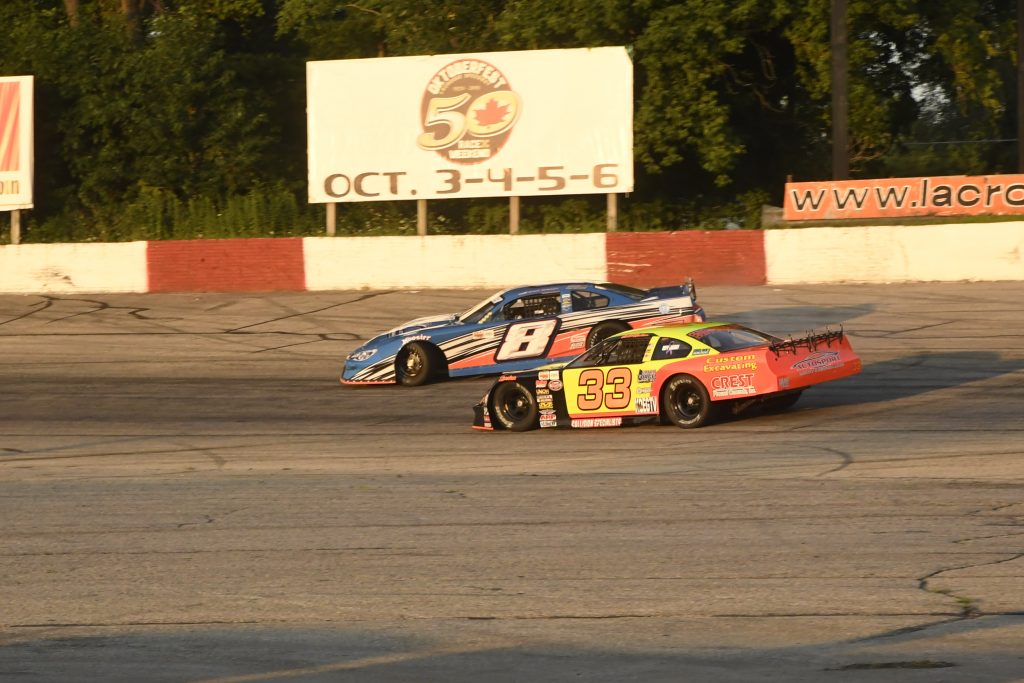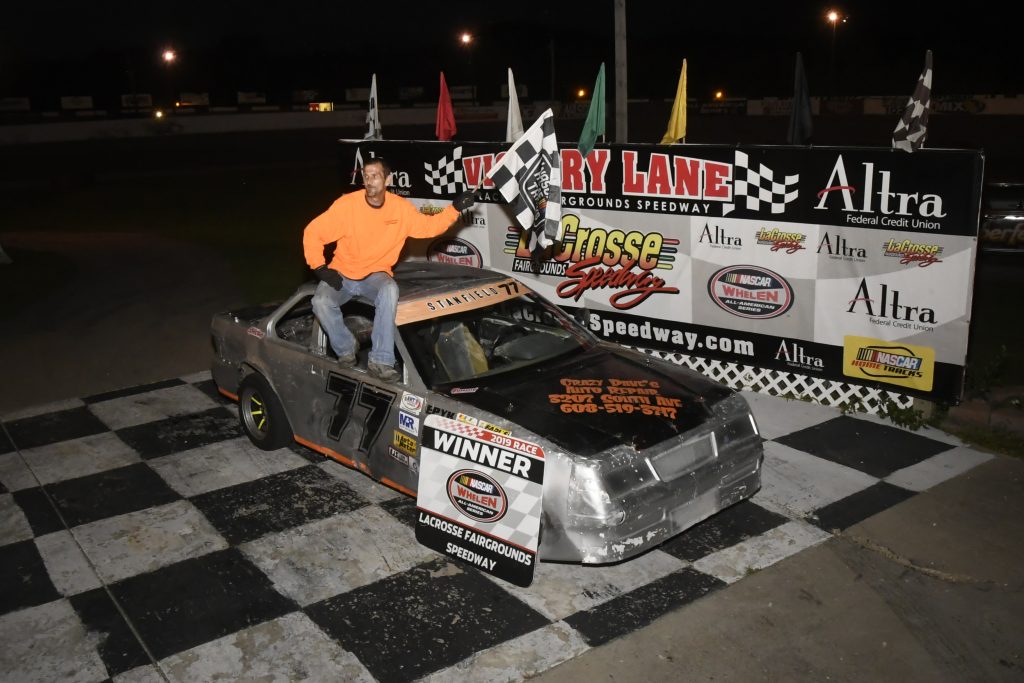 RESULTS
Tobacco Outlet Plus Grocery NASCAR Late Models
Feature #1: 1. Nick Pantizke, 2. Brent Kirchner, 3. Steve Carlson, 4. Ty Majeski, 5. Jerimy Wagner
Feature #2: 1. Nick Murgic, 2. Matthew Henderson, 3. Panitzke, 4. S. Carlson, 5. Nick Clements
6-for-6 Dash: 1. Majeski, 2. Clements, 3. Panitzke
Heat #1: 1. S. Carlson, 2. Justin Mullikin, 3. Wagner
Heat #2: 1. Devin Schmidt, 2. Don Turner, 3. Tom Carlson
Qualifying: 1. Panitzke, 2. Clements, 3. Mike Carlson
Mountain Dew AMP Game Fuel Sportsmen
Feature: 1. Sam Niles, 2. Chris Skrede, 3. Justin Berg, 4. Chris Weber, 5. Henry Vian
Dash: 1. Brian Hesselberg, 2. Jeff Thompson, 3. Weber
Heat: 1. Berg, 2. Mark Challet, 3. Skrede
Qualifying: 1. Weber, 2. Luethe, 3. Thompson
Auto Value Hobby Stocks
Feature: 1. Kaleb Hardy, 2. Andy Moore, 3. Brandon Gallagher, 4. Adam Moore, 5. Jordan Myers
Dash: 1. An. Moore, 2. Jason Bolster, 3. Ad. Moore
Heat: 1. Gallagher, 2. Myers, 3. Taylor Dobbs
Qualifying: 1. Ad. Moore, 2. Hardy, 3. An. Moore
ANT's Complete Pest Control Hornets
Feature: 1. Kendon Thurk, 2. Marc Luethe, 3. Rob Stanfield, 4. Jake Schomers, 5. Cheyanne Stanfield
Heat #1: 1. Luethe, 2. K. Thurk, 3. Shawn McCarthy
Heat #2: 1. C. Stanfield, 2. Jimmy Bjorkman, 3. R. Stanfield
Novelty Double Spin to Win: 1. John Huebner, 2. Kris Berg, 3. Rob Stanfield