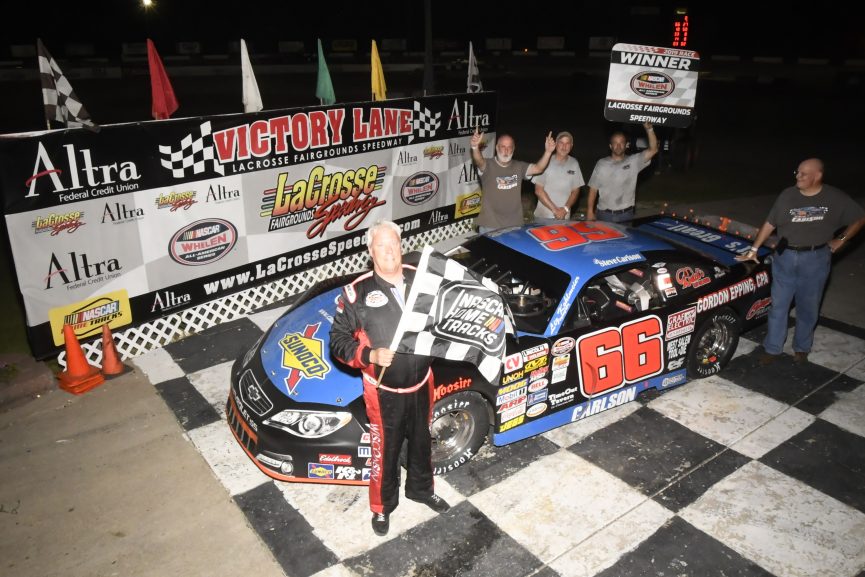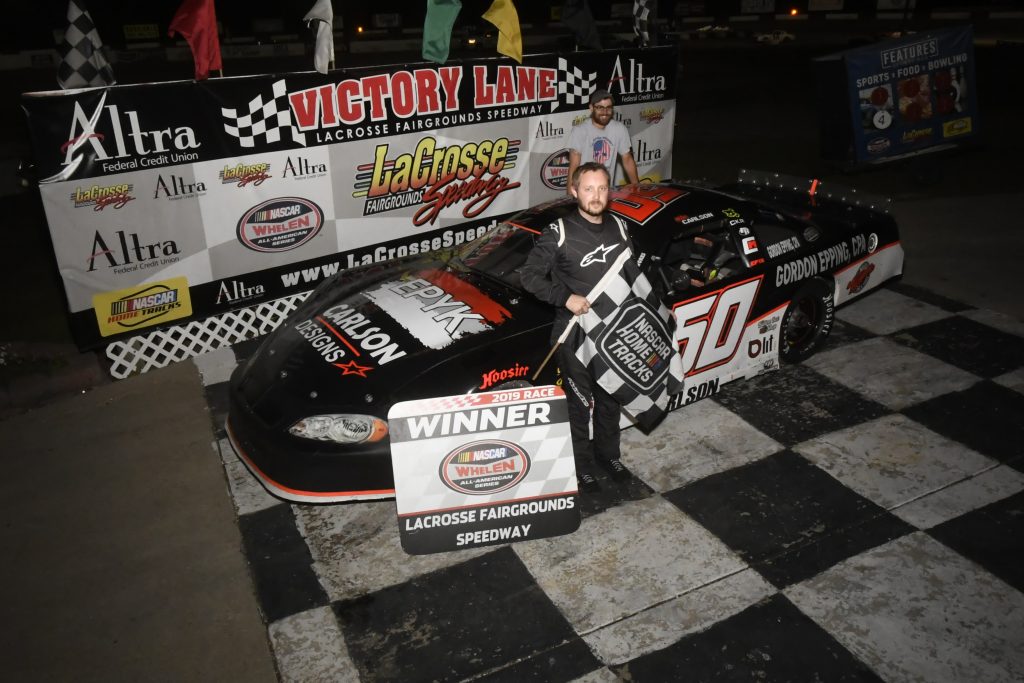 By: Paul Reichert
August 10, 2019
Mother Nature tried to rain out our Saturday night racing parade at the LaCrosse Speedway, but it stayed away long enough for us to get the show in the books. The NASCAR Late Models ran the first of back-to-back nights of double features, and neither race disappointed the crowd. Mike Carlson would lead all the way to claim the first feature, while Jacob Goede got by Nick Murgic late to take the second feature.
Mike Carlson (West Salem, WI) surged by Steve Bachman (Bangor, WI) to take the lead early in the first Lebakken's Rent to Own NASCAR Late Model 20-lap feature. While Carlson was opening his lead on Bachman, the heavy hitters were trying to make their way from the middle of the field. Nick Panitzke (Lonsdale, MN) was on the gas as he progressed his way forward to make up the ground he lost to Steve Carlson (West Salem, WI) last week. Mike Carlson maintained his big lead on the field, while Panitzke got around Bachman to take over second with seven laps to go. Mike Carlson had the field covered to claim his first win of the season. Carlson said after the race "I was happy with our car in the race. I hope it can run just as well in the second race." Panitzke finished ahead of Steve Carlson to take a little out of Carlson's lead.
In the second 20-lap Lebakken's Rent to Own NASCAR Late Model feature, Nick Murgic (Rosemount, MN) drove past Jerimy Wagner (Onalaska, WI) to take the race lead. Jacob Goede (Carver, MN) would follow Murgic's tire tracks and move up to second. Both drivers would have some close racing throughout the race, as they stayed within a couple car lengths of each other. Goede would wait for the right moment to strike and take over the lead. Pantizke would move into third with seven laps to go, but was unable to catch the lead duo. Goede gave Murgic a love tap to his bumper coming through turn four and surged past Murgic to assume the race lead with three laps to go. Goede would maintain his lead over Murgic to capture his second win in a month. After the race, Goede said "When our plans changed elsewhere, we decided to change gears and come to LaCrosse. I'm glad we did." Again, Panitzke finished ahead of Steve Carlson to bring the difference down to 16 points with three features left.
Jack Litshiem (La Crosse, WI) led much of the way in the Sportsmen feature. Litsheim fought off the challenges of Chris Weber (Sparta, WI) in the closing laps to claim his first win since taking over Steve Bachman's championship car from 2018.
In the Hobby Stock feature, 'Racin' Jason Bolster lived up to his name as he led the entire race and drove away with his first feature win of the season.
Jonathan Burbach had the Street Stock feature in his grasp until he ran wide in turn two on the last lap. That allowed Jake Schomers to drive by and score his fourth win this year.
A spin by Keith Larson on the final lap of the Mini-Van feature set up a one-lap showdown. Matt Moore would fight off Rob Stanfield in a crazy final lap to claim his second straight win.
Action continues next Saturday, August 17 with the final weekly racing show of the year before Oktoberfest. The Late Models will run their final double feature night of the season plus the Sportsmen, Hobby Stocks and Hornets will also be racing. Gates open at 6:00, qualifying starts at 6:15 and racing begins at 7:30.
For more information about LaCrosse Speedway or the 2019 schedule of events, please call the office at 608-786-1525 or visit lacrossespeedway.com. LaCrosse Speedway is proud to be a NASCAR Hometrack, part of the NASCAR Whelen All-American Series.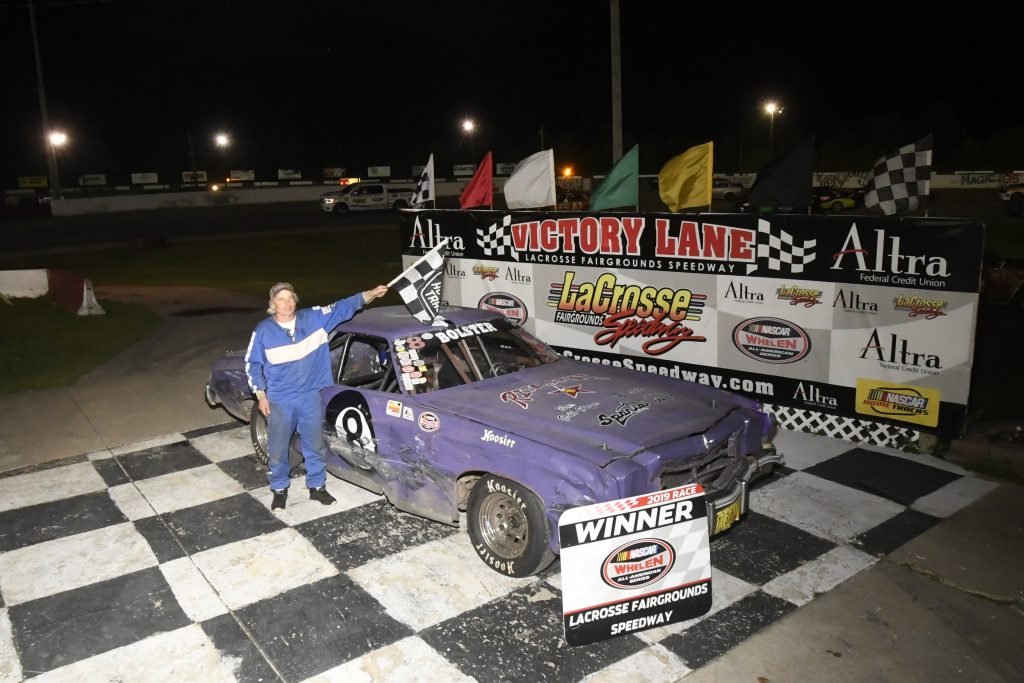 RESULTS
Tobacco Outlet Plus Grocery NASCAR Late Models
Feature #1: 1. Mike Carlson, 2. Nick Panitzke, 3. Steve Bachman, 4. Jacob Goede, 5. Steve Carlson
Feature #2: 1. Goede, 2. Nick Murgic, 3. Panitzke, 4. S. Carlson, 5. Nick Clements
Qualifying: 1. Murgic, 2. Goede, 3. Clements
Mountain Dew AMP Game Fuel Sportsmen
Feature: 1. Jack Litshiem, 2. Jeff Thompson, 3. Tom Luethe, 4. Mark Challet, 5. Justin Berg
Dash: 1. Chris Weber, 2. Sam Niles, 3. Luethe
Heat: 1. Mark Challet, 2. Justin Berg, 3. Mandi Eckelberg
Qualifying: 1. Weber, 2. Luethe, 3. Thompson
Auto Value Hobby Stocks
Feature: 1. Jason Bolster, 2. Taylor Dobbs, 3. Robby Robinson, 4. Ray Burkum
Dash: 1. Bolster, 2. Dobbs, 3. Kaleb Hardy
Auto Value Street Stocks
Feature: 1. Jake Schomers, 2. Jonathan Burbach, 3. Dan Frye, 4. John Huebner, 5. Zach Liebsch
Heat 1: 1. Schomers, 2. Clayton Haessig, 3. Adam Kerley
Heat 2: 1. Burbach, 2. Rob Schliefer, 3. Liebsch
Mountain Dew Mini-Vans
Feature: 1. Matt Moore, 2. Rob Stanfield, 3. Al Bartels, 4. Keith Larson, 5. Jonathan Burbach
Heat: 1. Stanfield, 2. K. Larson, 3. Bartels