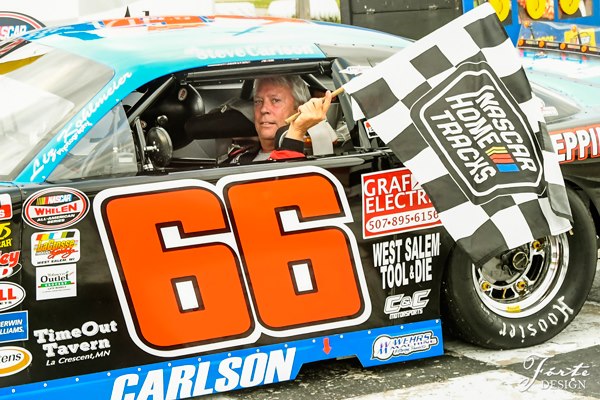 West Salem, WI- They have combined to win the last six NASCAR Late Model Track Championships at LaCrosse Fairgrounds Speedway, and now Steve Carlson and Nick Panitzke find themselves in another heated battle for the crown at the popular 5/8 mile paved oval. The duo, which had accounted for every feature win this season left the 129th annual LaCrosse Interstate Fair last Saturday night trophy-less. They head into this Saturday night tied atop the Tobacco Outlet Plus Grocery Late Model point standings. A rivalry that has grown over the previous two seasons came to a head during the April Frostbuster which saw Carlson flex his muscle and keep Panitzke behind his #66 ride, allowing the crafty veteran to score the win.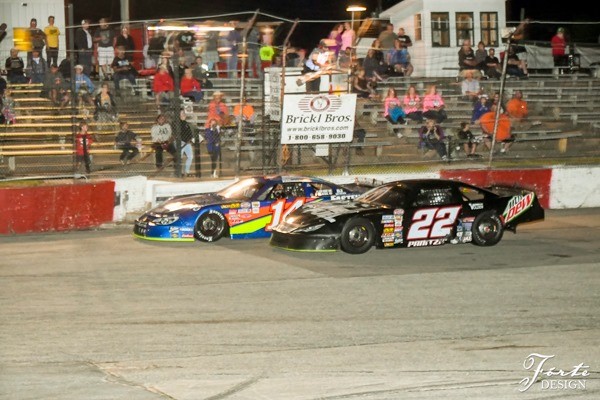 The LaCrosse Fairgounds faithful have been treated to what may very well be Carlson's best start to a season, yet to finish out of the top three in Late Model action. Carlson, whom industry professionals feel is the best short track driver of his time, has posted three wins, five runner-up finishes and a pair of third place podium runs. Four of his second place efforts have come at the expense of Panitzke wins. With four ARTGO Challenge Series Championships and five NASCAR Regional Touring Titles, Carlson returned home to concentrate his efforts on LaCrosse Fairgrounds Speedway for the 2007 season. The 2007 NASCAR Whelen All-American Series National Championship awaited him as did the Track Championship that season and again in 2008. After recording two ARCA Midwest Tour Championships, Carlson once again returned to the Fairgrounds. The West Salem native clicked off an impressive four titles in a row, and then Panitzke, from Lonsdale, MN came onto the scene.
The battle for the 2017 LaCrosse Fairgounds Championship came right down to the wire, with Panitzke edging Carlson by just fifteen markers at season's end. His first full time effort at weekly competition at LaCrosse netted him five feature wins. Five would again be an important number for Panitzke in more ways than one in 2018. Five feature trophies crossed the border in the #22 hauler last season but it was not enough to keep Carlson from returning to the Champion's table, as Carlson edged Panitzke by a mere five points come October. After frustrations showed in his 2019 Frostbuster post-race interview, Panitzke clicked off three straight feature wins and has already matched his career high of five headed into Saturday night. The 28 year old driver finds himself twelth in the NASCAR National Standings after a feature win last Friday night at Madison International Speedway, with the highest point average out of any driver in the top fifteen on the National scene.
Nick Clements who sits third in the 2019 points captured the first feature win last Saturday night while a visiting Jacob Goede, the five-time and defending Elko Champion laid claim to the second feature event. Panitzke finished fourth and second, Carlson second and third. Those finishes eliminated the slight advantage Panitzke enjoyed headed into fair week, and again Carlson has matched Panitzke, both drivers scoring 522 points on the season. With just five point nights remaining including the Thursday Night October 3rd 50th annual Oktoberfest Race Weekend, it appears this rivalry will once again dictate the Championship at LaCrosse Fairgrounds Speedway.
The Tobacco Outlet Plus Grocery Late Models return to action this Saturday night at LaCrosse Fairgrounds Speedway. A full night of racing will also include the Mtn Dew Game Fuel Sportsmen, Auto Value Hobby Stocks, Auto Value Street Stocks and the Wild 'n Wacky Mini-Vans. Spectator gates open at 5:30pm, qualifying gets underway at 6:15pm with the first big race at 7:30pm. Adult general admission tickets are $13, Students ages 12-17 are $7, kids ages 6-11 are $4 with kids ages 5 and under admitted free. LaCrosse Fairgrounds Speedway is located at the N4985 County Road M in West Salem just off of Highway 16. For additional information visit www.lacrossespeedway.com or call the Speedway Box Office at 608-786-1525.