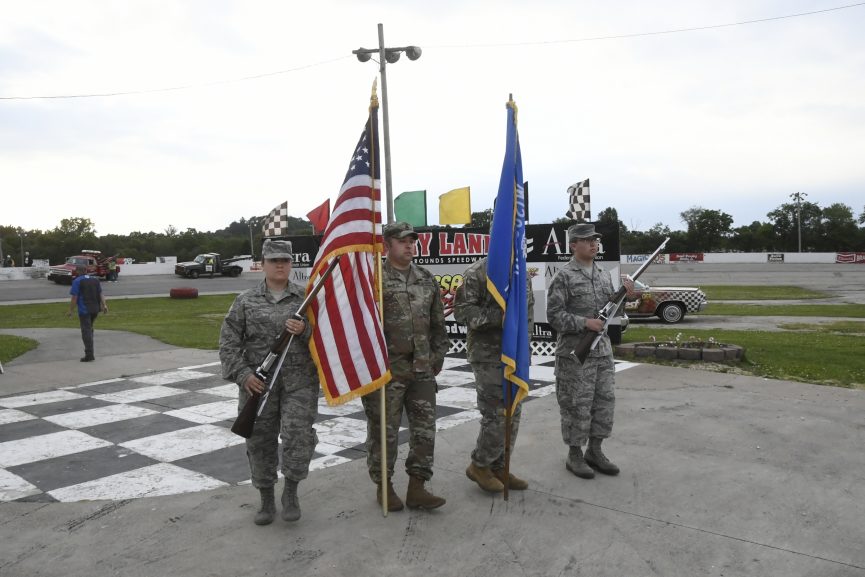 By: Paul Reichert
June 22, 2019
It was another great night of racing at the LaCrosse Speedway, despite the cloudy skies and the threat of rain. The NASCAR Late Models ran their first double feature show of the season, and both races were full of excitement and drama. Nick Panitzke claimed the win in the first feature of the night. A spin by Panitzke in the second feature gave Steve Carlson the opening he needed to win the second feature.
Ty Reedy (LaCrosse, WI) took the lead early in the first Pepsi 20-lap NASCAR Late Model feature. Brad Powell (LaCrosse, WI) squeezed under Reedy on lap six to move into the lead. It looked like Powell would run away with his first win since 2012, but then the yellow flew with six laps to go. Cole Howland (LaCrosse, WI) lost it in turn three, and Jason Stark (Sparta, WI) made contact with his car. Both drivers were able to get their cars back to the pits for repairs. Nick Pantizke (Lonsdale, MN) wasted little time in working his way around Powell on the restart to take over the lead and drive away with his fourth win of the season. After the race, Panitzke said "That yellow flag fell in our favor, and we were able to claim another win."
Reedy battled with Bobby Wilberg (Stoughton, WI) at the start of the second Pepsi 20-lap NASCAR Late Model feature. Reedy motored around Wilberg to assume command of the race. After an early yellow for a tangle between Jonathan Eckelberg (West Salem, WI) and Stark, Reedy would pull out to a sizable lead until yellow came out again when Panitzke lost it down the back straight. Dean Cornelius (New Prague, MN) drove around Reedy on the outside on the restart to take over the top spot on lap 12. Cornelius was looking for his first ever win at LaCrosse, but Steve Carlson was making his way through the traffic. Carlson closed on Corenlius and squeezed by him with two laps to go to claim the win. After the race, Carlson said "I went to the inside for the restart. That was my mistake. Luckily, things still worked out."
The early laps of the Sportsmen feature was filled with calamity and chaos. Once things settled down, Chris Weber (Sparta, WI) got around Brian Hesselberg (Bangor, WI) with five laps to go to capture his second straight feature win.
The Hobby Stock Feature turned into a sibling rivalry late in the race. Raymond Hardy and his son Kaleb fought over the top spot, which was claimed by Raymond.
Mark Bornitz took the lead halfway through the Hornet feature, then had to fight off Shawn McCarthy in the final few laps to capture the checkered flag first.
Action continues next Saturday, June 29 with the annual Wisconsin Lottery Smash-O-Rama. The Street Stocks and the Mini-Vans will be racing, plus there will be a lot of smashing and crashing. You will see the Shipwreck Boat Race, Monster Trucks crunching cars, other wild and crazy events, and a huge fireworks show after the races. Gates open at 6:00 and the 'smashing' fun begins at 7:30.
For more information about LaCrosse Speedway or the 2019 schedule of events, please call the office at 608-786-1525 or visit lacrossespeedway.com. LaCrosse Speedway is proud to be a NASCAR Hometrack, part of the NASCAR Whelen All-American Series.
RESULTS
Tobacco Outlet Plus Grocery NASCAR Late Models
Feature #1: 1. Nick Panitzke, 2. Steve Carlson, 3. Brad Powell, 4. Nick Clements, 5. Adam Degenhardt
Feature #2: 1. S. Carlson, 2. Dean Cornelius, 3. Clements, 4. Brent Kirchner, 5. Degenhardt
6-for-6 Dash: 1. S. Carlson, 2. Powell, 3. Degenhardt
Heat 1: 1. Mike Carlson, 2. Panitzke, 3. Ty Reedy
Heat 2: 1. Jeff Partington, 2. Jerimy Wagner, 3. Don Turner
Qualifying: 1. Cornelius, 2. Clements, 3. S. Carlson
Mountain Dew AMP Game Fuel Sportsmen
Feature: 1. Chris Weber, 2. Tom Luethe, 3. Brian Hesselberg, 4. Jeff Thompson, 5. Henry Vian
Dash: 1. Chris Skrede, 2. Weber, 3. Thompson
Heat: 1. Jesse Green, 2. Mark Challet, 3. Sam Niles
Qualifying: 1. Weber, 2. Luethe, 3. Thompson
Auto Value Hobby Stocks
Feature: 1. Raymond Hardy, 2. Kaleb Hardy, 3. Brandon Gallagher, 4. Jason Bolster, 5. Taylor Dobbs
Dash: 1. Gallagher, 2. Bolster, 3. K. Hardy
Heat: 1. R. Hardy, 2. Charles Vian, Jr., 3. Taylor Dobbs
Qualifying: 1. K. Hardy, 2. Bolster, 3. Mike Krueger, Sr.
ANT's Complete Pest Control Hornets
Feature: 1. Mark Bornitz, 2. Ben Thurk, 3. Rob Schliefer, 4. Dexter Malin, 5. Jaydin Schock
Heat 1: 1. Malin, 2. Shawn McCarthy, 3. Thurk
Heat 2: 1. Bornitz, 2. Rob Stanfield, 3. Kyle Ritter