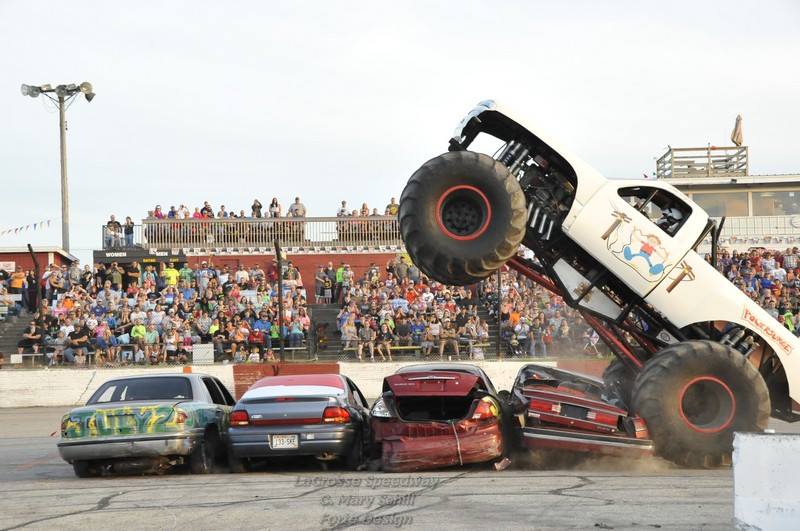 By: Aspen Andre (West Salem, WI – July 2, 2016)
It was a night full of excitement here at the La Crosse Speedway tonight for Smash-O-Rama in front of an almost sold out crowd.
Doug Rose of Florida heated up not only the night but a full sized motorhome with a boat shoved inside with his Green Mamba Jet Car. He blackened the front straight away in front of the fans early in the night to show what was yet to come. Later on, he melted a full sized, boat stuffed, motorhome right down to the metal frame.
Ben Oetchen, Campbell Hill, IL driving Powersurge and Ryan Rice, Lafayette, IL driving The Incinerator smashed 8 house cars tonight with their monster trucks. While Rice has entertained fans at the La Crosse Speedway before, this was Oetchen's first show ever in a truck entertaining and he was great.
The ANTS Complete Pest Control hornet feature was very active tonight. Jimmy Bjorkman was leading the pack all the way through multiple spin outs in the first 11 laps of the feature before we saw a caution. Brandon LeMoine and John Clauson brought us out of the caution in the front row but it was LeMoine who crossed the line first when the checkered flag flew.
Novelty races for the night included the 2nd Across the Line Race, where the 2nd car to cross the line wins the race, and the Flagpole Race, where there is a tire placed in the middle of the track in turn one and on the back straight away and drivers have to complete a 360 degree turn every time they come to a tire and then continue around the track for 8 laps. Charles Vian Jr. "beat" out Jay Raines in the 2nd Across the Line Race and Robert Stanfield was the Flagpole Race winner.
Taylor Dobbs was one of the most prominent stunt men of the night, when he competed in the rollover contest and the Wisconsin Lottery pool jump. Jared Novak did the T-Bone jump where he tried to jump off of a ramp over a car.
Our next event at the La Crosse Speedway is Friday, July 8th for the Premier Powdercoating Street Drags where we will have bracket racing, shine n' show and a burnout contest.
For more information please call the Speedway office at (608) 786-1525 or visit www.lacrossespeedway.com.
LaCrosse Fairgrounds Speedway is a proud NASCAR Hometrack, part of the NASCAR Whelen All-American Series – www.hometracks.nascar.com.
ANTS Complete Pest Control Hornets
Wisconsin Lottery 15 Feature (24 cars) — 1. Brandon LeMoine, West Salem 2. Kyle Ritter, La Crosse 3. Kris Berg, Ettrick 4. Garrett Thicke, West Salem 5. Charles Vian Jr., Sparta 6. Jordan Young, Melrose 7. Jake Schomers, La Crescent, MN 8. Jackie Finch, Neilsville 9. Cheyanne Stanfield, Sparta 10. Ryan Shafer, Sparta 11. Jarett Haag, Onalaska 12. Robert Stanfield, La Crosse 13. John Huebner 14. Gregory Fair, Sparta 15. Kayla Vian, Sparta 16. Patrick Thicke, West Salem 17. Ben Thurk, La Crosse 18. Benjamin Arendt, Norwalk 19. Pete Muenkel, Kasson, MN 20. Jeffrey Von Ruden, Norwalk 21. Jimmy Bjorkman, West Salem 22. Kyle Swenson, Sparta 23. Shawn McCarthy, Bangor 24. John Clauson, Onalaska
Heat 1 — 1. Kris Berg 2. John Clauson 3. Brandon Lemoine 4. Kayla Vian 5. Jeff Von Ruden
Heat 2 — 1. Jordan Young 2. Garrett Thicke 3. Jimmy Bjorkman 4. Pete Muenkel 5. Jackie Finch
Heat 3 — 1. Patrick Thicke 2. Kyle Swenson 3. Jake Schomers 4. Ryan Shafer 5. Ben Thurk
Security Boss Shootout — 1. Kris Berg 2. Garrett Thicke 3. Patrick Thicke 4. Jordan Young 5. Kyle Swenson
2nd Across the Line Race — 1. Charles Vian Jr. 2. Jay Raines 3. Robert Stanfield 4. Kyle Ritter 5. Jake Schomers
Flagpole Race — 1. Robert Stanfield 2. Gregory Fair 3. John Clauson 4. Patrick Thicke 5. Kayla Vian