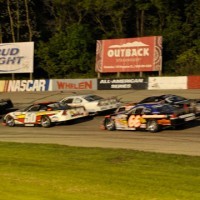 Plus…the OUTLAWZ are back and Tuff Trucks make their first appearance.
SATURDAY, June 1- Pischke Motors
presents a full program with the Kwik Trip NASCAR Late Models, the Exhaust Plus Sportsmen, United Auto Supply Thunderstox and it is the return of the Volden Construction Outlawz. The Outlawz are a run what you "brung" division. No rules for the cars..just go fast and win!
First Time Ever- The Tuff Trucks make their first appearance to the Speedway. Tuff Trucks are a head
to head- tug of war competition. Is your truck tuff enough? Call the Speedway to put your "Beast" of a truck in the competition. 608-786-1525
You could win big $$$$- Be one of the first 500 paid adults and win big money from the Wisconsin Lottery. The first 500 paid adults will receive a scratch off ticket for the Wisconsin Lottery and your chance at some big $$$- Good luck!
$$$$
Last weeks action saw the smooth running Cole Howland take his first feature win of the year. He had to earn it as the veteran Steve Carlson reeled him in at the finish. Howland held him off for the trip to the Altra Federal Credit Union Victory Lane.
Exhaust Plus Sportsmen had Jerrod Logging bringing home the checkered flag. The United Auto Supply Thunderstox feature went to Jordan Meyers and in the ANTS Complete Pest Control Hornet features- Matt Moore and Kim Strom were the victors in their feature events.
General Admission is $12, Students (age 12-17 with a student I.D.) are $6, All Kids' age 11 & Under are admitted in absolutely FREE! Gates open at 6:00, Qualifying at 6:15 and the first race at 7:30.
LaCrosse Speedway is part of the NASCAR Whelen All-American Series, and a proud NASCAR Hometrack. For more information, please call the speedway office at 608-786-1525.