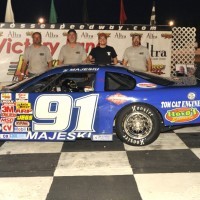 By: Ashley Iwanski
(West Salem, WI – May 18, 2013)
It only took four weeks for Ty Majeski to prove he belongs. The 18-year-old Kwik Trip NASCAR Late Model driver had the quick time for the night in qualifying, and then captured his first feature win in his debut season at La Crosse Fairgrounds Speedway.
Majeski started sixth and quickly jumped into the top 5, the rest wasn't as simple. At the halfway point he was in a three-car battle for second with Todd Korish and Adam Degenhardt. Majeski and Korish paired up to get around Degenhardt on the inside in turn 2.
With 11 laps to go Majeski was on the back bumper of race leader Brent Kirchner. The duo was nose-to-tail until Majeski went to the low side to get around Kirchner. He almost had him, but fell back. Then he tried the high side.
Majeski flew around Kirchner on the outside in turns 3 and 4 with nine laps to go and never looked back.
Kirchner was shuffled back into the field after Korish, who finished second, got around him one lap later. Kirchner was able to hold off hard-charging J. Herbst and Steve Carlson to hold on to third. Herbst and Carlson finished fourth and fifth, respectively.
Majeski started his night the right way by clocking a 19.787 second lap in qualifying.
Greg Scheck held on through a late caution to capture the checkered flag in the Exhaust Plus Sportsmen feature.
Scheck had grabbed the lead from Mark Inglett at the halfway point, but with seven laps to go Josh Haessly spun on the front stretch, bringing out the third caution of the race.
Jake Arneson was quickly advancing on the leader when the race was back under green. He never got to the front but ended the night with a second place finish. Bill Martin finished third, Brian Hesselberg fourth and Justin Mullikin fifth.
David Cavin worked his way through three-wide racing to grab the feature win in the United Auto Supply Thunderstox. Radlee Pfaff fought off Harley Jankowski for the second spot.
Thunderstox driver Brad Warthan weaved his way to a first-place finish in the first Figure 8 novelty race. What started relatively calm quickly turned into something that look more like a demolition derby as cars veered back and fourth around two tires set up along the front stretch of the quarter-mile track, between the inside and outside retaining walls. It was a 12 car field, but only nine finished. The others were either sitting on the track with missing tires or were beaten to the point that they no longer ran.
Be sure to bring the family out next weekend, May 25, for Klement's Buck Night. All kids will get in free for the night to enjoy the pre-race Dog Races, so bring your pet dog. It will be a full schedule of racing with the Kwik Trip NASCAR Late Models, Exhaust Plus Sportsmen, United Auto Supply Thunderstox, ANTS Complete Pest Control Hornets and a Double Spin to Win novelty race. And of course, all concession stand items are just $1. For more information please call the Speedway office at (608) 786-1525 or visit www.lacrossespeedway.com.
LaCrosse Fairgrounds Speedway is a proud NASCAR Hometrack, part of the NASCAR Whelen All-American Series – www.hometracks.nascar.com.